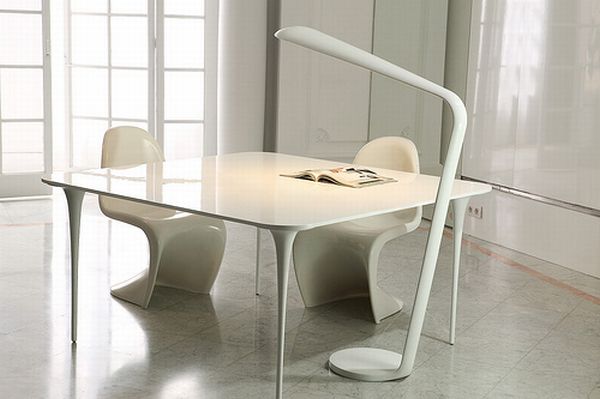 Introduction:
Are you on the lookout for great lighting in your office space? Then you should opt for something that is in tune with the times, something more trendy and classy that suits your style. Many manufacturers are coming out with innovative and trendy designs for home office desk lamps that can be used to lighten up a space effectively by enhancing the aesthetic quality of the room. There are some lamps that illuminate with an amazing array of colors, which not only are functional but also have an aesthetic appeal. There are some lamps that would cost you a lot, but there are others that would be a little lighter on the pocket but high on functionality and style. You could even go in for ornamental lamps that can provide diffusing light. There is so much you can choose from – color, size, shape, style and so on, when choosing desk lamps. Here are ten strikingly trendy desk lamps that can probably fit your style and taste.
1. User Interface Concept Desktop Lamp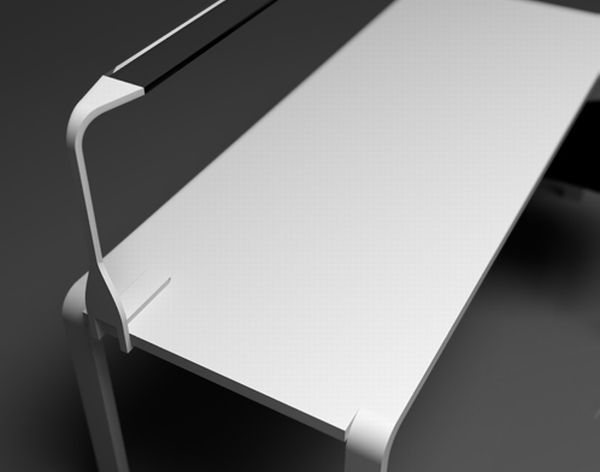 The User Interface concept desktop lamp is a very functional design that covers the length of the table and illuminates it completely. This lamp is very light in weight and has a very narrow width as well. This hi-tech lamp has a UI screen for managing the controls of the lamp. In order to control the area covered by the lamp, you would have to make a pinching gesture and in order to turn the light on you would have to draw a circle in a clockwise direction and vice-versa for turning the lamp down.
2. Fuse Desk Lamp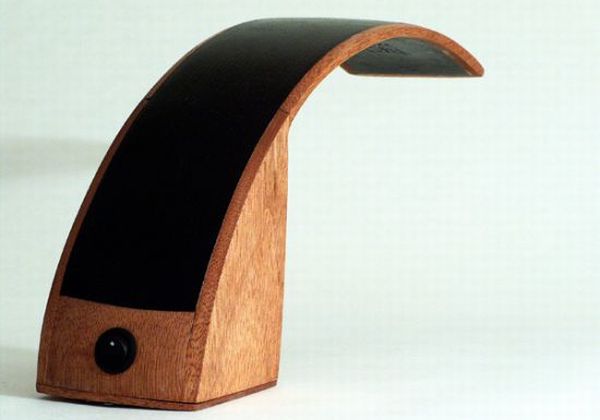 Fuse desk lamp is designed by Nick Santillan. This sleek and slender lamp is built in an elegant fashion. It is very trendy and would add more appeal to your interior decor. It is made by using the latest manufacturing technology with its light source made out of fiber optic wires that gives it a sleeker look. The inner casing is made of fiberglass and the various strands of fiber optic cables are turned into LED lights. The outer casing of the lamp is crafted out of fine mahogany wood that gives it a classy and neat appearance.
3. Penta Lights' Slim Lamp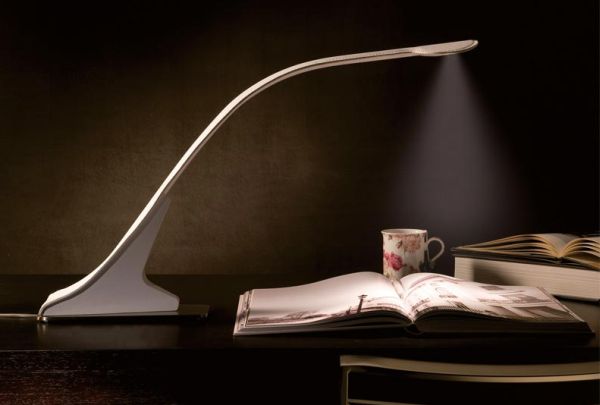 The slim lamp designed by Umberto Asnago for Penta Lights is very different from other lamp designs as it is adjustable by 360 degrees. This lamp comes in two different sizes, as the smaller one is used for reading whereas the bigger floor lamp can be placed near the couch for brighter illumination. This lamp comes in single colors as well as in two color combinations. The lamps have an LED lamp and the base is made out of black metal or satin nickel metal.
4. Keypress Desk Lamp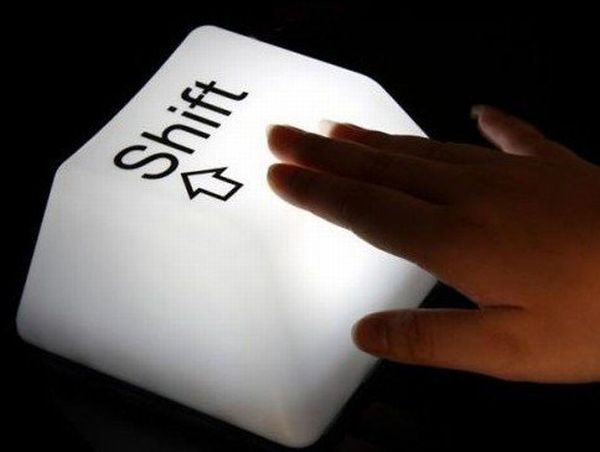 The Keypress desk lamp looks like the shift key on your keyboard and would be any tech geek's dream. The lamp emanates a warm light that is soothing for your eyes and is also very user friendly. The lamp can be turned on by pressing its surface, which makes it very convenient to use. It comes in white color along with a USB adaptor.
5. AUTOart Carbon Fiber Desk Lamp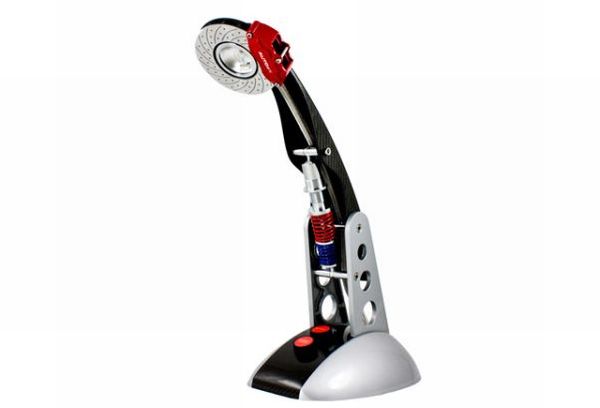 The AUTOart carbon fiber desk lamp is a design that has been inspired by a car and therefore has a car theme. The components of this innovative and different lamp are derived from things that you would find in a car. Although this lamp would not drive you around, it can certainly provide you light with its head lights and brighten up your room. This amazing lamp also features a coil over suspension that is adjustable as well as of carbon fiber. This lamp gives you the feel of a racing car with its "power start" button and "boost" button that is used for increasing the illumination intensity of the lamp. The lamp features a 12V 35W halogen bulb that has two stages for managing the light. The carbon fiber arm of the lamp is an amazing feature that can be compressed just like a Formula1 racing car. This design took over 11 months to get created and is therefore limited in its availability.
6. Trendy Table Lamps for Classy Room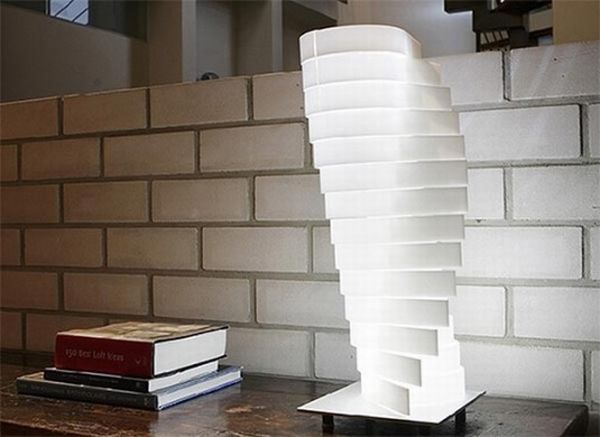 If the outer appearance of the lamp is more important to you and you want to use your desk lamp as an ornamental piece, then a trendy shaped lamp is perfect for adding more style to your office. This amazing lamp is a creation by N&N, made in a fanned and stepped shape. The lamp has an amazing feature with the rotating shade that can easily set the mood of your room.
7. Modernist Lamp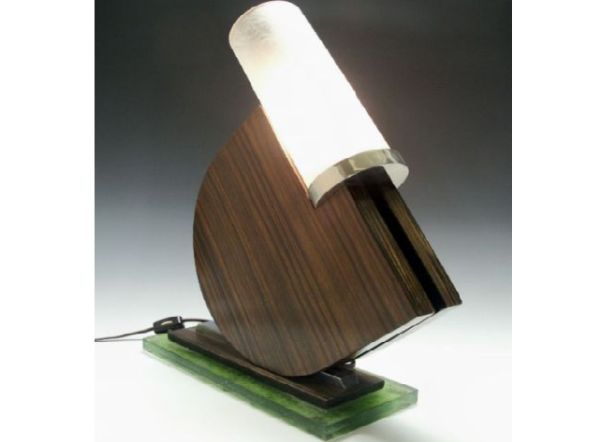 This modern lamp is rightly called the Modernist Lamp, which is highly trendy and stylish. This decorative lamp has a curved-cum-sleek look that would perfectly add more style and glamor to your interiors. The outer covering is made of macassar or zebra wood and nickel-plated metal that give it a very classy appeal.
8. LiAO Table Lamp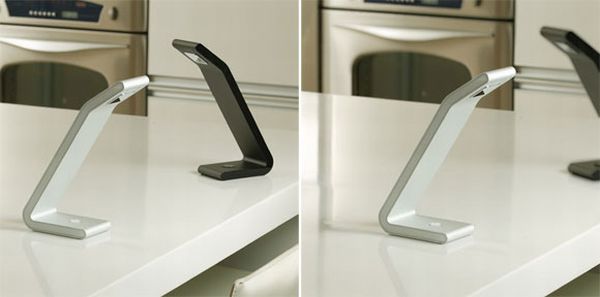 The LiAO table lamp called SOLO is a very contemporary and stylish desk lamp that is great in functionality and simplistic in design. SOLO is an energy efficient lamp as it features high-yielding LEDs that emanate a warm white non-flickering light that is soothing on the eyes as well. This lamp is powered by lithium-ion batteries that can be recharged.
9. Residue Desk Lamp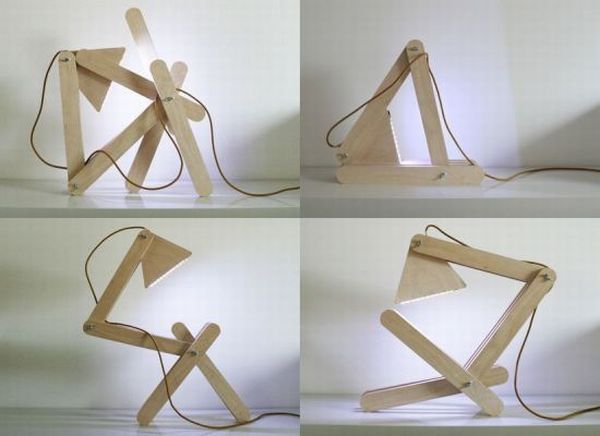 The Residue Lamp is part of the "Made by Midas" collection of lamps with a very interesting and playful design that can be changed and altered in many different ways – leaving you dazzled! This desk lamp can take any form that you choose and is made out of Plattenwaren wood residue parts that are joined together.
10. Lumina Italia Ra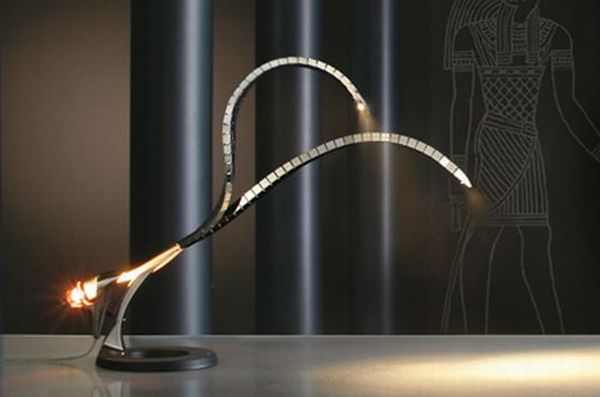 This contemporary lamp is designed by Ettore Cimini for Lumina Italia Ra and is a simplistic yet very creative design. This fiber optic lamp has a serpentine appearance with its two technopolymer arms that are made out of adjustable steel. The lamp emanates ample light with its 100W fluorescent bulb that rests on the tip of the arms by using the fiber optic cable. The lamp also features an inbuilt dimmer control.