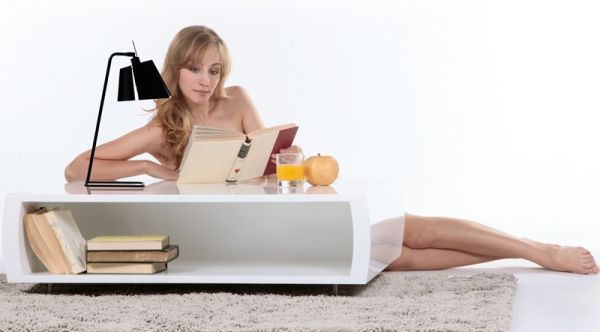 Beautiful furniture has a language of its own and spreads a magical aura. Gal Tevet has crafted a cute piece of furniture that vows to add elegance instantly. The architect-designer has crafted a sumptuous coffee table, named Le Bric.
Simple and sleek designing rules the overall look, which makes it quite attention-grabbing. The cute little piece of furniture is available in two soothing colors: white and grey. Le Bric has been crafted from a sturdy MDF frame and rests on stainless steel feet. It is coated in high-gloss lacquer of fine quality, which gives it a shinny façade. The coffee table measures 101cm in length and has a height and depth of 30cm and 85cm, respectively.
It comes enveloped with practicality and can be used for various purposes. Place a lamp on it and read your favorite book or bring out the writer in you. Sit around it with your friends and strike a hearty conversation, while sipping your favorite drinks. The table has a storage compartment that can be used to place books, magazines or even important files. Le Bric is a great option and vows to perfectly blend in a modern setup. The practical coffee table will add grace and fetch unending praises. Le Bric Table will spread magic all around with its plain yet eye-catching looks.
Via: Made