Introduction To Modern Bathtubs:
We utilize our bathrooms for many purposes and it becomes important to accessorize the bathroom with apt accessories. Now-a-days you will find a wide variety of bathroom accessories that are advanced and are designed in the manner to provide utmost comfort. For most people taking a bath is one way of eliminating the daily stress and tensions and therefore they look for such bathtub or showers that provide them comfort and are trendy as well. Technology plays a vital role in our lives and today we cannot imagine our lives without the involvement of technology. These days you will find bathtubs that are immensely beautiful and also extend a wonderful and relaxing bathing experience. These modern bathtubs are hard to resist and let us discuss them in some detail.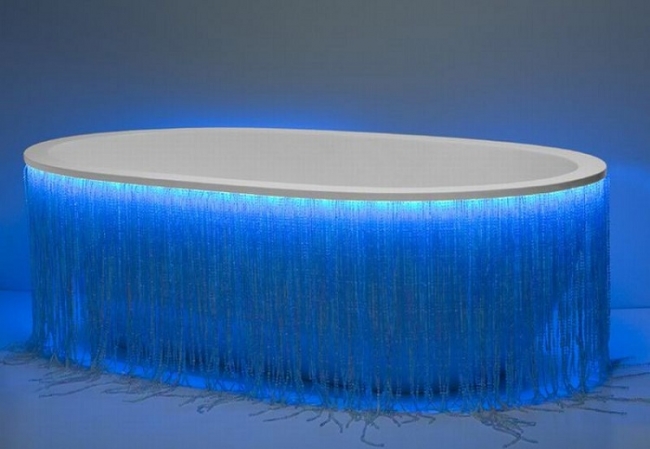 You can really pamper yourself by taking a bath in these modern bathtubs as they are stylish and have many facilities to provide a unique bathing experience. You will find facilities like steam sauna, infrared sauna and spa in the modern bathtubs. Your bathroom will look more trendy and perfect in every manner if you install one of the modern bathtubs. You will find many styles and design in modern bathtubs and one such unusual and trendy modern bathtub is the one that has LED lights installed at the bottom of it. Let us explore this unusual yet trendy bathtub in more detail so that you get a better picture.
A Sum Up On LED Bathtubs
LED bathtubs are just like any other modern bathtubs but they have LED lights installed in them to give them a much more voguish look that surely is irresistible. These LED lights makes the entire bathing experience much more enjoyable and you will agree that it is something that sounds really interesting. These bathtubs are connected via electricity at their bottom and once lit up they look like something beautiful and unique.
In case you are wondering about the security of the LED bathtubs then you can be completely assured as these bathtubs are totally secured and they are manufactured from stuffs that happen to be insulators. Many kinds of colorful LED lights are installed in these kinds of bathtubs to make them more fun and unique. So you can understand just by reading the description of LED bathtubs that they are trendy, beautiful and modern in every sense of the word.