Judicael Cornu, a product designer from France, has designed B-Light that will brighten up dwellings the clean and green way. The ingenious lighting source catches natural light that fall son it during the day and utilizes the solar energy to light up surroundings when dusk sets in. Judicael designed B-Light by joining hands with Vincent Gerkens and Lise Capet.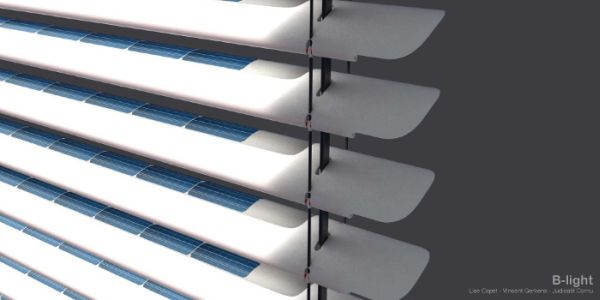 The shape is quite appealing and its capability to harness energy from the sun makes sure that precious resources are not wasted. The design consists of blades that are quite supple and can tilt with the direction of sun rays. These can follow the rays of the sun, which makes sure that maximum energy gets trapped during the daytime.
B-Light is responsible for creating a great link between the outside and inside atmosphere. The light can be placed anywhere and will help giving birth to different moods, thanks to B-Light's adjustable design that can be used for different purposes. The Eco-friendly creation will lend warmth and jazz up the area it is positioned in whenever it is switched on. This will helps save electricity and will help bring down electricity bills as well.
B-Light has a simple appearance that will blend perfectly with different kinds of interiors. Just make sure you place it in an area which receives sufficient sunlight, which will make sure it lights up the surroundings and makes the space glow like a star that too the environmentally-friendly way.
Via: Cargocollective