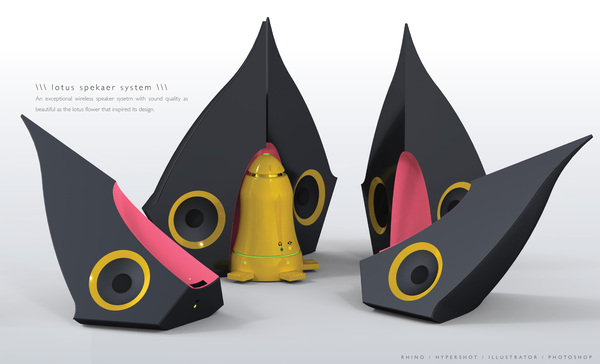 Are you tired of the same age old wired music system? Wouldn't it be nice to listen to your favorite music outside? Lotus speakers are the perfect combination of technology, style, and of course music, that can satisfy your crave for music without the hassles of wires. These are designed keeping in mind the elements of nature, primarily the lotus flower.
Concept and Design:
Everybody is intrigued by the beauty and elegance of lotus flowers. A lotus also symbolizes creation, rebirth and sun. Lotus speakers are designed keeping in mind the interesting blossoming process of lotus, closing up at night and blossoming at dawn. Organic and natural designing make these speakers even more desirable.
Technology used:
Lotus speakers are the best examples of latest biomimicry design. Renewable bioplastics have been used to make these speakers. Natural resources, like sugar cane and starch have also been used while making these 'eco-friendly' speakers. Latest Bluetooth technology has been adopted for wireless communication between the hub base and the speaker petals.
Specifications:
Designers have optimized the performance of these speakers with '3.5mm headphone microphone jacks'; and it is powered with rechargeable lithium-ion batteries. There is also a light indicator for connectivity or battery status.
If you are looking for speakers that exude elegance and performance, lotus wireless speakers are the best bet for you!
Via: Jarod Addison / behance network