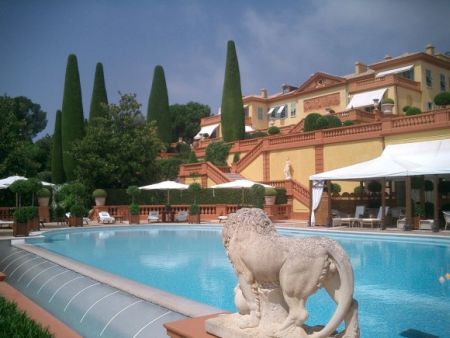 Building a home is a dream come true for most people and every home says a lot about who lives in it. For billionaires who need their homes to reflect the power and influence they hold in the world, money really is no object and their homes are often regarded as landmarks drawing interest from tourists and locals alike. Here's a list of some of the most lavishly luxurious homes owned by some of the richest people on the planet.
Antilla, Mumbai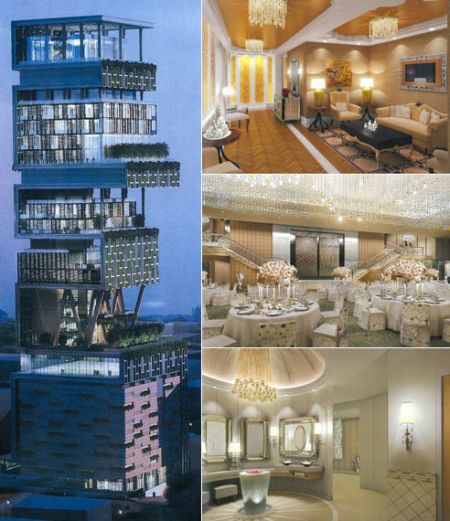 The world's fifth richest man Mukesh Ambani had been known to be a man of modest tastes who didn't like to show off his net worth of $46 billion and counting. But all that changed when it was revealed that the chief of Reliance Industries, a local petrochemical giant, is all set to move into a new home worth USD $2 billion! Completed in January 2009, the posh home named 'Antilla' comes with accommodations for all 600 members of the home's staff and plenty of room for the family of four spread across 22 storeys. Boasting of 400,000 sq. ft. of interior space, the home stands 550-ft tall above the ground has nine elevators, a six storey parking and even a private helipad on the roof!
Villa Leopolda, Cote D'Azur, France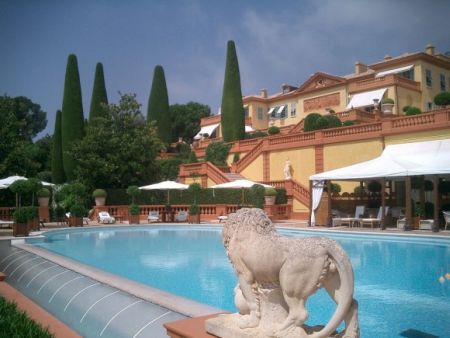 Apart from being the owner of the Chelsea Football Club, Russian billionaire Roman Abramovich is also the proud owner of the world's second most expensive house. Named La Leopolda, the property costs roughly $500 million and was originally built to house the many mistresses of Belgian king Leopold during the 19th century. With the resort of Villefranche running adjacent to the property's immaculate grounds spread over 10 acres, the home offer the best sea views in the south of France and the majestic hilltop villa also overlooks the French Riviera.
Luxury homes in Florida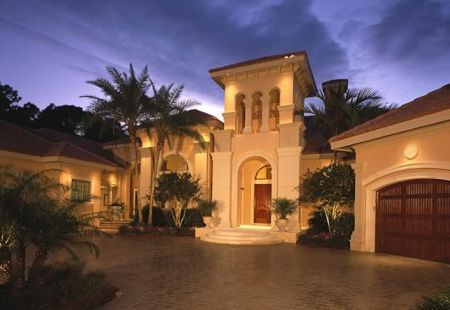 Once ruled by natives, the architectural landscape of Florida has been invented and reinvented by French, English and Spanish explorers many times. Though the state is celebrated as a popular 'resort' and vacation destination throughout the world, it also offers a glimpse into the past taking visitors into the charm of the modern American civilization as it began to take shape. One such delightful blend of romance and activity is the capital of the state, Jacksonville AKA the Old City. Unlike any other place in North America, the National Register of Historic Places has listed 29 buildings spread over 144 square blocks which makes the unique historical district a hotbed for architectural treasures and magnificent luxury homes built in Spanish colonial, French colonial, Mediterranean and English colonial styles.
Modern Architecture House Design by Marc Koehler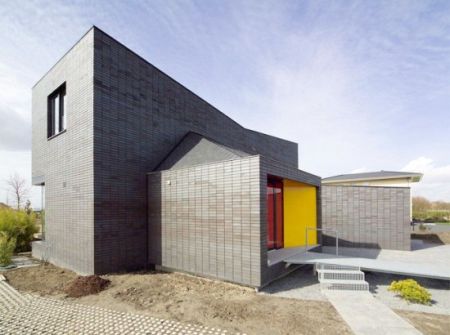 The M House, by the Netherlands-based Mark Koehler Architects is a modern and magnificent home that offers its residents incredible privacy, immaculate street presence and an undiluted architectural interest. This modern house design comes with two defined wings that spilt its interior while the home's M shape is highlighted by high ceilings overhead, rich woods underfoot and vibrant interiors. Natural light floods the main floor of the home with storefront-style windows opening into a private rear garden. On the street side, the house if deliberately closed off to offer maximum privacy to the residents.
Hearst Mansion, Beverly Hills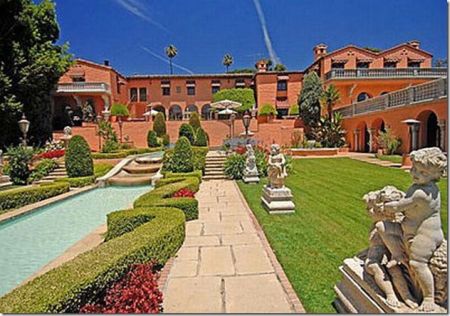 The Platinum Triangle, a famed Beverly Hills environ spread across over 6 acres of land is the location that houses a lavish home that has 29 bedrooms, a nightclub, a tennis court, eight fireplaces and 3 swimming pools all of which are divided into 6 separate residences for William Randolph Hearst. The US newspaper tycoon's prestigious Beverly Hills mansion id officially the most expensive real estate in the US with a current market price of around $165m (£81.4m)
Spelling house, Los Angeles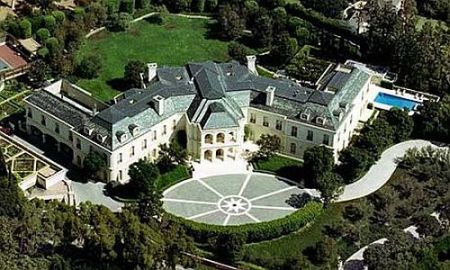 The largest private home in Los Angeles County, the Holmby Hills-based Spelling house is spread over 4.6 acres of land with 5,248 square meters floor space inside. Built in 1991, the mansion is built in French chateau-style and was constructed by the late Television mogul Aaron Spelling. His widow Candy Spelling now owns the lavish property comes with parking space for over 100 cars, has a private citrus orchard, a rooftop garden, an 18th Century-style garden, a spa and even a barber shop and beauty salon in the attic. The home also has two swimming pools, tennis courts, a humidity-controlled silver storage room, a gift-wrapping room and a bowling alley which makes it totally worth the $150 million (£105 million) price tag that it comes with.
LA Luxury Home with a bird's-eye view of the city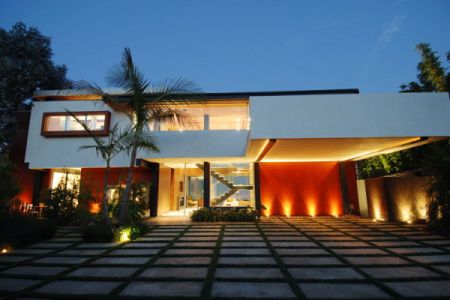 Boasting of a contemporary facade of stone, steel and glass, this hot home featured on LA Classic Estates is fit for any celeb though we don't know who the current owner of this beauty is. The home offers residents magnificent views of the ocean beyond the city lights in the distance. The Hollywood Hills-based posh pad is located at 8400 Grand View Drive and comes with four spa-inspired baths, three bedrooms, spacious living areas and a chef's kitchen. Designer finishes and state-of-the-art lighting are complimented by a glass-enclosed entry with an infinity pool and cantilevered terraces offering the $4.95 million private luxury estate magnificent views of the city.
Beachfront Luxury Homes of Wood, Stone and Glass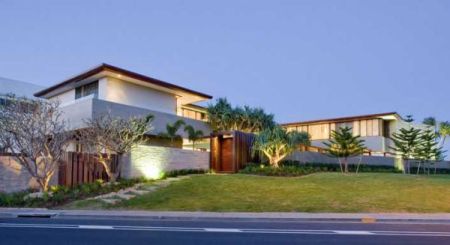 This nature-infused design has been deeply impacted by the breathtaking beachfront that lies to its east and the adjoining parkland that lies to the south. The Albatross Avenue site is located on Australia's Gold Coast and this beachfront luxury home is the creation of Aussie architectural firm Bayden Goddard Design. Paying the perfect complement to the landscape, the home is fronted by a widespread glazing, recycled timber and stone-based grand façade. The luxury "view-through" floor plan comes with ground floor being encircled by sliding-glass walls that make every room accessible from outside. Even though the house uses a traditional floor plan, multiple lounging, dining and living spaces offers panoramic views of sun, surf and sand via a 25-meter wall of glass.
Allegra House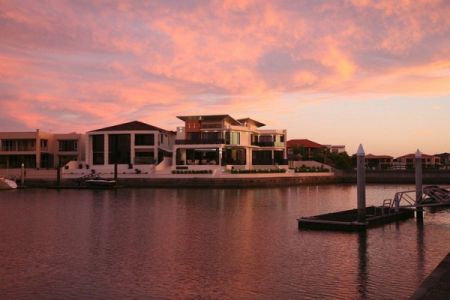 Built in Sovereign Islands, Australia by Michael Easton Construction, the Allegra House marries a fabulous location with imposing architecture. The residence was built as a joint design effort by Think Design Studio and TCL Homes and boasts of private ensuites with four generous bedrooms. Located on a 9,784 square foot block, the home spans 11,151 square foot and the contemporary family demonstrates how a full concrete home can be made just as fabulous as a wood and stone one.
Orchid House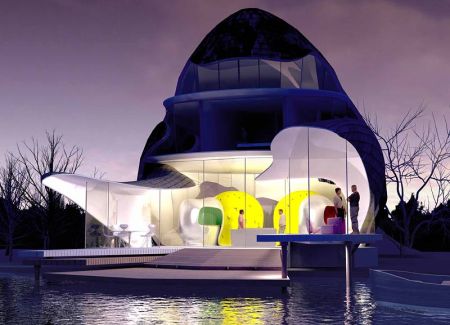 Sold for a world record £7.2 million, this Cotswold nature reserve-based eco-friendly home is the poshest country house in the world. Currently owned by an anonymous buyer, the house was modeled after a bee orchid found on the reserve though the manor house is said to be 'thoroughly modern'. With geothermal heating and an underground pump, the house will produce more energy than it uses. Designed by Sarah Featherstone, the house is built on a privately-owned 550-acre nature reserve and cost £3,000 per square foot.