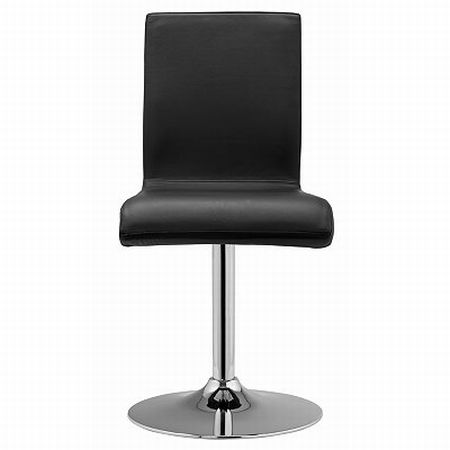 Style and comfort are the most important things to consider when looking for dining chairs. If you are planning to renovate your house to give it an urban appearance, then modern furniture can make your house look amazing and beautiful. Modern dining chairs are available in materials like metal, leather, wood, etc. You can choose the one that you like and are comfortable with. This guide of 10 most elegant dinning chairs can surely help you in finding an attractive design for you.

1. Black Potter Dining Chair
BRAND : John Lewis
PRICE : USD 99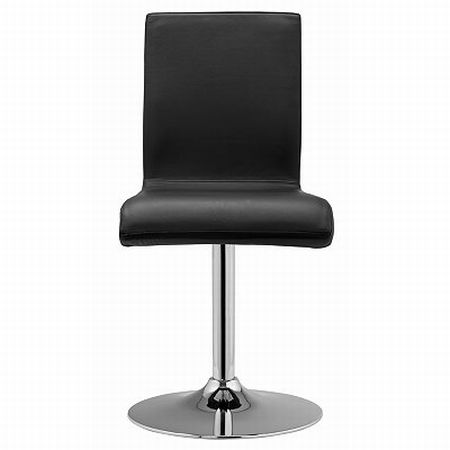 Embellish your dining room with the classic beauty of this Potter Dining Chair. It is a black sleek and modern swiveling dining chair with a gleaming chrome pedestal base and a black leather upholstered seat. The upholstery pattern adds an extra layer of color and comfort to dining room chairs. You will love the array of fabrics and hues that go from subtle to bold in neutrals and brights. Traditional woods and Parson designs include wood and metal framing that ranges from classic to elegant. For modern spaces, you will find steel and wood combinations as well as gracious sculpturing. Potter Dining Chair defines it best with a displayed design. The dimension of this chair is H88 x W46.5 x D51cm and the height is 50.5 cm.
USP
The bar stool look of this dinning chair is a novel idea.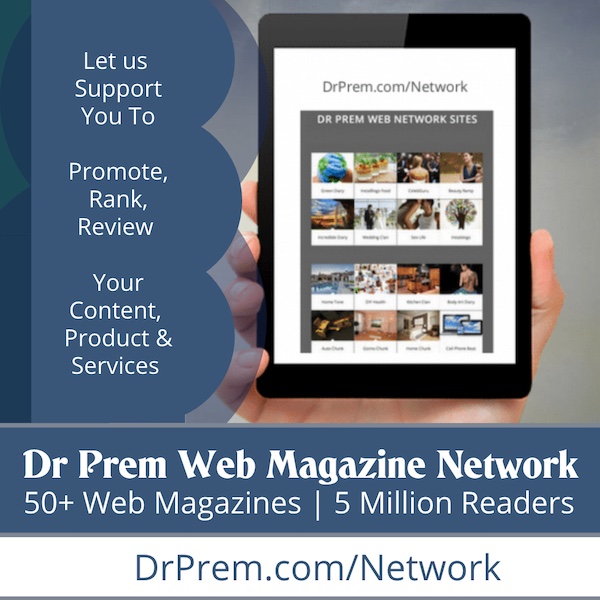 PROS
Elegant and intricate in style.
2. Bonaldo Victor Modern Dining Chair
BRAND : Dondoli and Pocci
PRICE : USD 790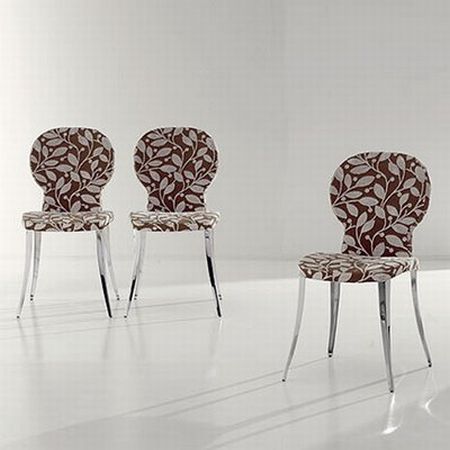 Bonaldo Victor Modern Dining Chair offers a stylish and elegant design. It is a comfortable and beautiful chair for any indoor space. The frame of the chair is in steel which comes in two finishes (painted or chromed). The painted finish is available in four colors (white, black, silver or gold). The seat and back rest have a cold expanded foam padding which is completely covered by either fabric or leather. It would add glamour to everyday indoor spaces. Each fabric and leather upholstery comes in a variety of colors. The chair would look marvelous in any indoor setting including the dining room, living room, den, office, waiting room, restaurant, etc.
USP
The frame of the chair is in steel having the finishing of paint or chrome along with several colors.
PROS
The overall look of this chair is very stylish.
3. Elements Fabric Chairs Modern Dining Chair in Black and Grey
BRAND : Elements Fabric Chairs
PRICE : USD 178.99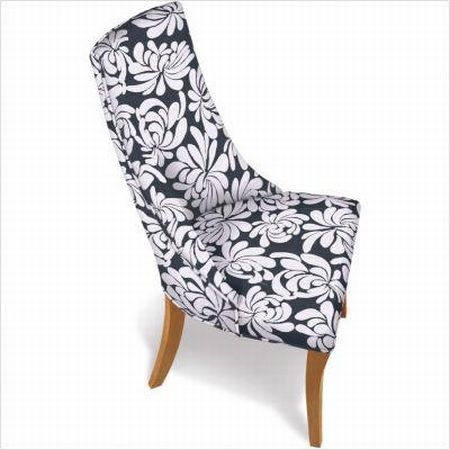 Spice up your dining room with these elegant dining chairs. These side chairs showcase a parson chair design and a chic floral print. For a chic country style, this antique painted dining sets are available in various sizes and assorted antiqued painted colors as well as in classic Retro Pine. In solid White oak Oslo dining offers a chunky rounded top whilst Lounge featuring retro curvy corners and legs.
USP
This timeless, elegant and relaxed country style chair is made up of solid ash for which the fabric is sourced from managed forests.
PROS
Black and grey fabric upholstery makes it very elegant.
4. Cadiz Dining Chairs Faux Leather Brown
BRAND : Cadiz Dining Chairs
PRICE : USD 169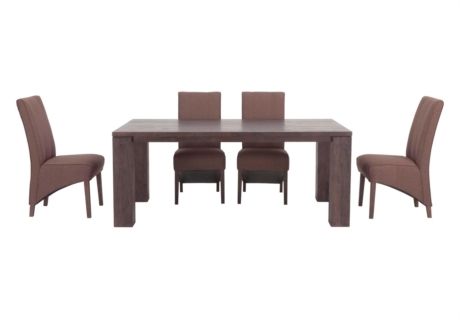 The Cadiz dining table with 4 dining chairs may be ordered online or in store and is supplied in a rustic solid mango veneers with a mysterious mocha finish. The beauty of timber is it's natural material. The items have variations in color and grain, giving each piece its character and uniqueness. An upholstered seat and back is thoughtfully designed after considering the concept of comfort in mind. This beautiful chair has a high back and padded seat, perfect for those long dinners with friends.
USP
The beauty of the timber used in manufacturing is obtained from solid mango veneers that remain for long time when it comes to longevity.
PROS
Sleek and elegant, this dining chair is the ideal accompaniment to the Cadiz dining table.
5. Lyon Walnut Large Fabric Modren Dining Chairs – Bison – Chocolate – Pair
BRAND : Lyon Oak Large Fabric Dining Chairs
PRICE : USD 266.99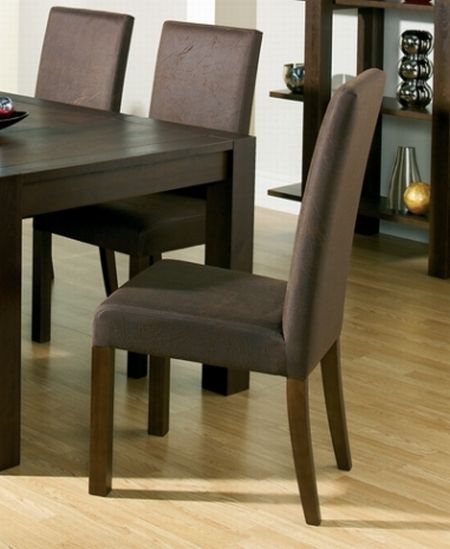 The Lyon Walnut Large Fabric Dining Chair from Bentley Design combines the rich walnut tones of Lyon walnut range with a warm chocolate tone of leather. These fabric dining chairs would go well with Lyon Walnut Dining Table of 150cm and together they would lend a contemporary and sophisticated look to any decor. The leather dining chairs, part of the Lyon Walnut range, demonstrates the rustic walnut tones of this range and are made from walnut veneers set into sturdy Oak frames. The dimension of this chair is 49cm x 52cm x 101cm.
USP
These chairs are manufactured to the highest quality standard and as a result are extremely hard-wearing and long-lasting.
PROS
These chairs are stylish and would make a striking statement in a dining room.
6. Vicky Wenge Modern Dining Chair
BRAND : Vicky Wenge Modern Dining Chair
PRICE : USD 190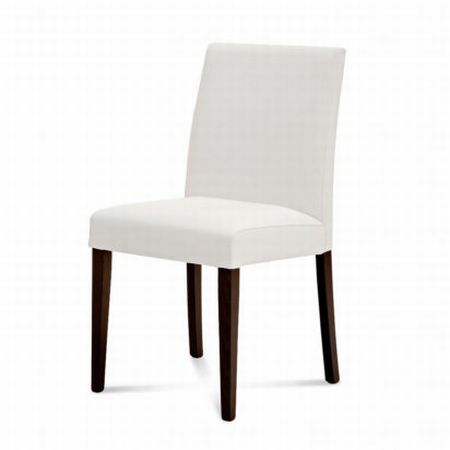 Italian made and designed, this Vicky faux leather & wenge dining chair is a formidable mix of style, durability and practicality. The wenge stained wooden legs perfectly compliment the upholstered seat which is available in a choice of faux leather upholstery in colors like white, black, brown or cream and beige. The Vicky chair makes a classy and timeless design statement and are great for contemporary dining rooms. This Vicky Wenge dinning chair has a fully comfortable padded seat and backrest which offer more comfort while sitting and the dimensions include W48 x D54 x H85/47c.
USP
A foam-padded black faux leather seat in this chair is something which is both sturdy and comfortable.
PROS
Modern classic design with elegance.
7. Coniston upholstered dining chair
BRAND : Coniston Oak Furniture
PRICE : USD 159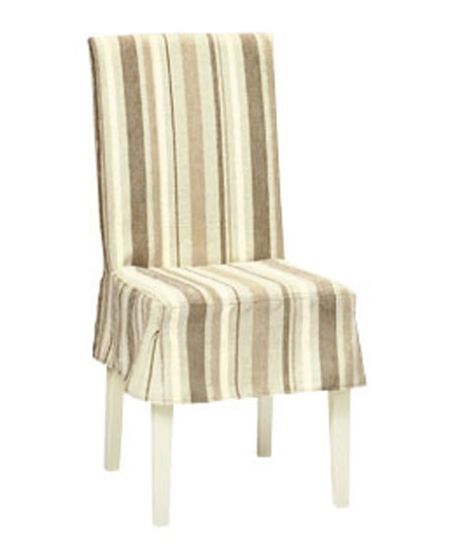 Coniston upholstered dining chair is ivory painted gum wood with contrasting American oak veneers with a 'smoky' finish. The beautiful ivory paint and rich, warm tones of the oak are perfectly complemented by the choice of either two tone chairs and benches or striped fabric covered chairs, adding extra charm to this range. The features such as planked top surfaces and striking angled underframe demonstrate superb craftsmanship and add attention to detail. These upholstered chairs are brown and cream striped and have a fully padded seat. Coniston Smoky Oak is a unique and discrete collection of contemporary farmhouse furniture. It is a design befitting both traditional and modern homes.
USP
These upholstered dinning chairs have a fully padded seat that offer more comfort while sitting.
PROS
These chairs are crafted from American Oak solids and veneers with smoky finish.
8. Katie Modern Dining Room Chair
BRAND : Katie Modern Dining Room Chair
PRICE : USD 49.95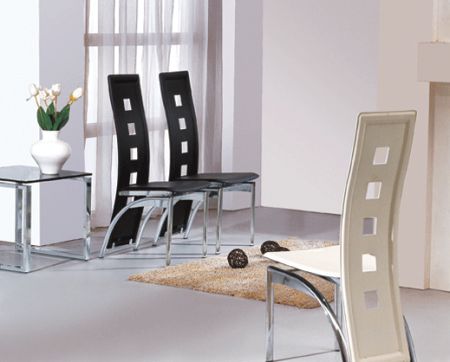 What else could be defined when the look itself speaks much. Katie Modern Chair is a truly magnificent dining room chair . A stunning dining room chair with square cutouts on the back support with extra strong chrome finish legs and framed for a sturdy yet stylish design. It offers a high density, high resilient foam and fiber for your comfort. You can choose from the colors like black, cream, white and red. The dimension for this chair is W45cm x D44cm x H105cm.
USP
Resilient foam used in the manufacturing of this chair have a good elasticity and supporting force which does not cause fatigue even in case of long-lasting utilization.
PROS
This chair will complement any dining table and will add beauty to the dining room.
9. Metropole Modern Dining Chairs
BRAND : Metropole Modern Dining Chairs
PRICE : USD 71.1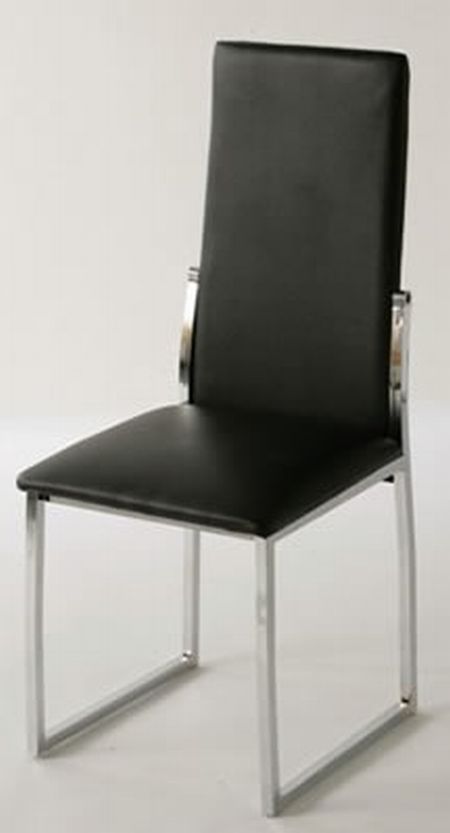 A great addition to any home, this Metropole modern dining chair is luxurious and practical. The modern dining chairs are available in either black faux leather or white faux leather on a solid chrome frame for extra comfort and support. This collection of dining chairs will beautifully complement your dining room furniture. These dining chairs are sold in sets of 4. The frame used for this chair is of solid steel plus a black faux leather for seat of the chair which adds an elegant finish to the chair.
USP
The seat and back of this contemporary Metropole Modern dining chair are filled with injected foam making it exceptionally durable and comfortable.
PROS
These dining chairs are sold in sets of 4.
10. Modern White Dining Chair with Stainless Steel Legs – HL021330
BRAND : Modern Dining Chair
PRICE : USD 124
A stylish and contemporary white fabric dining chair with fully covered seat and back, complete with stainless steel legs. The familiar lines of classic Italian design reinvented with comfort and value in mind. At a glance, you notice the generous, clean Parsons-style lines and fine quality leather in fresh white. Up close, it's the small details that make the big difference: solid welded steel base, full wrapping in aniline-dyed leather with mitered corners, and seat and leg with full flange seaming. A thick, sculpted leg supports the comfortable and foam-cushioned seat.
USP
The familiar lines of classic Italian design reinvented this modern white chair with the concept of comfort and value in mind.
PROS
Welded steel frame adds durability to this chair.