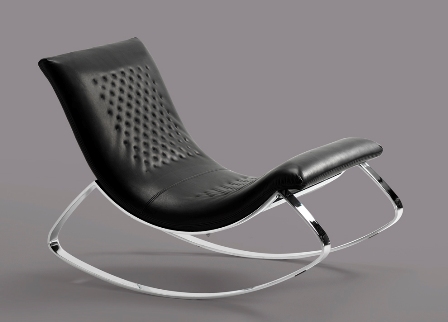 Rocking chairs are eponymous with tradition and old age, thanks to enduring image of retired people reading newspapers in their rockers. Modern rocking chairs brings you the same warmth and coziness but in a whole new style and outlook. Modern designs have smooth edges and curvy shapes compared to sharp edges and linear shapes in traditional, similarly geometrically new shapes and structures are also experimented with. Modern furniture are often minimal in design and choice of new materials such as fiber, plastic and PVC enables designers to give the desired shape and weight to furniture. Thus, no wonder modern rocking chairs are more comfortable, durable and portable. All such features are moving people to modern furniture though traditional furniture also holds its charm for puritans and snobs. Here we have shortlisted 7 most comfortable modern rocking chairs which will surely help you to find one for your home.

1. The Chandelier Leather Rocking Chair by Cierre Italy
BRAND : Cierre Italy
PRICE : USD 3457.88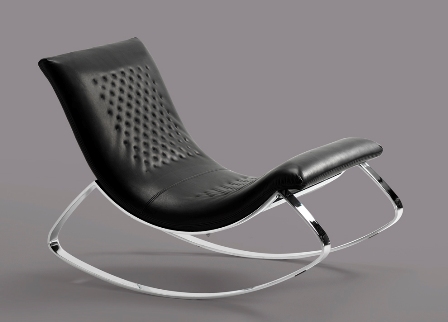 This chair is crafted from the highest quality materials and hand made. Cierre's leather armchairs, sofas and beds are exceptional quality. The Chandelier rocking chair has a matching armchair, a chaise lounge and a footstool. And this rocking chair is also available without arms. There are 4 leather grades available, and a rainbow of colors to choose from.
USP
The comfort and durability of chair have made them the perfect choice for generations. Now you can enhance your home decor with this leather rocking chair.
PROS
It has guarantee against defective materials.
It is comfortable and distinguished.
2. 'Rosy' Cable Knit Restored Rocking Chair
BRAND : Melanie Porter
PRICE : USD 2550.43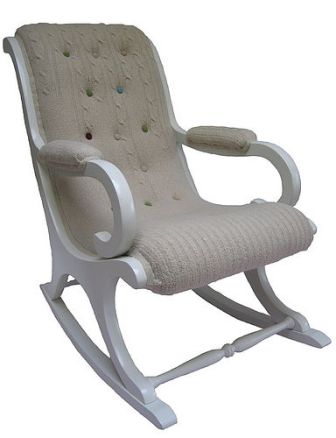 Rosy is a wonderfully comfortable upholstered rocking chair with a high gloss painted frame, perfect for a nursery or living room. It is available in a graduated cable design with contract crocheted buttons. Each panel of knit is individually knitted and felted to create a perfect 'sweater' cover for each piece. The result is highly textured yet hard-wearing and turns an old chair into an inventive one.
USP
This modern chair would make a great statement in any room because of its design and comfort that it offers.
PROS
The handmade nature results in each piece turning out completely unique and look a great home decor.
3. Magis Voido Rocking Chair
BRAND : Magis
PRICE : USD 614.4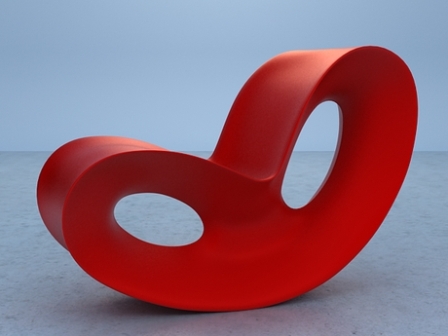 A very stylish and contemporary rocking chair, perfect for modern and elegant interiors, designed by Ron Arad. The Voido rocking chair is available in a range of glossy and matt colors. Voido is a sculptural rocking chair reminiscent of Barbara Hepworth's work. As Voido is also suitable for outdoor use, it makes the ideal garden chair and sculpture.
USP
This piece is a novel twist on domestic design embracing the creativity of global designers coupled with the technological sophistication of the modern times.
PROS
With Magis voido rocking chair you are guaranteed of comfort like never before.
4. Stingray Rocking Chair by Fredericia
BRAND : Fredericia
PRICE : USD 2775.8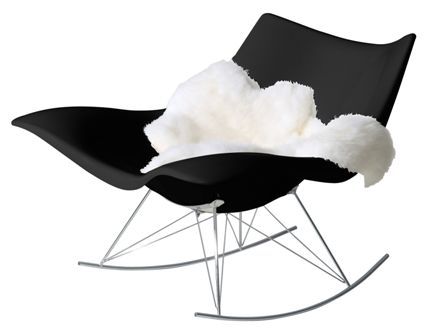 A modern, dynamic piece of furniture built for comfort, which accommodates a variety of sitting positions. The shape of the rocking chair was partially inspired by a shell. A piece of furniture that provides a unique experience of inner tranquillity. The steel frame has been constructed without any transverse lines thus accentuating the floating appearance of the chair.
USP
This chair is an eye-catching almost futuristic interpretation of the classic rocking chair, which is raw on the outside but smooth and refined on the inside.
PROS
The chair had evolved through a process of models, mock-ups and made by hand from fibreglass.
5. Inglesina Loft Rocking Chair, Orange
BRAND : Inglesina
PRICE : USD 254.16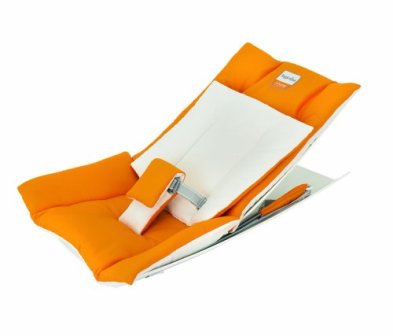 Loft the rocking chair for modern living. Loft is the rocking chair with modern lines that adhere to the most sophisticated design trends. The time for relaxation or a nap, between one feed and another, will be your baby's most awaited moment, when he discovers Loft, his new lounge chair. The structure, inspired by clean and essential design, mixes neat lines and light shades of color with the bright colors of the fabric lining.
USP
The textile padding makes this chair as relaxing as the most indulgent chaise lounge.
PROS
It has adjustable 4-position backres.
It has double-facing head cushion.
6. Rocking Chair No. 9 Miniature by Vitra
BRAND : Vitra
PRICE : USD 604.16
The Miniatures Collection presents the most important classics of modern furniture history in miniature. The construction, materials and colors correspond to the historical Vitra Design Museum collection original, right down to the last detail. Because they are so true to the originals, the miniatures are not only valuable collector's items, but also ideal illustrative material for universities, colleges of design and architects.
USP
This chair is the representative of the classic design and artistry of the original furniture pieces on a far smaller scale.
PROS
Construction, materials and colors correspond to the historical Vitra Design Museum originals.
7. Explore Rocking Garden Chair
BRAND : Contemporary garden furniture
PRICE : USD 605.74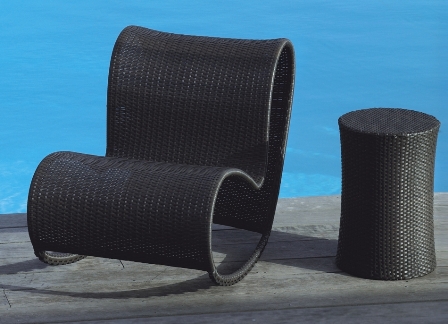 The Explore garden chair featured in the garden of the Smarter Living Home at the Ideal Home Show 2009. This exclusive collection of contemporary garden furniture is hand woven with the unique synthetic Hularo fibres for Cane-Line Denmark. It has exceptional qualities, being extremely strong and soil resistant, UV resistant, colorfast, water repellent and frost proof. This modern garden furniture can be left outside all year and simply hosed down to clean.
USP
This exceptional quality modern garden furniture should be looked upon for its weatherproof qualities and striking European design.
PROS
It does not absorb the heat and stays cool even in the hot weather.