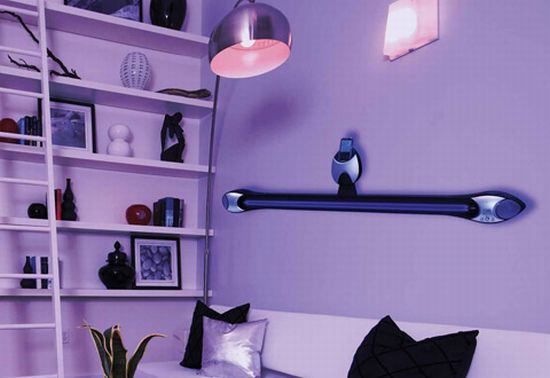 The two most distracting aspects of life are light and movement. From time immemorial, humans, insects and other animals have been drawn to these two factors by instinct. From age-old times, any sort of entertainment has been guided and promoted by this knowledge. The appeal for the product with both sound and visual distractions is always in the majority. So a music dock with a pulsing light bar with varied mood options will never fail to entertain you or your environment. The iPod/iPhone dock stereo with rhythmic light fixture is deliberated to liven up your surroundings with excellent stereo sound accompanied with illuminated distraction to take your mind off the stress and tautness of your daily grind.
The music dock with a pulsing light bar comes with a stereophonic dock to cradle your mp3/mp4 player, or iPhone/iPod connected to two speakers attached on either end of the four feet long black light bar. The device can fit easily on cabinet-tops, table-tops, bedside arrangements or any other flat top fixtures. The length, width and height are respectively 64, 4.25, 12.38 inches and weigh about 5 pounds. The dock accompanied with the bar can wither be mounted on the wall or on the same surface. Priced at $ 149.99, it promises functionalities worth true value of your money.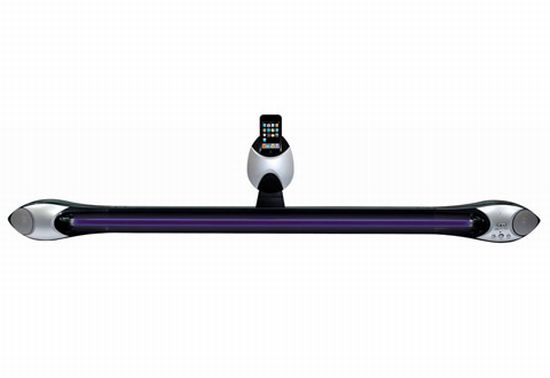 Often, the quality of sound is compromised to ease looks or portability of a sound system, but here with the vibrant stereo sound quality emanating from the dock speakers, full digital hi-fi sound is assured to make music be heard the way it was meant to be.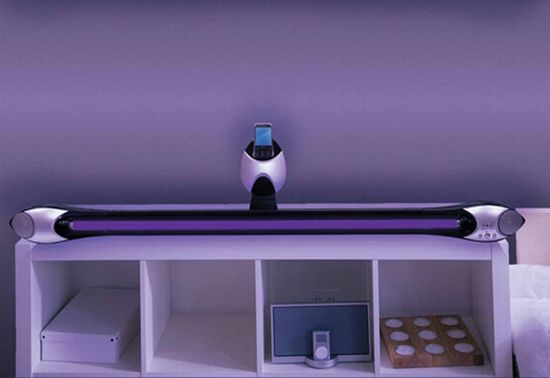 Furthermore, with a black light motion perking up the energetic reverberation of your favorite songs, listening to music will be more of an indulgence that will keep you keyed all day. The black light for stereo dock comes in three mode settings, a volume control knob and an 'off' feature. You can have the black light continually on creating a soft glow around, or set a party mood with a throbbing light to brighten up the ambiance. Also the third setting of Music Response mode, allows the light to respond according to the tune connecting you to a visual vibration of the melody. You can also turn off the light, and just take pleasure in the music.
Via: SharperImage