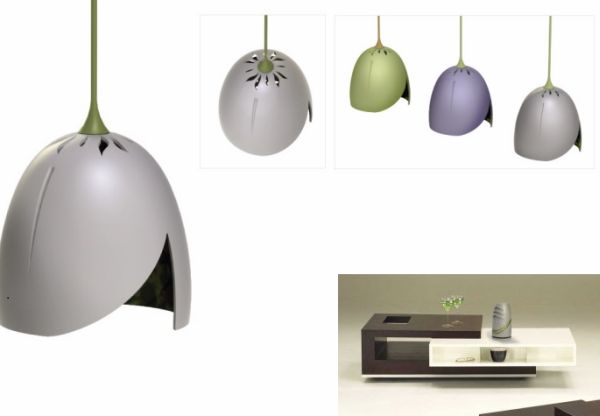 If you go to an electronics store and ask for an air ionizer, the dealer would start explaining you on different kinds of air purifiers available with them. But, have you tried to understand how an ionizer differs from a purifier? An air ionizer is actually the device that works to clean up the air in your room and can be fitted in an air purifier. A turned-on ionizer releases negative ions that help in trapping various kinds of airborne particles by getting attached to them. This way the ionizer keeps your surrounding air cleaner so you may breathe-in pure oxygen. There is a wide range available if you want to select an air ionizer for your room. But, if you really care about the product quality and its designer appeal to be in sync with the look and feel of your living place, here is an exclusive product you must glance at – the range of stylish air ionizers from LG Electronics, designed by Heather Bybee.
The company's European design unit has conducted a thorough research and studied a variety of ionizers available in the market, and has then come out with this unique and innovative concept. It has focused on the product functionality, scenarios, design forms, feature display styles, and on top of all – the ultimate user experience with the product. Within just an eight-week time period, LG Electronics has come out with this designer ionizer range that not only gives a nice contrast to the appearance of any location you place it at, but also purifies air off various microscopic particles. This product makes your room healthier and keeps you away from germs, dirt, other contaminants, and several air-borne diseases.
LG's air ionizer has been approved through various consumer interaction stages. It is an easy-to-use, contemporary, and environment- and people-friendly product. Depending on how you would want to match this product to your decor and style, there is also a good range of neutral colors available for your selection. The ionizer range is designed on the theme of nature and the ideas have come anywhere from a butterfly cocoon or a moss wall's texture to transparent leaves during sunshine. The way proportions are balanced and the accent of colors displays itself, designs give a natural, harmonious feel. The ionizer's vents are designed in such a way that they get closed when it is turned off, and the device itself turns on when you pull these vents. The process displays the beauty of the product, exactly similar to the opening of a butterfly cocoon! It's an awesome sight when you place it on top of tables.
Also available is a wall-mounted design that is well suited to the elegance of counters on any wall. Another stylish option for you is to go for the leaf-inspired design that comes in an acrylic pattern with a combination of an LED light – use it as a decorative piece with lit-up leaves and the ionizer at the top. The best you get out of this design is its brightness control through a wall-fixed switch or smart phone application, while getting a display of air status through color changes. The design variation also allows you to pick the hanging pendant lamp-style ionizer that you may hang on the roof over a table. Whichever style you prefer, LG Electronics air ionizer can definitely become a healthier choice for you and your family.
Via: Coroflot