Japanese are one of the best innovators and are well known for their interesting creations. Just recently, Nendo, a Japanese firm was in news for its computer mouse with a detachable USB 'tail' and now the firm has yet another creative product to offer. This time it is a very beautiful and classy suspension lamp.
You don't always need a great inspiration to create something brilliant. Even the simplest act of rolling up two pieces of paper that can be slipped inside each other can lead to a masterpiece. This is how the lamp came into existence.
The new lamp is carved out of two pieces of lacquered aluminum. The pieces are joined together by artistically invisible incisions. The unique lamp resembles a long flower bud. The design is truly marvelous. The soft curved edges provide an extra elegant look to it.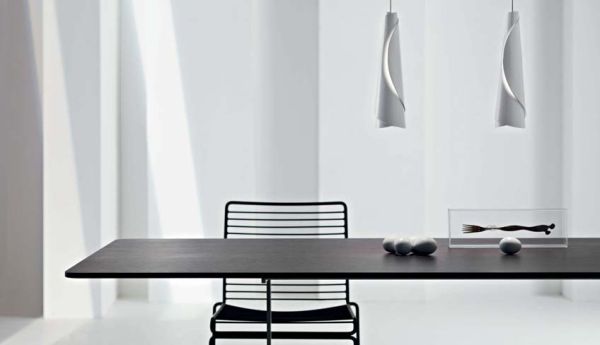 If you are already mesmerized by this enchanting new lamp, please hold your breath while I tell you that the lamp is a lot more magical when it is illuminated. The soft light of the lamp is so energetic that everything around you seems to come alive and you can feel that the lamp has a unique soul of its own.
Its warm glow gives you the comfort you had always wanted. The lamp comes in neutral white or gray color, and I feel that it will effortlessly suit just any type of contemporary interiors. Whether you hang it in your bedroom or in the living room, it will never fail to grab your attention and praise.
Via: FastCoDesign