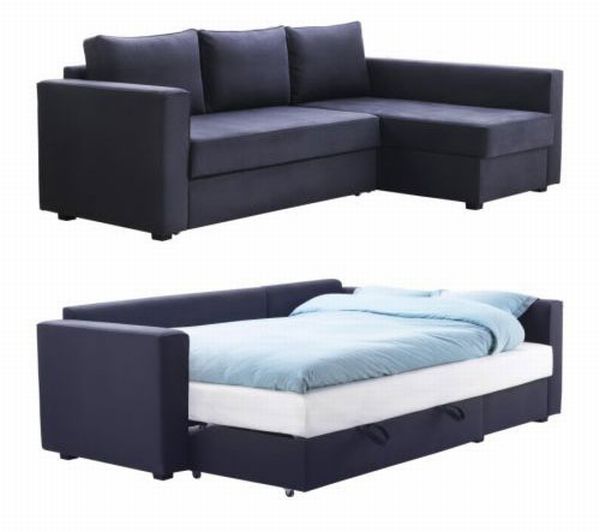 Shrinking household spaces has forced furniture designers to come up with creations that can be used in more ways than one. This is where the modern day sofa beds come into the scene, which are a must have in an apartment with minimum space. These are available in various sizes, shapes and colors that will bow down to your requirements and unfurl multipurpose uses that will be nothing but comfort coated. The fever of a contemporary outlook has bitten the sofa beds as well and these modern designs vow to add an alluring charm to the space in a wink. Have a look.
Modern Sofa bed by Ligne Roset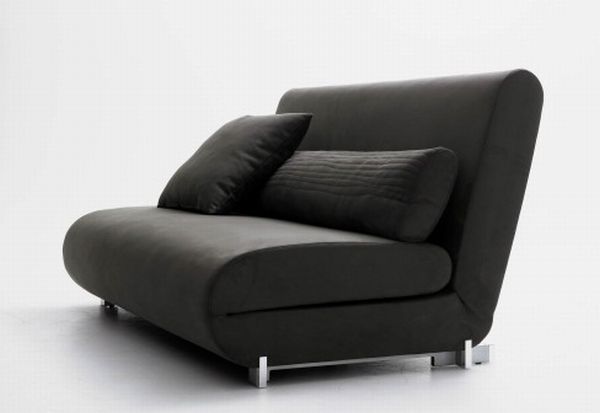 Come and melt into the comfort of the awesomely beautiful Modern Sofa Bed by Ligne Roset. It will be just the perfect pick for people who live in apartments that have limited space. The cool piece of furniture can be swapped into a sofa for guests and lounging in the morning. When dusk sets in the same sofa will act as a comfortable and cozy bed for a good night's sleep. The same furniture item can also be used as a pulled out seat as the back is adjusted for reading books or just soothing those frazzled nerves. The elegantly crafted Modern Sofa Bed is easy to use and maintain. The magical color will blend with a variety of interiors and is bound to steal a lot of attention.
Doc sofa bed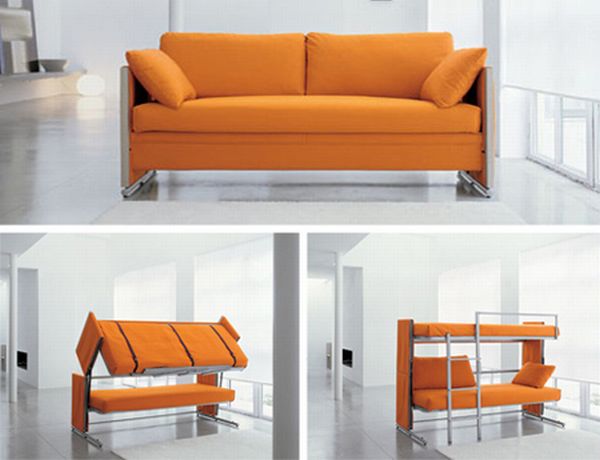 Want to get a comfortable yet stylish sofa bed in your home sweet home? Then, how can you miss the oh-so-gorgeous Doc sofa bed that is a great blend of style and luxury. Created by BonBon, furniture designers from UK, the sofa can be converted into a bunk bed in a fraction of time in case unexpected guests pour in for a night stay. The frame will unfurl a ladder to climb up the bed and the upholstered surface will make you slip into a world of sweet dreams in no time at all. So, use it as a sofa or a bunk bed, the choice is yours because in any case all it will give is comfort and relax a weary body.
McRoskey Innerspring Sofa Bed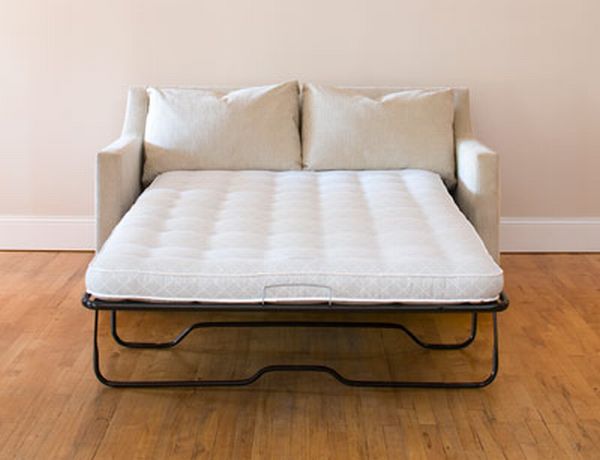 Generously comfortable and easy to operate is what best defines the McRoskey Innerspring Sofa Bed. The plain look of the sofa bed will add its own charm as the fiber fillings ensures total relaxation. The design comprises of a one sided mattress that will not fall short on calming you once using the whimsical sofa cum bed. It has been draped in Belgian cotton ticking, which further adds to its good looks and elegant appeal. The innerspring unit doesn't fall short on lending outstanding support and relieves any kind of discomfort.
Sofa Bed from Espacio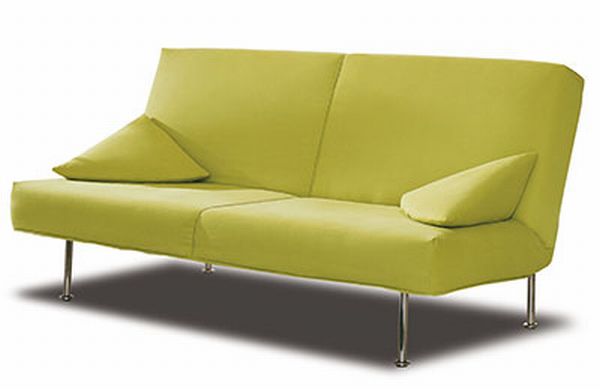 Add a truly exquisite glow to your living space with the Sofa Bed from Espacio that comes injected with the power to give the space a magnetic appeal. The modern design will add a touch of sumptuousness whether used as a sofa or a bed. The sleek comfortable style of the sofa bed is available in a variety of colors, which will give a buyer the option to pick the furniture item as per his/her taste and the setup. The presence of well crafted side pillows adds a streak of stylishness while at the same time acting as side arms for the sofa.
Jack Sofa Bed By Milano Bedding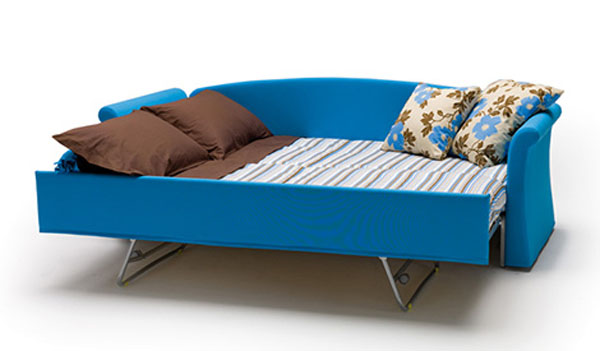 Simple and multifunctional furniture items don't necessarily have to be dull and boring. One look at the Jack Sofa Bed by Italian furniture manufacturer Milano Bedding and you will be smitten by its cheerful presence which will enliven the spirit of a space. The same sofa can be used as bed as well as a chaise lounge chair when one wants to sit back and relax. The sofa bed echoes style and will leave onlookers in a state of awe once they set their eyes on this bubbly piece of furniture. The intricate placement of motifs gives it notable grace and lets you unwind as it creates a leisure room.
Leisure Sofa Bed With Adjustable Backrest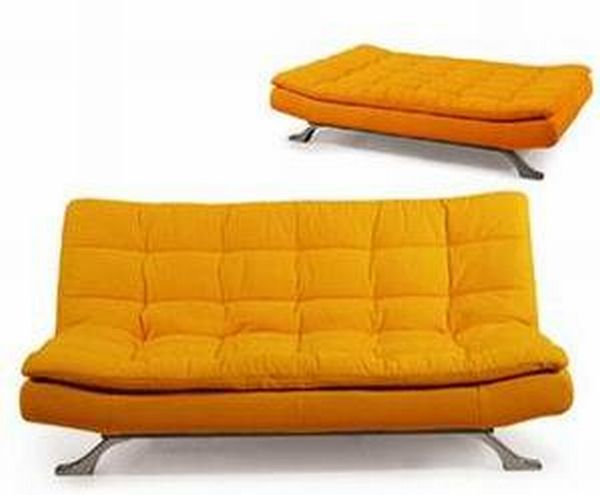 Leisure Sofa Bed has a wonderfully distinctive design that will prove to be an epitome of luxury and comfort. It will bring in necessary warmth and will fold out into a bed in case some guests drop in at your place and there is not enough room to accommodate them. The best part being that the backrest can be adjusted in three positions as per the whims and fancies of a user. See magic unfurl when you sit back on the sofa bed and slip into a state of ecstasy.
Amazing Futura Airport Sofa by Damjan Ursic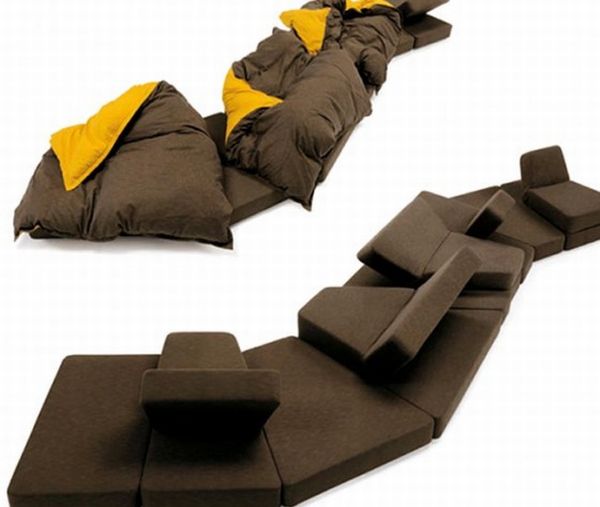 Bring some cheer into your house with the extremely versatile and stylish Futura Airport Sofa. A fine-looking creation by Damjan Ursic, it can be flexibly given various configurations, thanks to the presence of 13 resourceful elements that comprise of the arm rests, seats and the back rest. Adjust them as per your comfort and style in the desired shape. The presence of cushions adds a sense of comfort and will become a perfect place to unwind after a hectic day at work. The cushions unfurl an optional recline that will make reading a book, watching TV, using a laptop and simply relaxing all the more fun. The sofa bed comes smothered with a modern contemporary look, which will be just perfect for present day homes. Undoubtedly, the sofa bed will become the most sought after spot of every home.