The writer of this piece cannot personally say whether people
in the times before colored print and TV ads bought toothpaste based on how
exciting its packaging looked or not but she would concede that she herself is
guilty of many a times falling for the toothpaste that came with a shiny
package or one that tasted better! And that perhaps says more about the kind of
influence that advertising that the writer's generation (born in the mid '80s!)
has grown up with rather than the perceived improvement in the quality of
toothpastes over the years.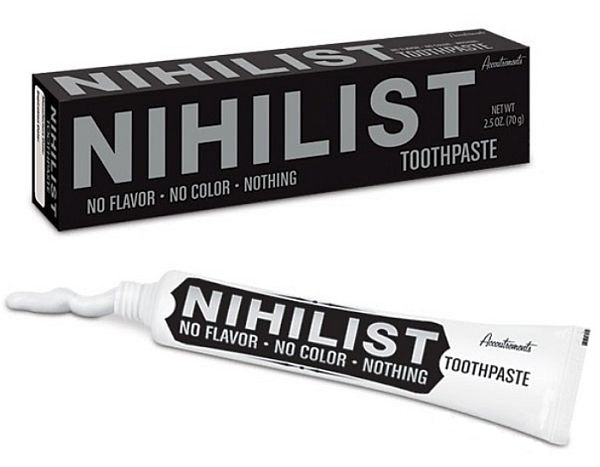 But, this new company called Accoutrements wants to take all
those false pretenses that advertising relies on to sell stuff and give you a
toothpaste that is just paste and contains no flavor or color. Well, it's white
because it has fluoride salts in it and it wouldn't really clean your teeth if
it didn't. But it still is totally flavorless and doesn't come with all those
other bells and whistles (cooling crystals, micro shine specks, extra strong
germ killing beads or whitening stripes) that other toothpastes in the market
come with.
One supposes that this stripped down approach makes the name
"Nihilist toothpaste" very apt for the product though one does think that the
uber-minimalistic black and white packaging is a tad too depressing even to
look at even if one knows that it would be thrown into the trash the moment the
toothpaste tube is taken out of it. But we suppose that suits nihilists who don't
really believe in anything just fine. The Nihilist toothpaste retails at $5 for
a 2.5 oz tube.