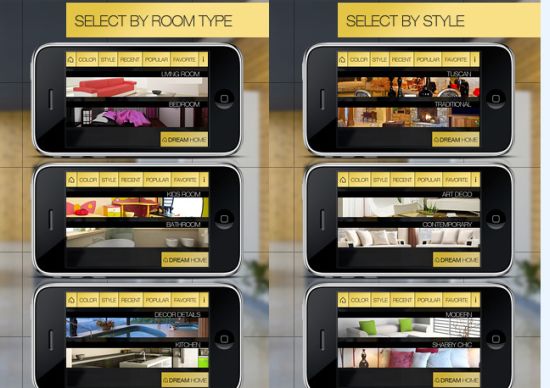 Dream Home iPhone app from Apalon has been especially designed to cater to you the wide range of design ideas. The app features many, many and many high resolution pictures, helping you choose the ideal decor for your home. You can choose from umpteen room type, styles and colors. It is the convenient picture gallery that allows the users to keep up with the latest home design trends. Allowing you ease of use and flexibility, this app also gives you the luxury to take inspiration from the works of professional interior designers from around the globe.
Features:
1) Easy to use gallery: this gallery allows you to browse through various images with ease. There are also three folders .i.e. recent, popular and favorite to ease your browsing experience.
2) Quality pictures: All the photographs come in high resolution. The user can also zoom in to take a closer look.
3) No Internet required: The app also supports offline viewing .i.e. you don't need to be connected to the internet. You can anyways view the pictures once the app has been downloaded.
4) Choices: It also allows you to filter images according to the room type, style and color.
5) Easy navigation control: The navigation in the app is equally easy to operate. All you have to do is, tap on the tab that you would like to view.
Requirements:
1) iPhone, iPod touch, and iPad
2) iPhone OS 2.2.1
3) 1.6 MB
Cost: Takes $0.99 USD to download.
Download Here.