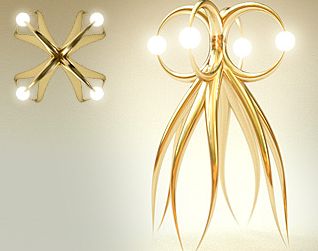 If lighting your home with something really exclusive and out of this world is on your mind…how about getting something like this …
Known as the Dancing Octopus, this is a floor lamp from designed by Israel based designer Adi Fainer.
The striking golden body based on the form of the eight-legged octopus is simply an object de art…while the four bulbs set between the arched rounds give the lamp an exquisite look.
Ideal to be placed in the clean corner of your living room and if not there trust me it's beautiful enough to become the centerpiece in your drawing room.
Via: Design Spotter