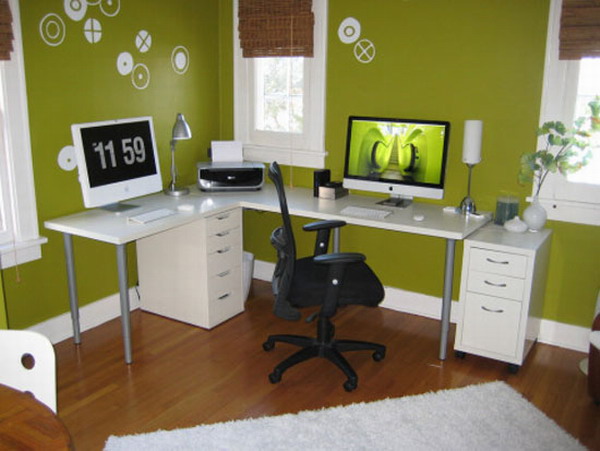 A perfect home office should have the charm to entice the owner as well as the clients. The office should be such that every single activity, ranging from file-reference to photocopying, can be achieved in an easy and clean manner. Designing an office is an art and is very simple to do. Once you are sure of your needs and the environment you want, you can start decorating your office. Following are some ideas that can assist in office decoration. They only require basic skills and imagination. And once it is all done, the end result will be an office that has a professional yet comfortable atmosphere.
Traditional home office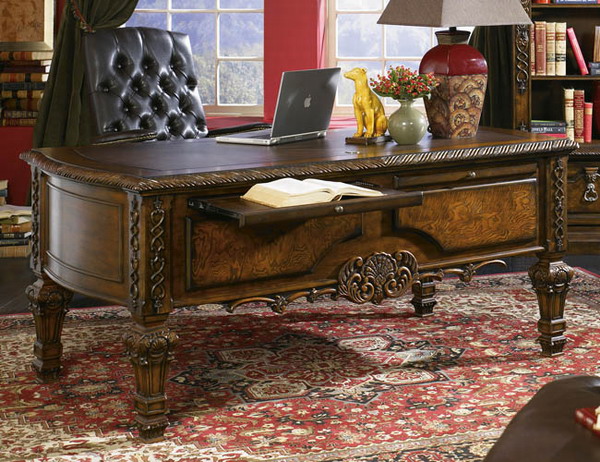 A traditional home office is simple, but elegant. It has everything that you require for running a successful business, ranging from correct furniture to useful electronic devices. Following are some of the main components a traditional home office has. The best part of this idea is that it does not cost you much, except the one that involves buying things that are necessary. The only thing that plays here is placement and choice.
a. Choice of furniture matters a lot. Your choice can make your office look either like a top-class business spot or a joke in the entire place. Ideally, a home office should have plain furniture that serves its purpose. Ornamentation should be avoided to the extreme. Furniture should be kept dusted now and then, and clean clothes should be used to drape them. The main furniture, however, is the storage cabinets. You should have ample storage places so that you can have everything in order.
b. You can go for plain, oak-colored walls, balanced by white, to give your office a standard look.
c. A carpet on the floor can liven things up.
Using natural light in home office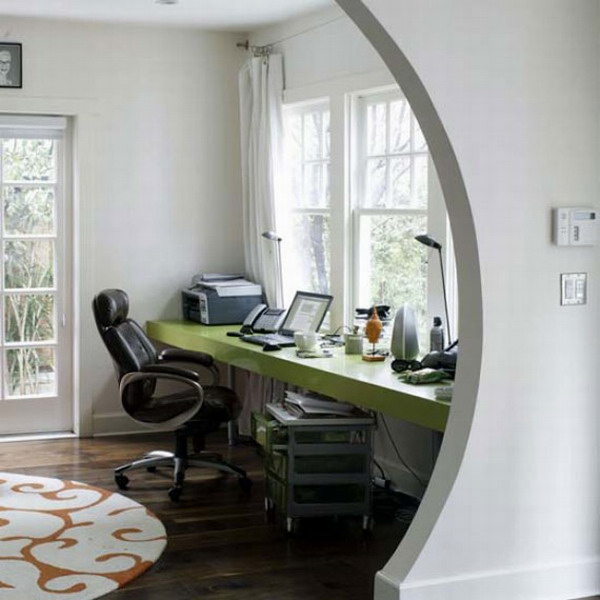 Having your office well-lit all the time is one of the "musts" of a good office. But having it lit with natural light is even better. It saves power and infuses you with confidence and positive energy. Closed, box-like offices start to get into a man's psychological system, affecting work. The presence of natural light ensures that your office is at least open from one side. For this, you should have a window well placed in the office. This window should be such that it allows sunshine and air to come into the office all the time. This helps in elongating your time in the place.
Choosing wall colors for home office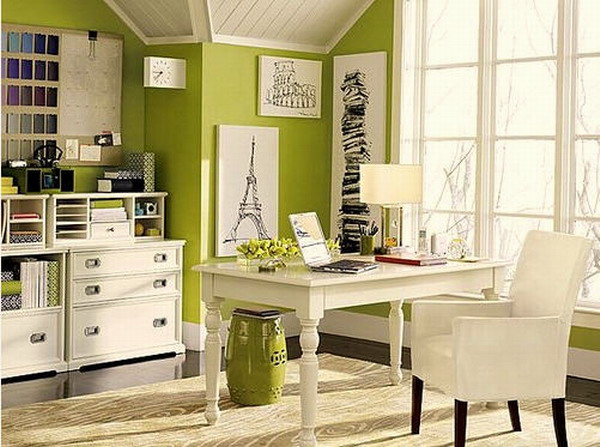 Colors not only fill the place, but also tell the onlooker and your clients about your temperament and personality. Following are some of the common colors, which describe what their chooser has got in his/her mind.
a. Blues: imaginative and progressive
b. Yellow: cheerful and stimulating
c. Red: powerful and daring
d. Orange: adventurous and unique
e. Green: soothing and stimulant of thinking process
f. Purple: ambitious and royal
However, it is not enough to choose the color. You should also know how to use them in the office. A bad combination is an interest killer, and a good combination takes you to the next level in the successful relationship with your client and your business. Complex neutrals with a touch of color are very vogue these days and are here to stay for some time. A room can be interesting without the walls screaming color. It will also have longer staying power before you grow tired of it. Although painting is inexpensive, it is time consuming and painful to re-do. If you aren't sure of your choice, hire a designer for a color consultation.
Eco friendly home office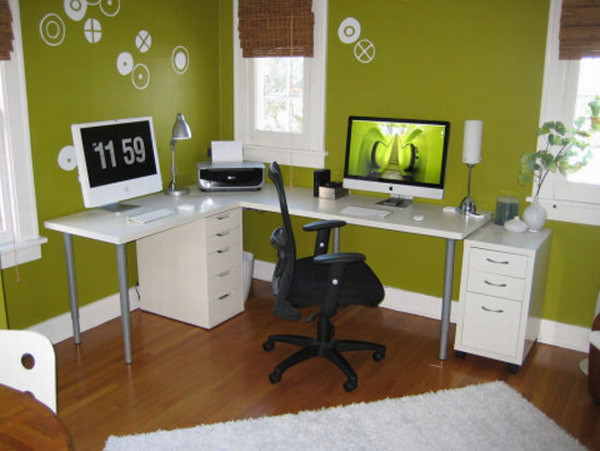 If you are ecologically conscious, an eco friendly office theme is best for you. It will not only help you stay with your principles, but bring about additional benefits, such as power saving, lesser costs and better ambiance.
a. Install a power bar to switch off every electronic gadget room when you leave.
b. Go for a laptop. It consumes less space and less power, and emits less heat.
c. Prefer a flatscreen over traditional monitors. It may be costlier, but in the long run, it is worth the money. It uses less power, are more adjustable and are not biologically harmful for you.
d. Reuse materials as much as you can.
e. Recycle as much waste as you can. You can recycle printed paper, used cartridges and many other things. This will save money, keep your office clean and green and will give your clients a positive reflection.
Vintage home office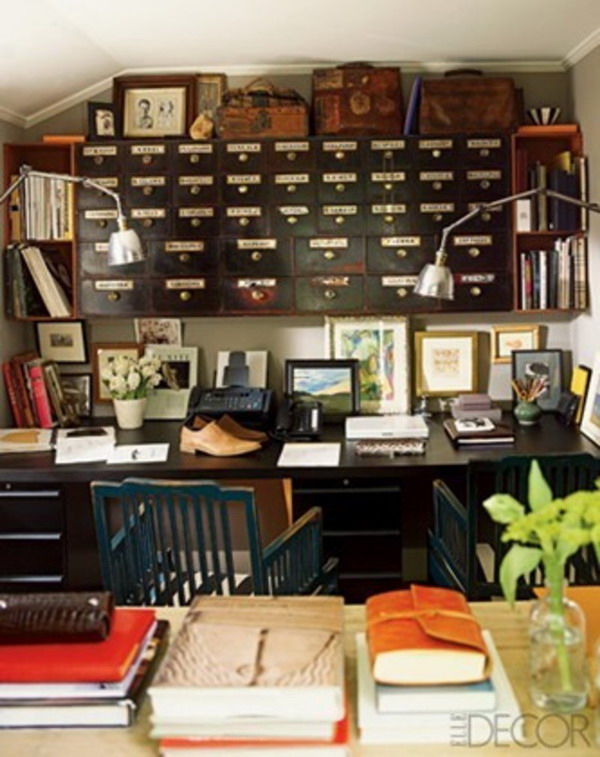 If you are a vintage fan, a vintage theme to your office will give you a powerful mental boost. Unlike the sayings, installing a vintage office is cheaper than it appears to be, and the look that you get is perfect for a professional pursuit. Following are the elements that are important for this theme.
a. A traditional wooden desk can be the vintage centerpiece. It can be of antique oak or pine that are stained to any shade. The desk may not support most of your modern electronic equipment, but by making slight adjustments, the problem can be solved.
b. Wallpapers were the heart of old places. If you check out any vintage home, you will find the usage of wallpapers more prominent than paint. Wallpapers are cheaper and require less attention than paint. They are also easily replaceable. If you want to achieve a vintage look, you can go for patterned wallpapers. Vertical pattern is preferable.
c. Get vintage accessories in your office, such as woodwork clocks and knockers.
Invest in blinds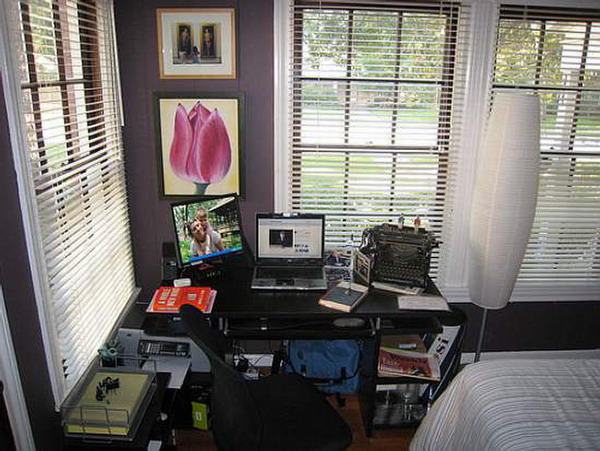 It's important that an office space doesn't get too hot or too bright. Therefore, buy blinds that will keep direct sunlight out, while still allowing daylight in. They will also enhance the beauty of the room as an addition to the home office decor.
Partitions and enclosures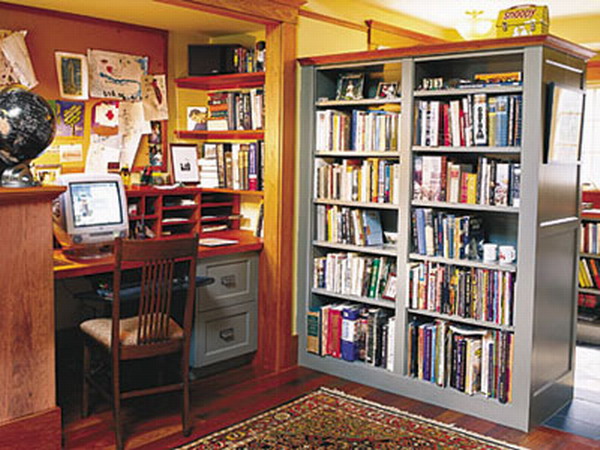 Home offices, that share space with a living area, need definition and some sense of enclosure. Commercial-grade office partition walls, available from business furniture supply companies, are flexible options for providing visual separation. Re-upholster the panels with fabric that complements the surrounding decor. Japanese shoji screens allow light through, while defining the office space as separate. Modular glass enclosures with sliding doors on metal tracks provide transparent separation. Painting one adjacent office wall with contrasting color also visually define the space.