You think that she is your daughter and treat her like a princess, but no amount of cuddling and cooing can change the basic hunting instincts of your house cat. Cats, both male and female are great hunters by nature. That's exactly why you need to accept their need of playful running and physical exercises. If your cats do not get sufficient amount of exercise then they will definitely become lethargic and depressed.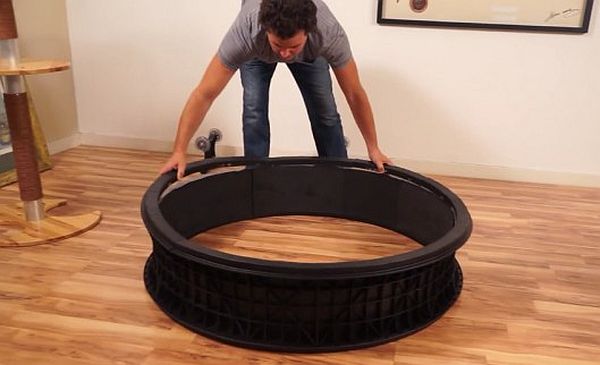 Of course, you don't want that. One Fast Cat exercising wheel can solve your problems and keep your cats happy and healthy. This is the perfect pet pleaser that you should get for your feline friends. The exercise wheel can be installed in any convenient corner inside your home so that the cats can get their share of fun without going out.
The One Fast Cat was at first a Kickstarter project, which successfully reached its goal of $10,000. Actually, the project raised a total sum of $344,911 and all the money now will be used on making and marketing of this brilliant product. One of the most important responsibilities of a cat owner is to create a stimulating and energetic ambience for their pets. This is not easy as all the homes are not equally endowed with cat pleasing resources.
You have to either create the atmosphere or install equipments that can stimulate them. Not much has been done till now regarding this and there is an acute scarcity of reasonably priced cat stimulators in the market. Many cat owners have to go out living their pets alone in the house. They want to offer entertainment to their feline darlings but have no idea how to make this possible. By installing the One Fast Cat exercising wheel, you can keep your pets happy and hearty.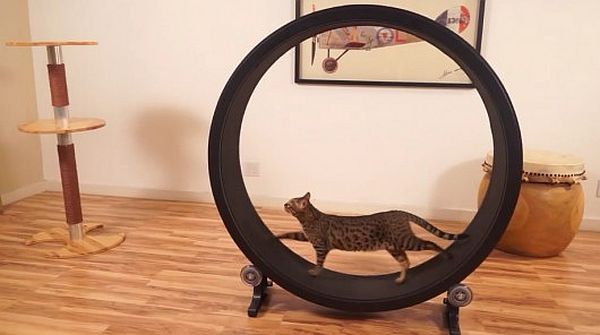 Cats are not easy to please. They get bored to death very often and too much boredom can adversely affect their health. To keep your cats happy you must have lots of windows at home to let the sunshine in. Cats love warm atmosphere so make sure that the place they like best in your house is properly warmed. You should provide them with cat toys, things that they would like to watch and climbing places. Cats are great climbers and they really love to jump up on the tables or climb the cardboards. Window beds and grassy patches inside the homes are nice and thoughtful additions. You should also have a post installed for them to scratch their bodies.
Every cat owner needs to know that though cats have been considered domestic animals for a very long time, they love to prey. There is nothing else they love as much as preying. They have soft, padded paws for walking soundlessly up to the prey and then pouncing on them. They spend their energy on small rounds of hunting and then sleep the rest of the day.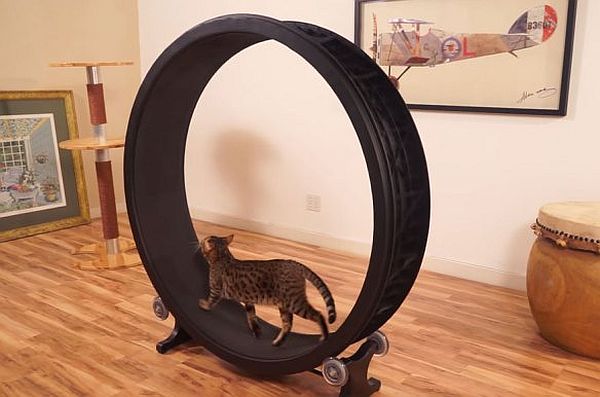 Obviously, your cat need not prey for a living as you are already spoiling them with lots of food so install the One Fast Cat at home to give them the hunting fun they enjoy so much. This machine makes your cat chase and run. It stimulates their hunting senses and fills them with energy.
Research shows that totally domesticated cats who live indoors become depressed often and the frustration of not being able to hunt can damage their psychological state. The depressed cats stop using designated litter boxes and may ruin some of your furniture. The best solution to make them happy and get them out of the depressed state is to install the exercising wheel which can offer different sort of stimulations to your pets.
The One Fast Cat has been made with non-toxic, recycled plastic and its smart design protects your cats back while they run. The exercise wheel is available in many colors and is very lightweight so that you can shift it from one place to another.
Summary

The One Fast Cat is an exercising wheel, which is available in many colors. It is an amazing product for stimulating your house cats and get them out of their depression.