Well, 2013 may still be a few months away but the fashionable people of the world are already beginning to update their wardrobes and interiors for the upcoming year. The interior pundits from the Pantone Colour Institute, the world's leading color experts, have given their fashion forecast for the upcoming year and they predict these nine color palettes to dominate the interior color trends in 2013.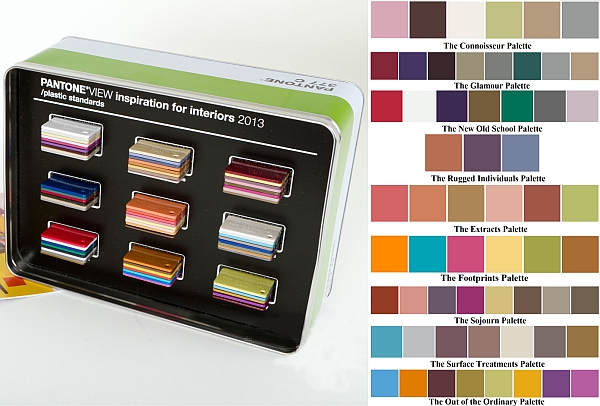 1. The Connoisseur Palette
A celebration of the finer things in life, the Connoisseur Palette takes Silver and Champagne Beige as backgrounds colors and has monochromatic hues such as Beechnut, White Alyssum, Deep Mahogany, liquid Pink Nectar, Orchids and Violets displayed in combination to celebrate a sense of elegance and history.
2. The Glamour Palette
Inspired by the Art Deco movement, the Glamour Palette again uses Champagne Beige and Silver hues albeit in a supporting role. The main shades in this palette are Jasper, Moon Mist, Chinchilla, Tap Shoe and Rio Red, Monaco Blue that reflect the hues of a bygone era in a contemporary way.
3. The New Old School Palette
The New Old School Palette links the charm of the old world with the chirpiness of the new. The palette uses hues like Micro Chip and Gargoyle grays, Ultramarine Green, Breen, Sodalite Blue, Bright White and Ribbon Red to create a preppy collegiate kind of appeal.
4. The Rugged Individuals Palette
Using the colors made famous by cowboys and the lifestyle of the Outback, the Rugged Individuals Palette features colors like Stonewash blue and Vintage Indigo jeans, Raw Sienna, animal hide and weathered wood tones.
5. The Extracts Palette
The Extracts Palette is made up f unexpected, playful and flavorful notes which includes shades like Green Banana, Baked Clay, Dusty Pink, Apple Cinnamon, Brandied Melon and Spiced Coral that suggest appealing scents as well refreshing flavors.
6. The Footprints Palette
The Footprints palette is more about the combination of tribal hues in shades that are not really seen in the urban landscape. The palette offers refreshing yet sharp and earthy colors like Sudan Brown, Oasis, Solar Power, Pink Flambé, Peacock Blue and Tangerine Tango.
7. The Sojourn Palette
The Sojourn Palette is all about the magic of journey and has a range of colors that one would normally encounter during a long journey through the countryside. The palette has us encountering colors like Shitake, Cobblestone, Winter Moss, Pampas, Baton Rouge, Foxglove, Black Plum and Syrah wine.
8. The Surface Treatments Palette
The Surface Treatments Palette takes us on a textural escapade with unexpectedly delightful shades like Medal Bronze, Agave Green, Birch, Fallen Rock, Tornado, Vapor Blue and Maui Blue.
9. The Out of the Ordinary Palette
The Out of the Ordinary Palette is for the individual who is simply not afraid to experiment. The eye-capturing palette consists of attractive and captivating shades and hues like Rosebud, Bright Violet, Golden Rod, Linden Green, Amber Green, Chocolate Truffle, Puréed Pumpkin and Bonnie Blue.