Gardening can be a wonderful hobby, no matter what age you are. In fact, a recent study found thatmore than half of Americans garden. Younger homeowners enjoy gardening because it allows them to beautify the home they recently purchased or spruce up the yard their children play in. Retirees enjoy gardening because they have more time to invest in gardening.
Although gardening has a stigma of only being enjoyed by older generations, the younger generation can also have fun while gardening. If you enjoy gardening and want to pass your gardening passion on to the next generation, use the following tips.
Start gardening while they're young.
If you enjoy gardening, and if you have kids at home, get them outside in the garden with you while they're young. Younger children, such as toddlers, will have fun watering the garden, and older kids will have fun planting the flowers with you and putting them in different locations throughout the yard. The younger you start, the more you'll be able to teach them, and the more interested in gardening they will be as they get older.
Teach them a few things about the plants.
While your child is watering or planting, teach them a little bit about the different flowers or plants you have. You'll be surprised at how much your child will enjoy gardening if they can learn something "cool" about the items in the garden. For example, teach them about plants you may have that attract certain animals, such ashummingbirds, or teach them about how perennials will come back every year without replanting. When you can make gardening interesting to your child, he or she will be more likely to enjoy it.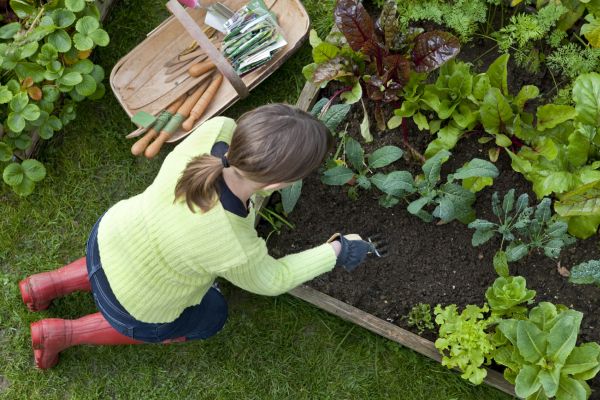 Invest in cool gardening tools.
There are a variety of gardening tools out there today, but if you really want to get your child involved, invest in some of the coolestquality gardening tools you can find. Children are visual learners, and if they see something that looks cool or a tool that does something cool, they'll be more interested in using it. Be sure to teach your child what each gardening tool does and how to properly use it. This way, they will stay safe while gardening, and they'll also have an idea of how to use these tools when they're older and have a garden of their own.
Make gardening a special time for you and your child.
To really get your child interested in gardening, make it a special time for you and your child to enjoy. Buy your child his or her own flowers or plants and spend the day together in the yard. You can talk, laugh, and have fun with each other while doing something you both love. Plus, as they get older, the memories they have of the both of you gardening will make them happy, and they'll be more likely to garden on their own when they're older if it means bringing those memories back to life. And you never know, your child may even pass down the gardening passion to his or her own children someday too.