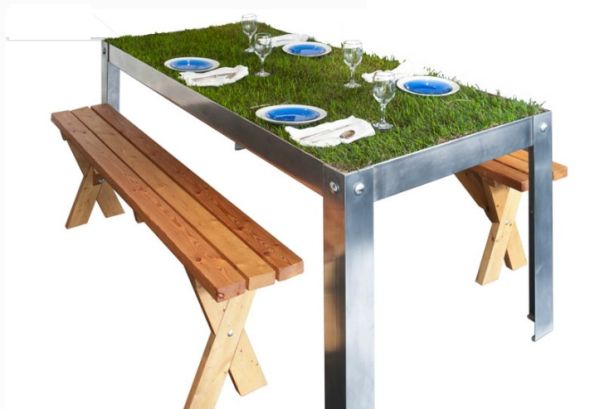 The designer/manufacturer
Overview
A new design of eco friendly table picNYC, has been introduced by designer Haiko Cornelissen Architekten. It will solve the problem of space for the urban garden lovers. The tiny table garden is made from aluminum, which has sturdy square legs and a tabletop containing greenery. It also has stones in the bottom, covered with soil layer above and finally a layer of sod.
Watering is done by hand and water drains down to the stones. Rural experience phenomenon is used for the maintenance of grass. One will have to cut the grass by hand or grass clippers. The performance of table garden can be enhanced by proper maintenance, using proper sunlight as per season requirements. The picNYC table can be grown with a variety of colors as per conditions set by the owner at different locations. The color of the flower or the grass sown can be changed by replacing the old sod with fresh one, if needed.
What's unique
This is an eco friendly concept to bring natural freshness to urban indoors. The color can always be kept to bright green by making the fresh sod available throughout the year. The table picNYC virtually shifts dining to the lap of the nature in the city.
High points
This table is compact in size, which makes it portable to take anywhere around the home. Its structure and make gives inspiration to nature lovers to do gardening. It can be used as a decoration object too inside the home by sowing flowers of different colors in it. It is with no doubt that this tiny garden brings the freshness of nature into the city and into your own home.