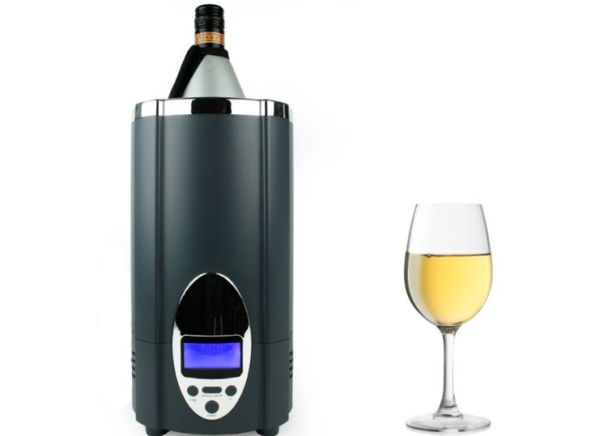 If you are fascinated by the golden brown color of your favorite liquor, beer, then you will always welcome summer. Summer is the time when you will find to give the apt alibi for your drinking. So if you are planning to chill out outdoors with your gang, it is important to get chilled beer. It adds life to a party.
Wondering how to keep the wine nippy for the late night parties? Check out these portable wine coolers.
1. Koolatron portable bar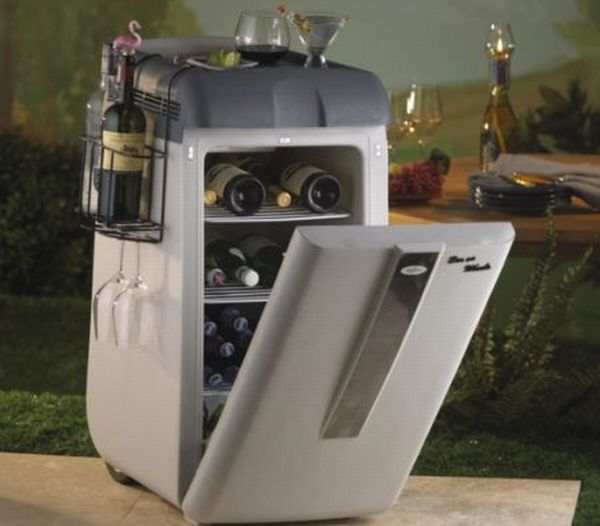 The Koolatron portable bar on wheels is the perfect companion on such outings. The compact rechargeable cooler can stock as much as 120 12-ounce cans and comes equipped with an indoor bottle compartment and a basket to hang bottles externally. This rechargeable marvel can store all your heady stuff including wines, soda, juices, beer and water, of course. Some snacks can also be stored here. The cooler has to be charged every four hours and amazingly, while charged its inside stays chilled down to 40 degrees F. Its wheels allow a comfortable tilt and roll facility. Don't miss the flat top to rest your glass.
2. Cell wine cooling system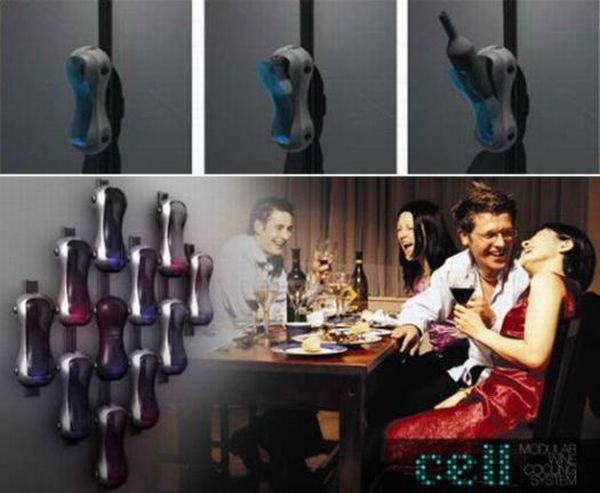 Joshua Saling's 'Cell wine cooling system' is a blessing for wine lovers who work hard and party harder. Saling's invention may look no more than a hanging unit for cordless phones but mind you, it's really deceptive. This entire system in wall-fitted cell is centrally cooled. It holds a world within itself. The cooling system is aided by several self-regulating storage cells and suitable thermal conditions necessary for every bottle. Now, when you want to savor the chilled vintage wine, simply remove the cell from the wall and walk off, straight into the party. When several cells line up your wall, they make an artistic impression too!
3. Cool coat picnic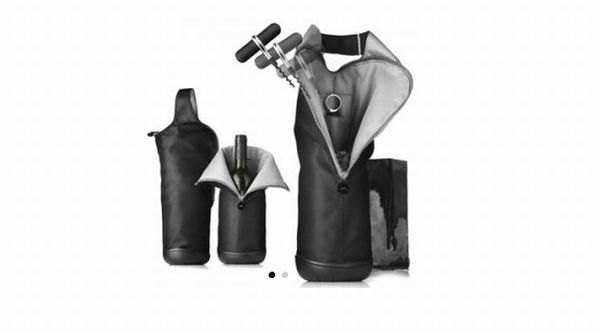 It's light, compact and very easy to carry around. The cool coat picnic is for those wine connoisseurs who love their drink right under the gaze of the stars. They are stylish people and love everything stylish. The cool coat picnic comes with a sturdy handle that enables no-fuss portability. Its pocket, to stock the corkscrew and other paraphernalia, is a very thoughtful addition by designer Jakob Wagner. When you want to pour the wine simply unzip the cool coat picnic. Wagner has paid great attention to detail considering he's dressed the inside of the cooler with a removable cooling inner coat and a moisture resistant rubber bottom.
4. Boxx'r wine cooler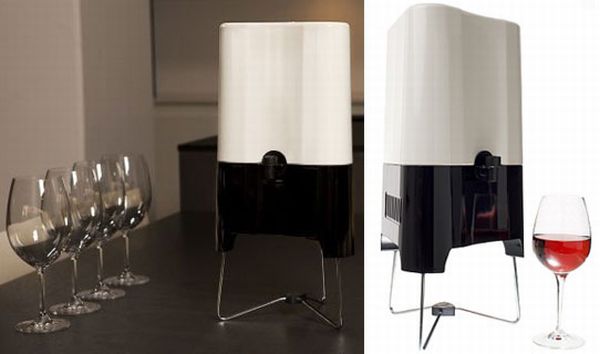 Sleek and stylish, The Boxx'r adds value to your persona. The ivory white cooler has the capacity to cool white and rose wine to 10 degrees Celsius and the red one to 16.5 degrees Celsius. As much as three liters of wine can easily be transported in this minimalistically designed wine cooler. It's armed with excellent insulating properties and can be charged by connecting to 12 volt batteries. The Boxx'r remains charged for pretty long ensuring that you make the most of your outing. Priced at a reasonable $200, this is definitely one investment you won't mind.
5. All-in-1 chair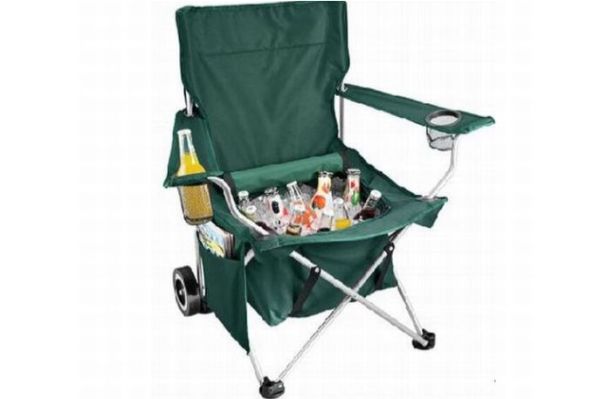 If you are headed out for a short while and won't mind carrying your favorite drinks along, take the All-in-1 chair along with you. It carries up to 225 lbs and can be pulled easily, just like a trolley. It's like a piece of furniture that you carry from home and while you are talking to the stars lying on a beach, slip the water proof liner to the storage under the chair and choke it with as much ice as you can. Its lightweight steel frame is dressed in polyester and allows two arm rest glass holders. The folds on the sides can be used to carry some knick-knacks or magazine for leisure reading. At $60, isn't that a bargain?
6. Intelligent electric wine cooler v2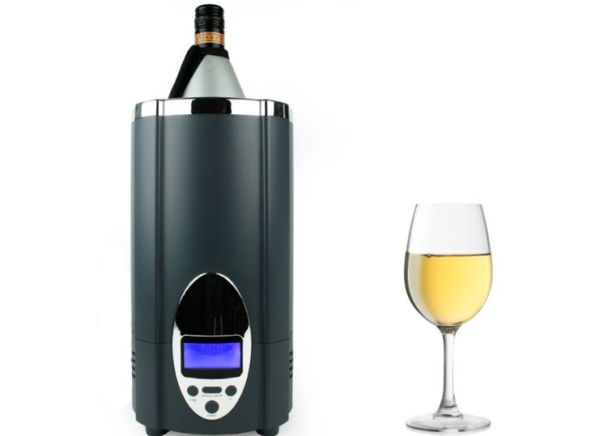 The intelligent electric wine cooler resembles the modern day gadgets and gizmos more than a cooler. And no, it's not deceptive. It's programmed to allow as many as 30 different kinds of wines and adjust each one of them exactly to a degree suitable to them. Just one touch—press enter—and you kick off the cooling system. And here's why it's called the intelligent cooler. As soon as the chilling process is complete, it notifies you by spelling 'Enjoy' in its sleek LCD window! Its thermal jacket maintains the required temperature. A specially designed space at the rear of the cooler can be used to keep bottle openers and other related stuff.
7. Portable wine cooler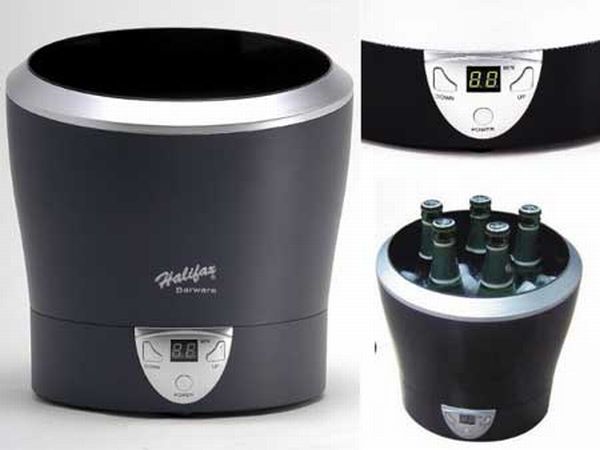 The portable wine cooler from Jeray wine accessories is ideal to lug around to the nearest swimming pool or children's park. If you can find an electrical plug nearby, fine. Otherwise power your portable cooler with batteries. Add water and lots of ice. When switched on, the fan chills the bottles by circulating cold water around them.
So, now that you know all that you wanted to know about portable coolers for your favorite drink, what are you waiting for? Bring out the glasses, and say cheers.