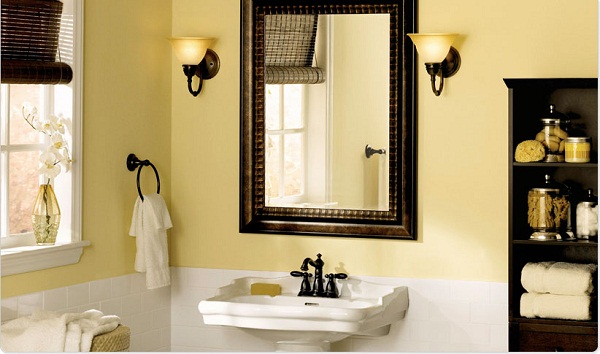 It's a fact that powder room is typically a small space and mostly reserved for your guests. However, it doesn't trim down the importance of this intimate and private space in your house. In fact, there is no better place than a powder room to make your guests feel special and pampered. A stylish, fun or aesthetically done powder room will also speak volumes about your great sense of home decor. This is a space that you can glam up in whatever way you want. Let your imagination flow to create a distinct identity of the powder room in your house and to lighten up the faces of your guests by the sheer pleasure of its elegance and beauty. Let's check out some of the unique powder room decorating ideas to create an impression to last forever.
Color and texture pattern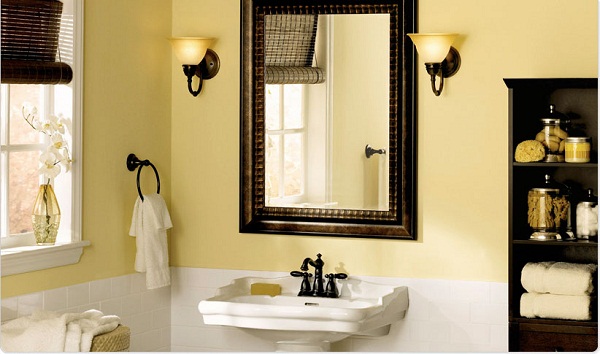 Considering the vital role that powder room plays, it's more than evident that this small yet intimate space needs extra attention while decorating it. You can take the color and texture liberty while doing up the powder room. Let your imagination flow while picking up the colors. Dark and bold colors will add a rich and glam appeal with a hint of drama. Stark contrasts seem to work well to create a distinct character for the powder room in your house. Painting it all white will make it look dull and uninteresting. However, pastel color schemes such as blues or greens make the place look cool and spacious. Color accents work wonderfully to define the charm of the powder room.
Mirrors art work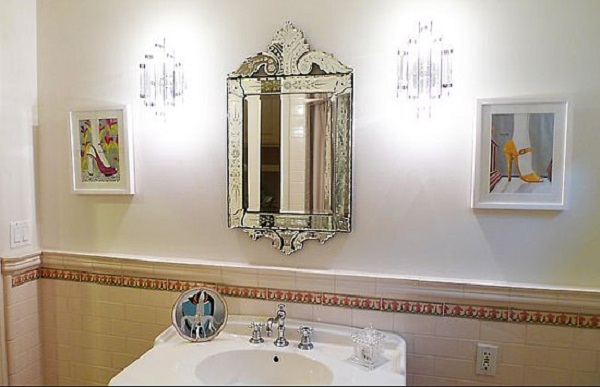 Mirrors not only create the illusion of space, but also add to the aesthetics of the powder room. A mirror is a must in the powder room. Position the mirror to avoid the direct glare of sunlight through the window or the reflection of the toilet. If there is no other space, place the mirror high so that it does not reflect the toilet. Pick up an artwork and place it to reflect in the mirror. Artwork will add depth to this most special space in your house. Also, the mirror must be illuminated by wall sconce on either side or by a series of lights around the perimeter of the mirror.
Lighting in powder room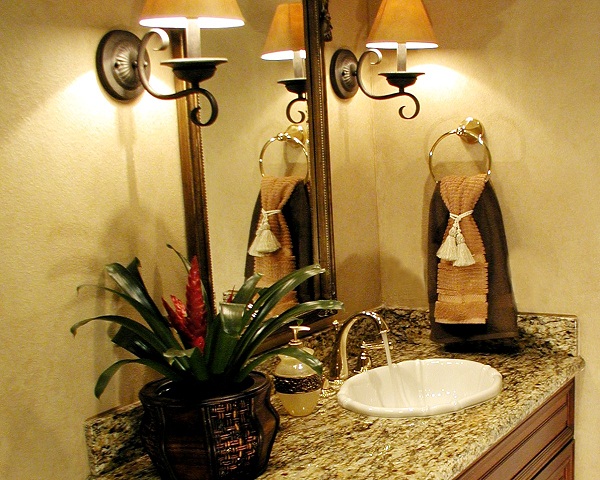 Lighting, undoubtedly, is the most important aspect of the powder room. Glam it up with a beautiful statement chandelier or pick up lantern style lighting for a great effect. There should be adequate lighting in the powder room and don't forget to add dimmers to control the lighting as your guests can have different requirements in terms of brightness of the light. Be creative and innovative with lighting in the powder room to bring out the best of this special room in the house.
Wall decoration of powder room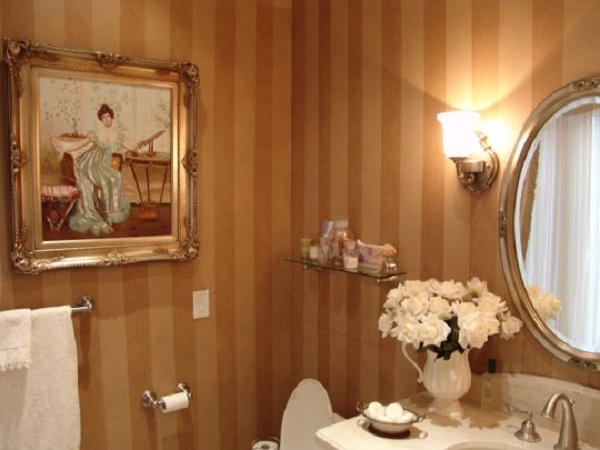 Walls of a powder room are the perfect place to try out anything that you would not opt for a bigger room. Wallpapers are good options to add a dramatic appeal to the powder room. You can choose bold prints or rich designs. However, since powder rooms are tiny spaces, the bold patterns can eat up the space. Be judicious with your choice of wallpapers. If you simply can't develop a liking for wallpapers, then paint the walls with some glamorous color tones. If you want to keep it rather simple then choose subtle yet impressive colors on walls. You can also use a pattern or design on the largest wall in the powder room and keep the rest of the walls simple.
Prefer traditional appeal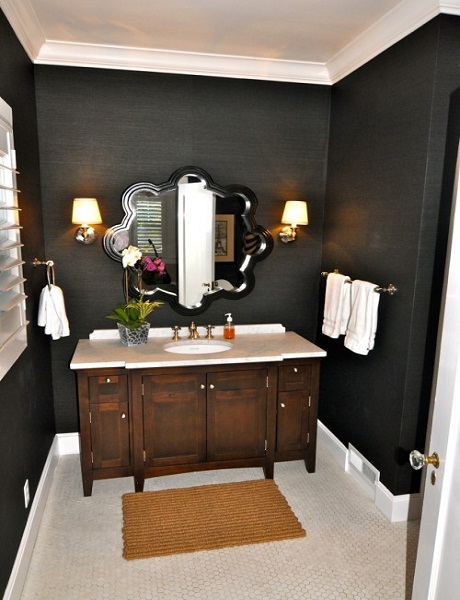 Even if, your home decor is modern for the rest of the house, try to add the vintage appeal to your powder room by decorating it the traditional way. Make some efforts to find striking and stunning decorative pieces in the antique stores. Add a granite or marble slab and create a vanity out of affordable and small decorative pieces. You can also pick up vintage or antique styled faucets to add an old world charm to this special place.
Powder room with unique theme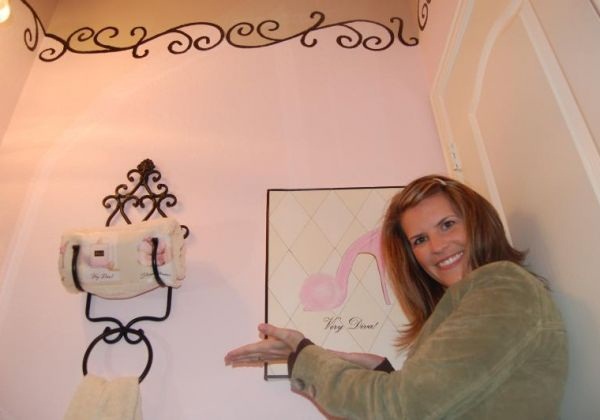 A theme based powder room is a unique concept that will surely win you plenty of accolades. Pick up any theme that you like. Let your imagination flow while deciding on a theme ranging from movies to countries, ocean to mountains, hobbies to museums, etc. Powder room theme can be anything that you are either passionate about or you have any pleasant memories attached to it. Reason can be anything for deciding on a theme. However, try to be innovative with your ideas. For example, if you want the powder room in your house to have a theme based on country, try lesser known countries, such as Tibet or Russia. Once you decide the theme, find small novelties related to it and create the reflection of the theme that you have decided for the powder room in your house.
Floors and ceilings of powder room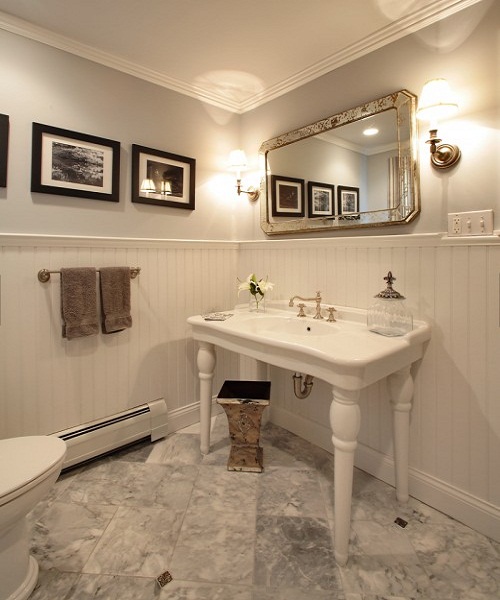 Texture of the flooring is also important to create a soothing and refreshing ambiance of a powder room. Dark or warm colored floors will make the room appear busy by absorbing the light, while light colored floors will brighten up the powder room to make it look airy and large. Similarly, the lighter shades on the ceiling create a soothing and pleasant effect. Keep the color of the ceiling one shade lighter than the wall colors. It will create the illusion of a larger space. To add height to the ceiling, paint your wall with stripes. If you keep the ceiling one shade darker than rest of the room, it will make the room appear more cozy and intimate. Create a balanced look by lowering a ceiling judiciously with the right shade.