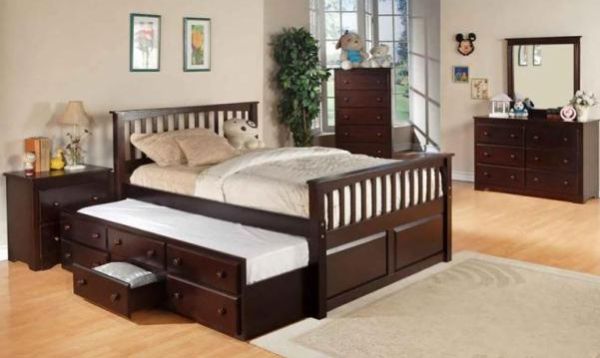 With growing population and decrease in available space for a comfortable livelihood for an individual, apartments these days are absolutely compact, non-spacious, with no extra provisional areas included for attics or otherwise. Even the main drawing, dining and kitchen area are limited to fit in just the basic furniture elements. In such a scenario, the latest innovation in the form of pull-out furniture has brought about a revolution in the interior world. These furniture-styles not only occupy limited space, but also serve as an all-in-one and one-in-all purpose, taking care of all your requirements composed in a single unit. Seating, sleeping, storage and even study can be fitted into a single box, making it a completely portable room suitable for all age groups. Lets take into consideration seven such innovative design features for a smart living:
1. Lazy luxury sleeper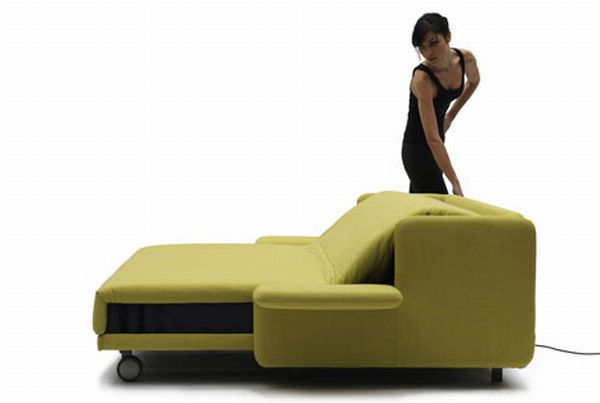 Designed by Campeggi, this modern push-botton, convertible couch and bed design is sure to steal anyone's heart as it takes only seconds to switch from one mode to the other by the press of a button, making it absolutely handy as well as a great space-saver. No need to provide back support when transforming this sofa-sleeper into its flat configuration as it comes with this in-built quality, making it quite handy. For all technology lovers, this product is a must-have to adorn their homes. Priced at Rs. 6499, it comes with a warranty of one year.
2. Portable living room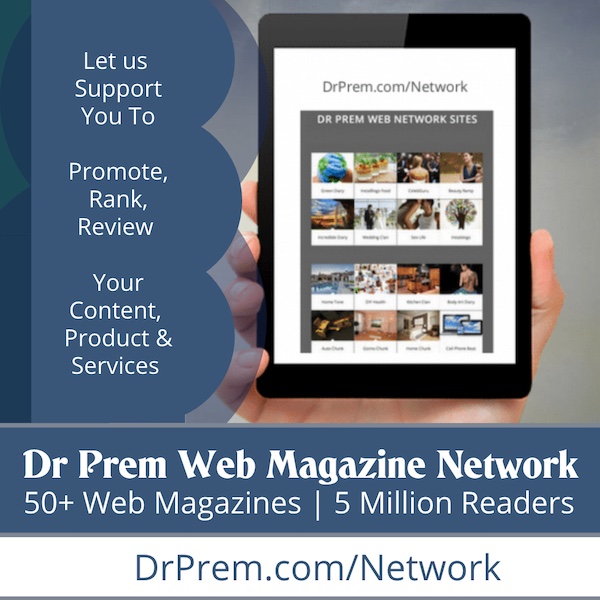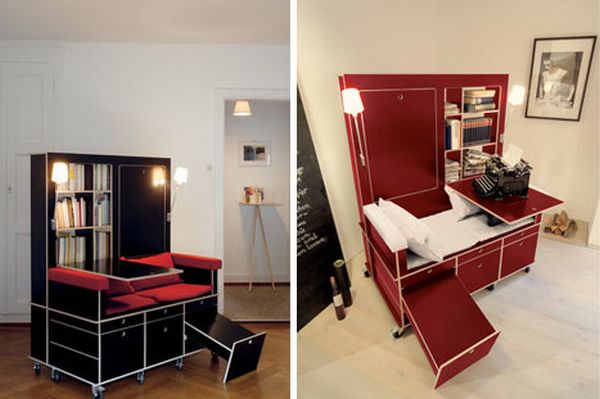 Designed by Nils Holger Moorman, a study cum sofa cum storage on wheels, this furniture piece is a boon for all urban dwellers who are short of space but believe in luxury living. Books being an inevitable part of the educated class, this portable living room provides umpteen amount of book storage shelves, a desk to work on and storage plus foot-rest area to relax on. Termed as one of the most convenient living room furniture, this multipurpose design has been supported on wheels, which means that it can be easily carried or shifted from one place or room to the other.
3. Discovery all-in-one bunk bed with T.V. Stand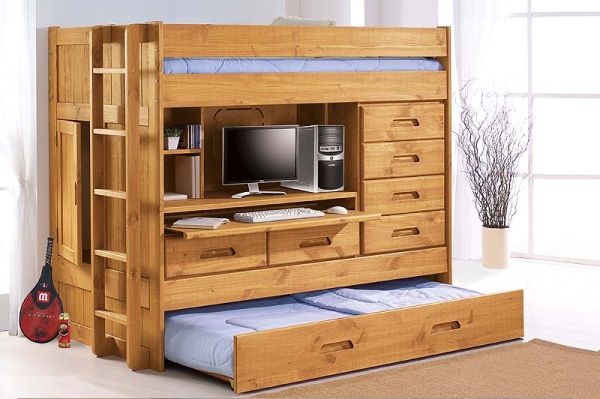 Made out of pine wood with no foundation required, this furniture creation features a built-in 4 drawer chest, a bookshelf and a pull out desk with 2 media drawers. The bed area has twin size upper bunk and trundle which can be ascended from both sides using a connecting ladder, and a storage area has also been added for convenience. It also includes a T.V. stand and a chair, making it an all-in-one furniture piece for the bedroom as well as the drawing room.
4. Full leather Ottoman with pull out bed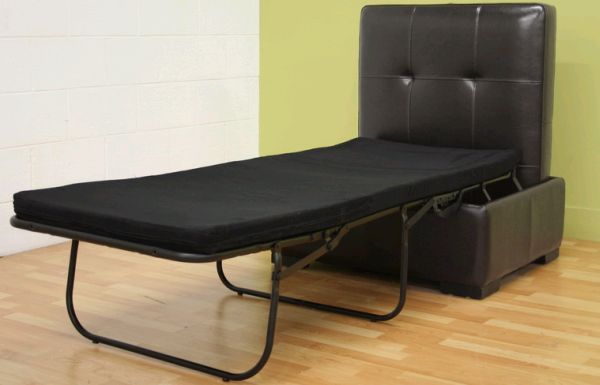 Priced at $499, this piece of furniture can be used as a coffee table, ottoman,a bench to sit on and a bed for your guest as well. Made out of 100% Italian low-hide leather and a kiln dried hardwood frame, it features a webbing belt support and high density foam, making it apt for a comfortable usage. Completely fold-able, it occupies very less space, making it popular for its attractive look and multipurpose features.
5. Mission Hutch with pull-out table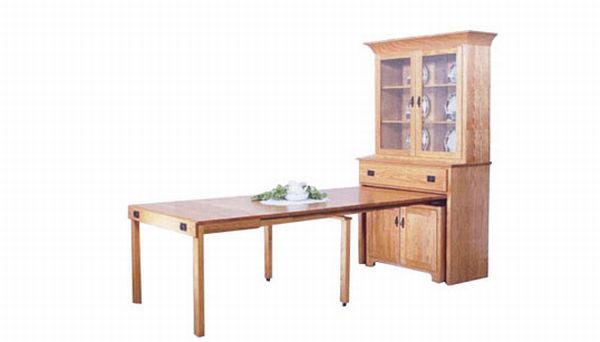 Stylish as well as attractive at the same time, this furniture element pulls out into a console table which otherwise can be easily folded to fit into the hutch. Just the right piece of creation to serve your guests without occupying the area all the time, it also has a glass-door storage on the top which can be used as a display as well.
6. Room in a box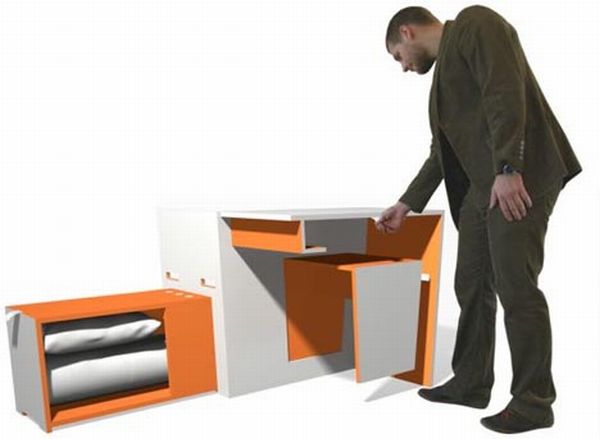 Designed by the German furniture company, Casulo, this compact box of 4'x3′ in dimension can be converted into a fully furnished room within 6 minutes. Termed as a room in a box, this furniture box includes a desk, a cabinet to store files, an office chair, a pair of stools, a bed structure, a mattress, a wardrobe and a set of shelves. The best invention ever in the contemporary world, especially for people in a transferable job and limited space for a comfortable living.
7. Lounge in a box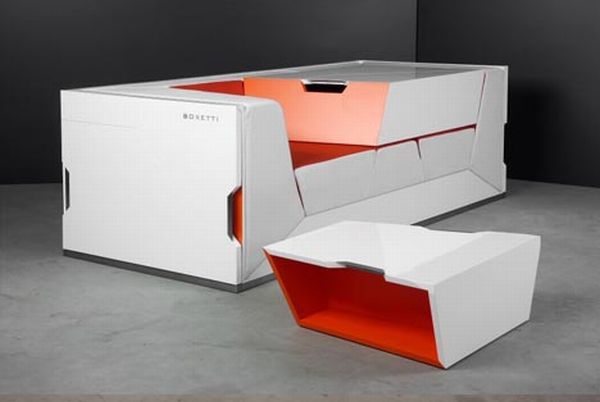 This colorful and cool convertible contemporary design by Boxetti can outfit an entire single room apartment or a small house. It includes a storage unit, stools and coffee tables composed in a single unit of white and orange box. An office component has been added at the back with the provision of a chair as well so as to enable you to sit and work, while others enjoy a round of hot coffee.
All the above pull-out furniture designs have been carved out for the busy city dwellers who have limited space and income to shell out on expensive furniture units but believe in style statement for a high living.