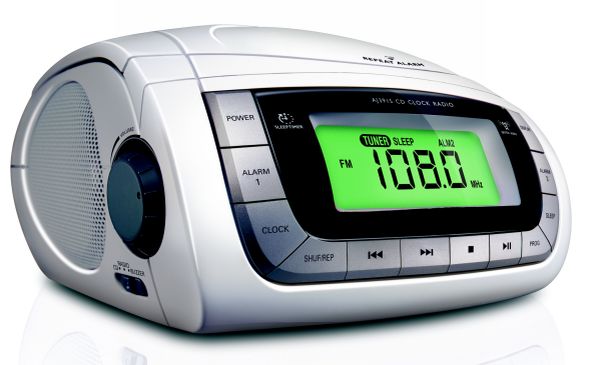 Alarm clocks are designed to pull people out of the bed to tackle yet another new day, every day. Though very annoying, it is the most required tool for all of us to start the day. As with any other gadget, alarm clocks also have evolved down the years. Modern ones come with a host of other features which are quite useful to adapt to the needs of the user. Timers, digital clocks, computer alarms, cell phone alarms and even next generation alarms are some of the types of alarm clocks being used these days. Whether for your own use or as a gift item, alarm clocks are great handy gadgets that could last for a life time. Here is a list of best alarm clocks that help you start the day.
1. V8 Alarm Clock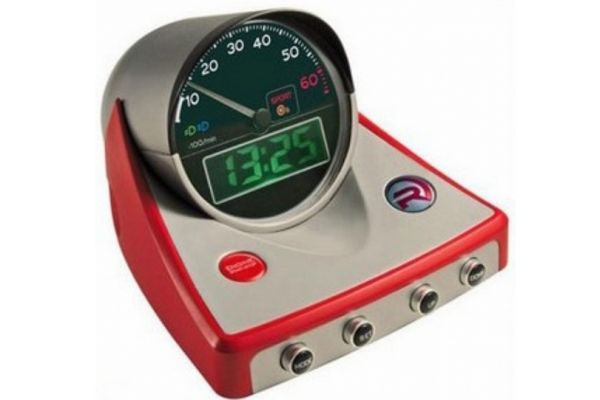 Revolution Alarm Clock is designed to wake you up with its revving roar, out of the bed within minutes. Read the time instantly with its illuminated face that has a shiny chrome detailing. The premium feature of this alarm is that it raises its rev counter needle to pull anybody out of the bed, whether you like it or regret it. This alarm clock measures 18cms x 12cms x 12cms. It can run either on battery or power. It makes an ideal gift for those people who need a rising tactic every day. This gadget is priced at $30.15.
2. Clocky Alarm Clock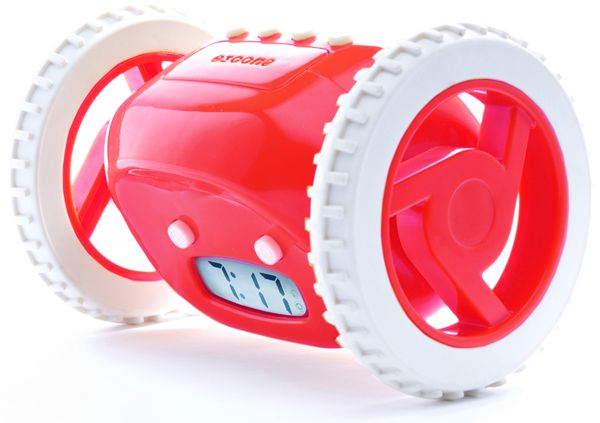 This vibrant colored clock is indeed smart. When the alarm goes off, this clock with wheels actually runs away beeping with a robotic alarm. What's more, it even jumps from a nightstand. It flashes a back-light as it runs. This feature is sure to get anybody going running behind the clock first thing in the morning! This feature can be disabled and can also be used like any other conventional alarm. Clocky Alarm Clock measures 5.25 inches x 3.5 inches x 3.5 inches. It is priced at $ 45 and is available in red, almond, aqua, chrome and black colors.
3. Omnipotent Alarm Clock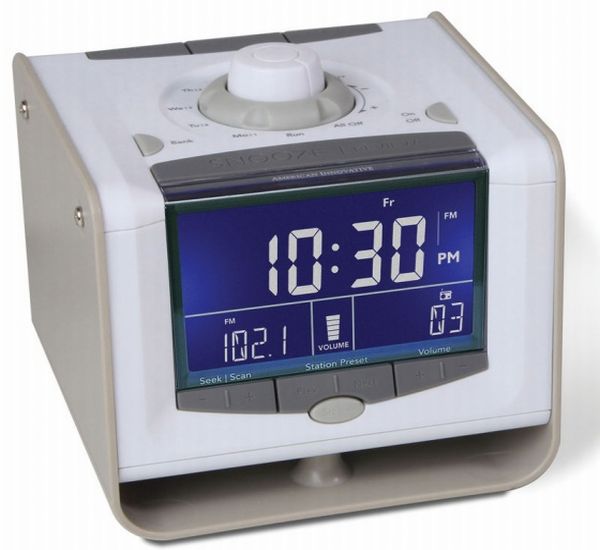 Ever felt the need of setting up alarms specific to two different people for two different times but did not find any such option? End such worries with the Omnipotent alarm clock. This clock accommodates and helps set two different alarms at two different times. It is armed with 21 different alarms and 20 preset radio stations. These radio stations can even be linked to each alarm. The snooze button reduces the snooze duration by fifty percent every time the user hits the snooze button. It has a back lit display for clear time display. This can be adjusted to various levels of brightness. It also has an option connect to an MP3 player. This feature packed clock is priced at $59.95.
4. Moshi IVR alarm clock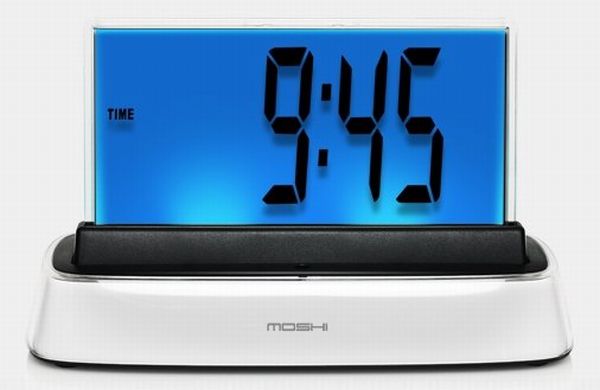 The elegant looking Moshi digital alarm clock has voice activation features. Command the clock with instructions to set the time as well as the alarm using your own voice. It is integrated with 12 commands that are voice activated. These carry out instructions promptly and efficiently. Ask the time, set up the alarm or turn it off by simply voicing out the preset commands. This fully functional interactive clock is priced at $49.99.
5. Tocky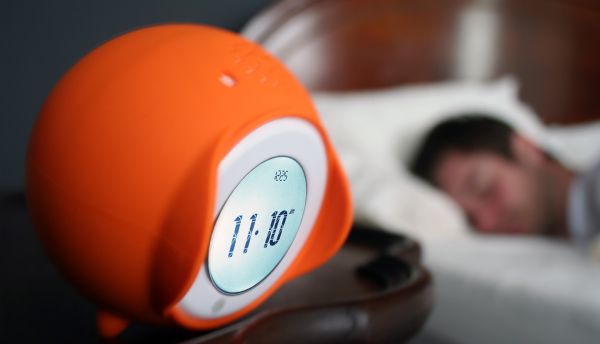 This adorable little alarm piece moves you out of the bed with its rolling and jumping tactic. Tocky jumps and rolls away from the nightstand the minute the alarm goes on. What more, personal sounds and messages can be recorded as alarm sounds. Favorite MP3s can also be linked as alarms as Tocky rolls on. It is a touch sensitive clock which enables to set the time or the alarm by simply spinning the finger around the dial. It is battery operated and its dimensions are 3.25 inches (diameter). It is priced at $69.99 and is available in white, blue and black color.
6. Sony AM/FM Clock Radio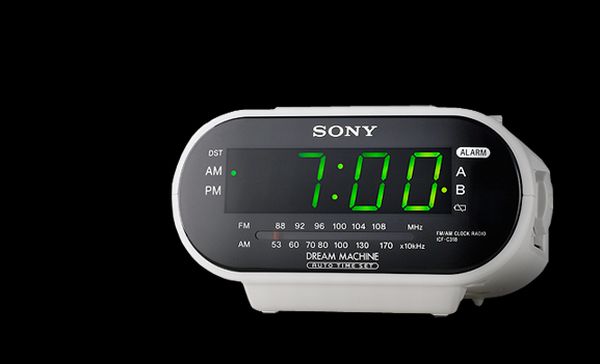 Sony's AM/FM Radio is packed with strong features such as automatic Time Set, automatic daylight savings adjustment, analog turner, dual alarms with indicators, in-built calendar, and a snooze function that can be extended. It can work without interruption even in the event of a blackout or power failure. This alarm is available in three colors – blue, black and white. The gadget costs $14.95. This elegant piece is attractive and looks modern which compliments any interiors.
7. Sharper Image EC-B100 Sound Soother Alarm Clock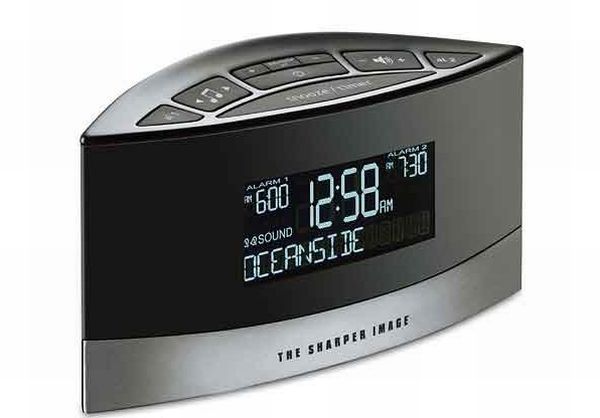 This alarm piece from Sharper Image has a range of twenty soothing sounds for relaxation. It has a broad display for the sound titles. It also features auto time reset, dual alarm and daylight savings time. Wake up to two types of wake modes – beep or soothing sounds. Its elegant design suits any décor. It also has an adjustable back light and has two speakers, which measures 2.5 inches. The alarm piece is touch sensitive. It also works with battery. This product with its cutting edge technology and design is sure to provide years of relaxation and enjoyment. It is priced at $38.
8. Pac-Man Alarm Clock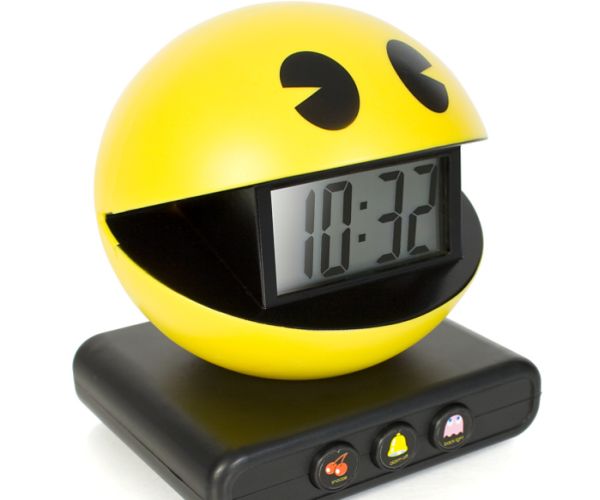 Want to be shaken out of the deep sleep by comedy ghosts? Pac-Man's alarm clock does a waka-waka for few seconds, which is sure to transport anybody to the arcade. Sure way to start the day in a refreshing tone. This battery operated digital clock has other features such as a backlight, snooze button and various tunes of Pac Man. This retro tuned Pac Man Alarm clock is priced at $23.92.
9. RCA Voice Activated Clock Radio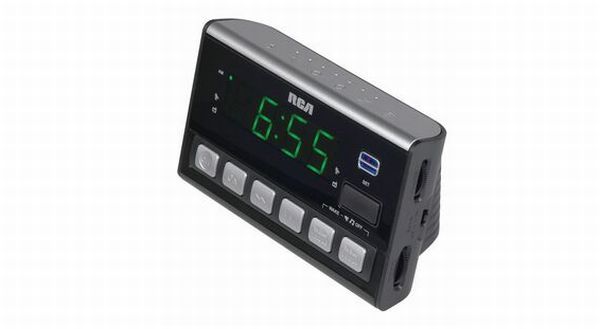 In the array among interactive alarm clocks is RCA Voice Activated Clock/Radio. Set the time, clock and other functions with simple voice commands. Other features include dual alarm function, in-built FM/AM radio. Wake up either to the call of the alarm sound or radio. Once the alarm goes off, the clock steadily revs up the volume of the sound. This interactive clock costs $32.
10. Timex T126 Large Display LED Alarm Clock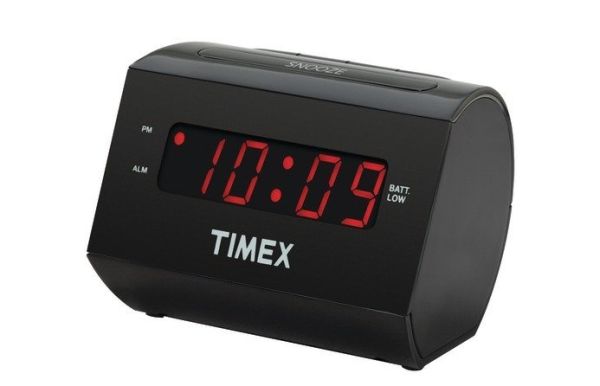 This little compact alarm piece has simple functions. It has a LED display of time in red that makes it sharply visible from any corner of the room. The buzzer revs up and gets eventually louder to wake a person loudly. All the functions of the clock are included in the top cabinet that is easily accessible. It works uninterrupted with its battery backup even in the event of a power failure. This TIMEX piece is priced at $10.