Reclaimed wood is becoming quite popular in many households around the world these days. In addition to costing less than traditional wood, reclaimed wood has a lower carbon footprint on the environment. Plus, it gives off a weathered look that is hard to find in new wood.
Many usually associate reclaimed wood with wall paneling or furniture pieces. However, some artists are choosing to step out of the box and find out rather unique uses for reclaimed wood pieces, including wood art. Here are some stunning examples of wood art made of reclaimed wood that will simply blow you away.
Reclaimed Wood Feature as well as Focus Wall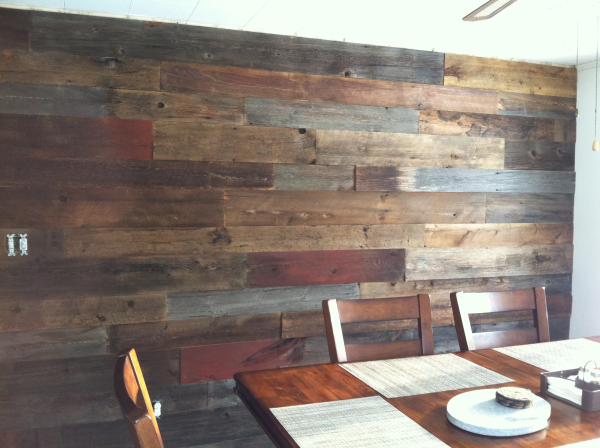 Reclaimed wood art can lend in a rustic appeal to an indoor space. One of the simplest ways we have seen reclaimed wood being used for wall art is as a feature wall that is barely there. Large sized planks of reclaimed wood are nailed together and placed against a wall. However, the planks are cut just a tad bit shorter than the wall, thus forming a stand out sculptural piece.
Reclaimed Abstract Modern Rustic Wood Wall Art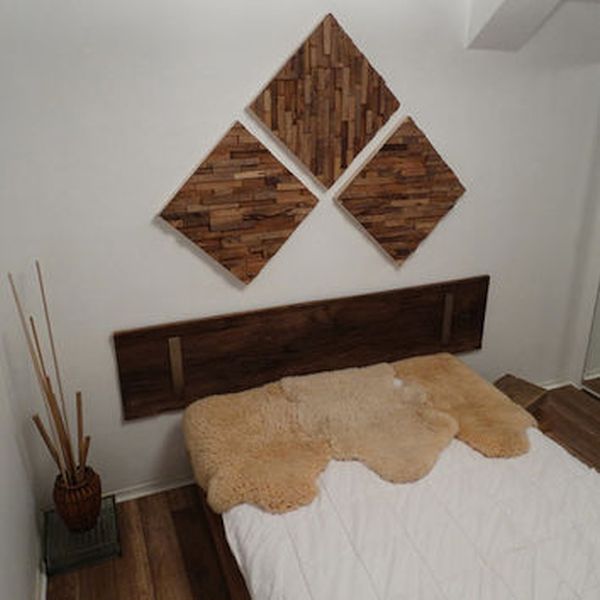 There are plenty of ways to use reclaimed wood as wood wall art. However, one piece that tends to stand out from all others is the one that has been crafted out of multiple, thin strips of weathered wood in different colors. The strips are attached to one another in a random order to create a colorful wall art that almost looks like a canvas painting.
Illuminated Wood Sculpture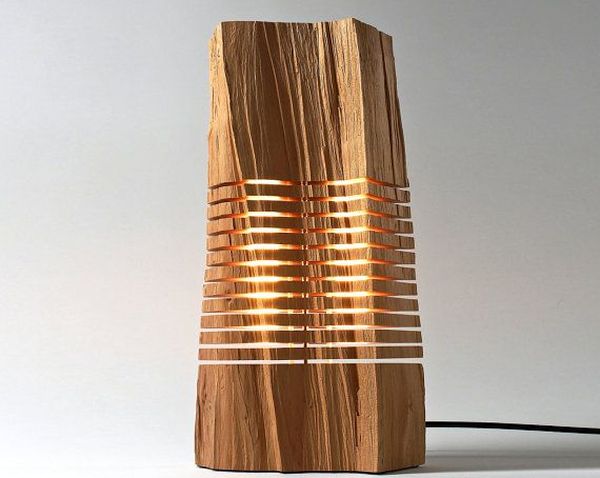 Consider something more functional than mere wall art? Then take a look at the illuminated wood sculpture that has both form and function. Made of reclaimed incense cedar wood repurposed from the Angeles National Forest in California, the wood sculpture features a rather unique outer design that comes with thinly carved out lines in the middle. The inner space is hollow and will fit a light bulb. When lighted, the sculpture seems to come to life, casting dreamy shadows on the walls.
Fire Sparks Wood Wall Art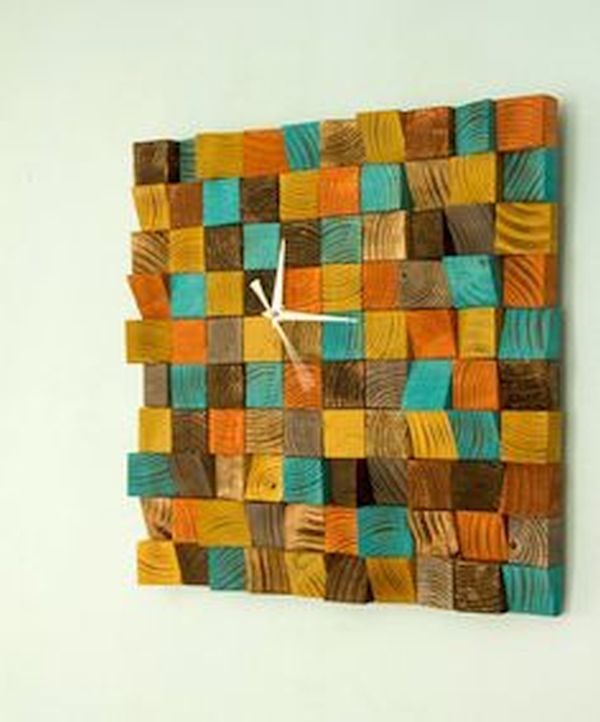 Rather than simply nailing together a few planks of repurposed wood together, consider something more dramatic and visually interesting. For instance, this wood wall art has been made from reclaimed wood pieces that have been cut into triangular pieces, hand painted and then affixed on a board in a rather unique way to create a 3D effect that lets light bounce of the wood pieces beautifully.
Reclaimed Wood Art Shelf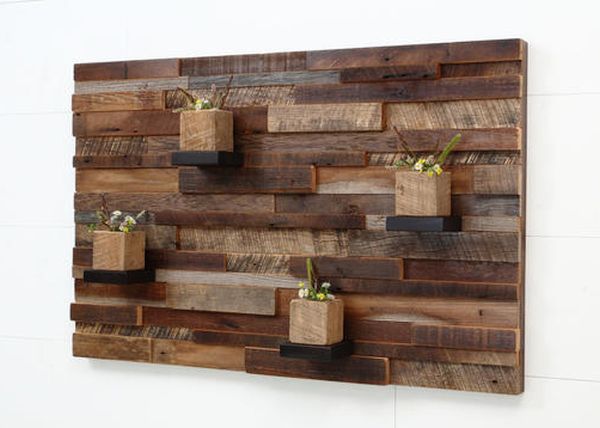 Another functional use for a wall artwork made of reclaimed wood. The reclaimed wood art shelf is made of repurposed wooden planks that are attached to each other haphazardly to create a light and dark effect. Additional planks protrude from the artwork to create shelves for displaying gift items or décor items.
Reclaimed Wood City Scape Wall Art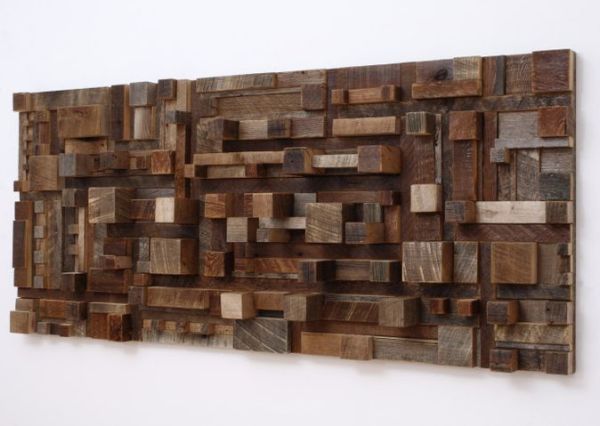 This particular wall art may have taken quite some time to complete. However, the end result is well worth the time and effort. The piece features a large expanse of wooden board on which individual wooden planks of different shapes and sizes are affixed. When completed, the arrangement looks like the view of a city as seen from above.
Reclaimed Wood Wall Art with Real Tree Branches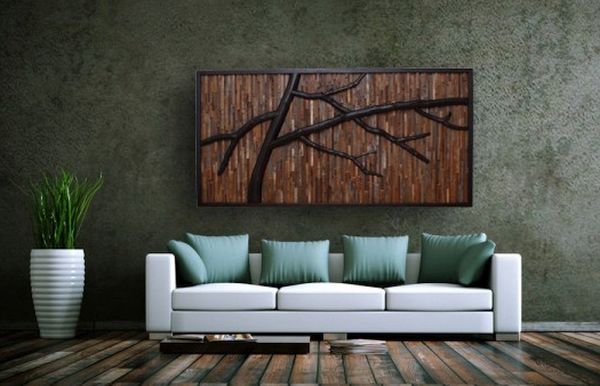 Here is another significant wood wall art made of reclaimed barn wood. The piece features wooden planks affixed to one another to form the backdrop for the tree branches in front. The tree branches are repurposed from a real tree and are cut and attached to the wooden planks in a rather dramatic manner. The end result is a wooden art work that is simply stunning.
Reclaimed Barn Wood Mirror Frame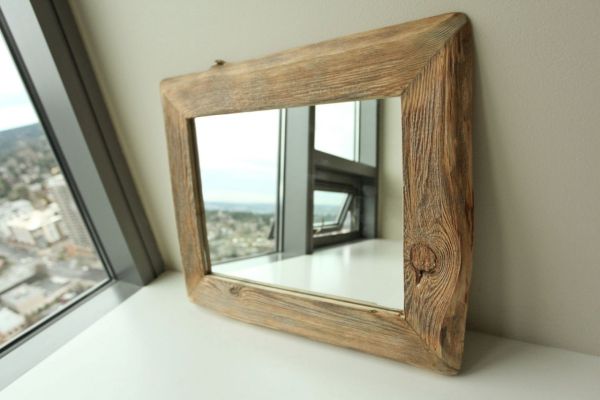 Here's another way reclaimed wood can serve the purpose of wall art as well as functional item in the house. Made out of reclaimed barn wood, a wooden mirror frame crafted out of individual planks of wood can make the perfect frame for a mirror. Better yet, you can choose to be more adventurous by creating a sunburst mirror frame out of repurposed wooden planks.

Reclaimed wood has a lot of purposes in a home. In addition to being used as flooring and in feature walls and furniture, it can be used to create stunning pieces of wall art that can easily become the focal point of interest in a room.