With summer in full swing, the sales of chilled drinks especially cold coffee is increasing. However instead of wasting your money in expensive cafes, you can enjoy a refreshing cold coffee at home that too in mere 60 seconds. How? All thanks to – HyperChiller iced coffee maker. It is a travel mug like device that can flash-freeze hot beverages into chilled drinks. So, you don't have to waste your time in making cold coffee – as you can prepare it easily in this single-serve coffee maker.
What makes it unique?
Hyperchiller can flash-freeze hot beverages by 130-degrees Fahrenheit and offers you perfectly chilled and delicious drink. The best thing about this device is its entire cooling technique that takes mere 60 seconds to cool down beverages. Wondering how does a tiny device is able to flash-freeze your piping hot coffee?
Well, the tumbler is integrated with a central cooling chamber that is enclosed with ice-cold walls. The chamber provides instant freezing and also keeps temperature of beverages low for long duration. So, enjoy perfectly chilled drink anytime, anywhere.
How to use?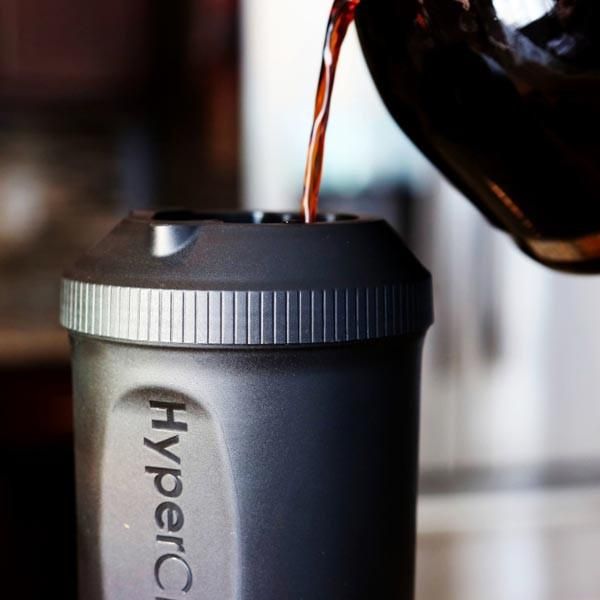 The portable coffee maker is quite easy to handle – just pour in hot coffee directly into its ice-cold chamber and let it cool down within just one minute. The container can hold 12.5-ounce caffeinated drink and cool down the poured beverage without changing or diluting its taste – as extra ice cubes are not required for cooling. No matter you are at home or traveling, you can prepare your perfect joe anywhere and take it with you while traveling.
Advantage
The very first advantage of the Hyperchiller is that it eliminates waiting for hours while preparing perfectly chilled cold coffee or any other drink you like. The flash-freezing tumble is capable of cooling down any beverage – be it coffee, cola, or liquor. It can keep your drinks cold for longer duration, without requiring extra ice cubes. Another advantage is that you don't have to spend money on cafe bills if you're carrying your personal Hyperchiller coffee maker with you. Lastly, its stainless steel and BPA-free plastic body makes it durable and also dishwasher safe.
Hyperchiller will give you a refreshing reason to enjoy every moment with your favorite cold coffee. All thanks to this handy device, you can prepare home-brewed cold coffee in as fast as one minute. Hence, it is a must-have summer accessory that can be purchased online for $30.
Source : Thefowndry.Com