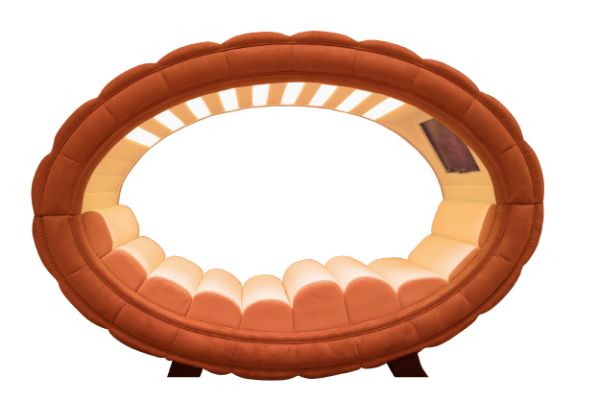 Power Centric is a firm that believes in doing things differently and this Korea based architecture and landscape design company has earned a niche for itself because of its spunky designs and out-of-the-box thinking. The latest in this series is an elliptical sofa which is basically a combination of various kinds of therapies. The sofa received rave reviews when shown during COEX Korea International Health Industry Expo 2011 held between 14 July to 17 July, 2011 in Korea. This multipurpose and funky sofa is named as 'Doc.SofaTM'.
The sofa can be used for various kinds of therapies like sound therapy, combination therapy, color and light, images and much more. The sofa is made up of soft leather which is quite comfortable for the user. Measuring in length 2200mm, 466 mm in height, 800 mm in width, it's one comfortable abode for a tired mind and body to sit, lie down, relax and rejuvenate.
A person can relax and see his or her favorite TV program, movie and much more while sitting in the sofa as it comes with a 16:9 Full HD monitor screen. The system comes with a media player too, so, if you want to listen to your favorite music and relax, the sofa provides you that facility. For sitting or lying on the sofa, 10 block seats are made in different heights so that it remains comfortable in both sitting and lying position, given its oval shape.
For a better viewing experience there are light windows also in the inner rim of sofa, near the LCD screen. The sofa comes in various colors and light schemes which gives you the option of choosing from red, blue or yellow according to your home decor. A remote control is also provided to adjust the light and colors of the sofa. So, liven up your room with this funky and multipurpose sofa.
Via: Aving