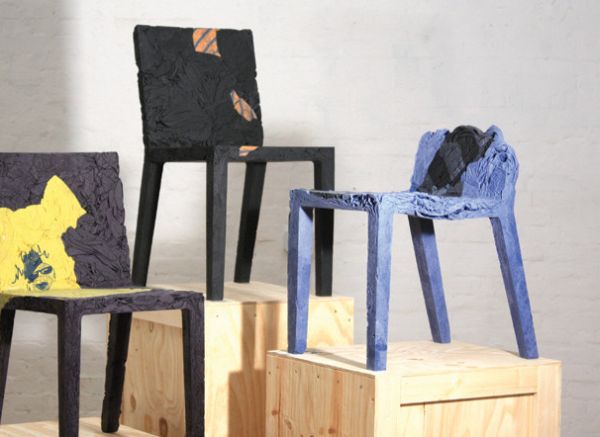 Worn out jeans, faded shirts, button-less blouses, out of fashion baggy pants. What would you do with them? The best solution we could have thought for these old, unused clothes is to either give it away in charity or throw a garage sale to make some money out of our fashion sense. Tobias Juretzek's thoughts do differ from regular beings as he has done the unthinkable and recreated an incredible range of stylish designer chairs out of old clothes. Jeans, shirts, blouse or any piece of fabric that is meant for disposal has been magically redefined, enhanced, molded and recreated by Juretzek into stylish furniture. Tobias Juretzek has certainly rummaged his friends' closet for a definitive purpose which has yielded the Rememberme chairs.
This out-of-the-box idea has yielded Tobias Juretzek much deserved appreciation and accreditation by Italian furniture company Casamania, who intends to promote and market these innovative and perplexing pieces of furniture. Germany's Tobias Juretzek has aptly christened his eye-catching designer furniture as Rememberme chairs.
Certainly, Juretzek will be remembered for this unique and creative idea which is receiving rave reviews around the globe. Though certain doubts have been cast about the versatility of the chair and how resin compressed old fabrics are going to hold good when compared its wooden and metal counterparts, Rememberme chairs stands apart and is rest assured that these chairs will good for any amount of weight as its been processed with 13pounds of recycled clothing.
Weighing 13 pounds of resin compressed old clothing, these chairs are scheduled to go on sales this fall for $950 per chair. One cannot ignore the green factor of this recycled furniture. Tobias Juretzek has definitely struck a chord with green enthusiasts in his fabric-furniture evolution. People wear their style on their sleeve, but Juretzek makes sure his dressing sense stays impeccable for ages through these Rememberme chairs.
Via: Fastcodesign