Be honest – how many of us would actually step back and think over whether our everyday kitchen activity involves grime or is thoroughly uncontaminated? Not many, right? Blame it either on that clock that walks really fast or the things that keep your gray matter occupied, but the exigency to keep it hygienic and stress free cannot be laid low. Probably having taken this into consideration, Quirky recently introduced their new Renew product that not only helps you save your home, but also your hard earned pennies.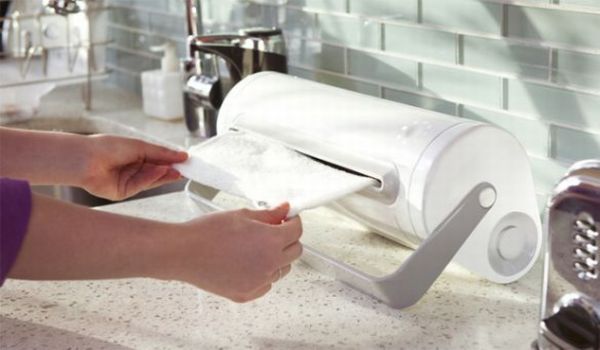 The newly introduced system has been developed to clean and disinfect the kitchen's towels properly with a concealed mechanism of steam jets, brushes and rollers. The integrated towels feature a soft microfiber side while their textured side comes into play for scrubbing and cleaning purposes. Designed with elegance to complement your kitchen's décor, Renew indeed puts forth a transformed way of putting an end to wasting power towels.
Enclosed in a sleek white structure made using stainless steel and high gloss plastic, the device also incorporates LED progress lights that display the status of cleaning cycle. Users can benefit from its stainless steel arm at the same time, which enables one to use it as a kickstand to rest on countertop. The easy to adjust and easy to carry solution further enhances the user experience through ten reusable towels and their ability to disinfect and clean using brushes and steam jets.
The new Renew from Quirky is yet to receive an official word on its pricing and availability. However, users may appreciate the fact that the manufacturer has paid attention to the environment while devising this cleaning product. Nevertheless, the solution is anticipated to fall light on the user's pocket at the same time. Let's just wait for some more time!
Via: Quirky