Sofa beds were quite the rage in the 80s and almost everybody living in a suburban neighborhood had one in their guest rooms. These days, when guests decide to sleep over (probably because they are trying to save up on a hotel bill by mooching off their hosts instead) most people prefer to hand out sleeping bags and the sofa bed has thus been relegated to grandparents' basements and garages only. However, the need to have convertible furniture has become something of a necessity in modern life especially since apartments in cities seem to be growing tinier by the day.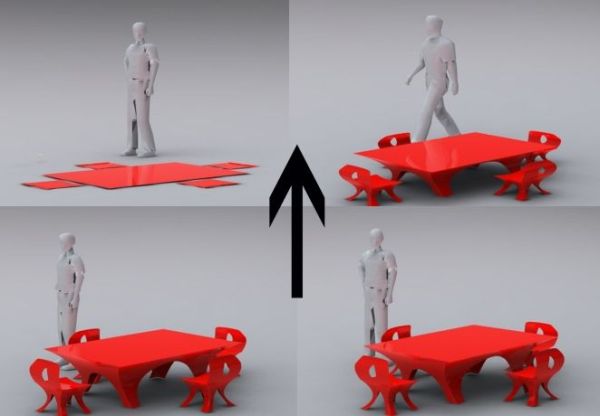 Though most of us will still settle for the convertible sofa, designer Luis Flores believes that furniture needs to be more multi-functional than that. His Memoflo Carpet Furniture concept takes us a few decades ahead in the future where our apartments would be even tinier and technology would be developed enough to allow textiles to be pre-programmed and would be able to shape-shift on their own.
These marvelous intelligent fabrics would be retailed as carpets but would come with an ingenious function where they would be able to shape-shift and turn into furniture at the push of a button (from our smartphones, of course). The clever Memoflo Carpet Furniture would thus serve as a floor accessory by day, and would instantaneously turn into a couch or a dining table or even a bed and a workstation on demand. And being essentially a carpet, it would be super-easy to clean and maintain as well since you'll just need to command it to turn back into a flat carpet before you order your robotic vacuum cleaner to have a go at it!
Via: Coroflot