Recycling is a very simple activity but with great advantage. Not only does it allows us to give a new life and purpose to our old stuff but also helps us save our environment by making lesser use of resources to manufacture new ones. Almost everything and anything inside your house can be gifted a new life with only a bit of imagination and creativity including your loved collection of foot ware. Read further to know how you can transform your old shoes and sandals to something extremely attractive and useful in enhancing your garden or backyard.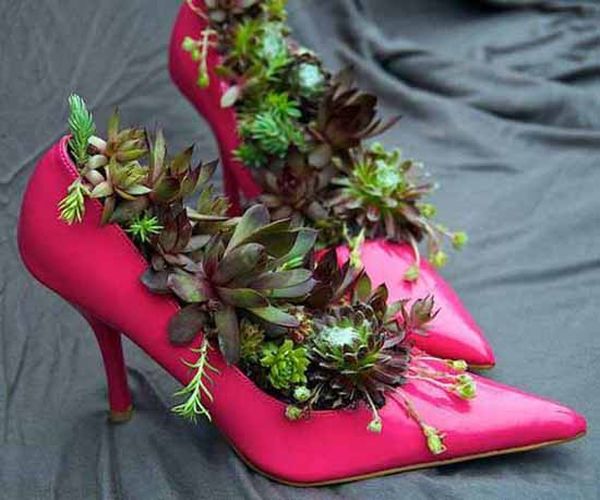 Your old and retired yet bright and beautiful foot ware can be converted into attractive outdoor décor items just by planting them with some plants and placing them at proper positions.
Creating beautiful planters from old shoes: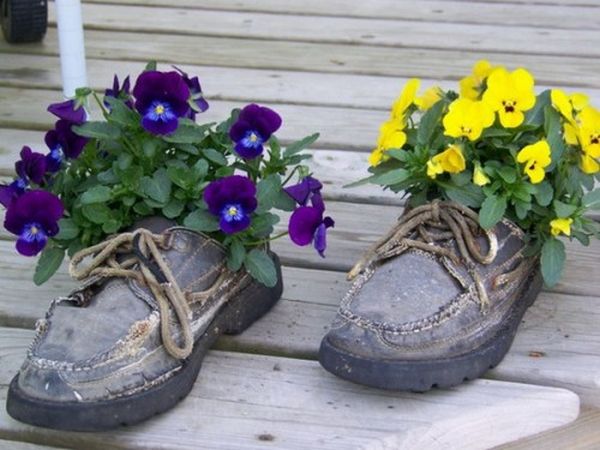 This is one of the cheapest and the best ways to add style and elegance to your yard. Here are steps to convert your old shoes into a trendy and attractive planter that looks simply stunning.
Old shoes with plants inside them can form an amazing outdoor wall décor accessory.
While making a hanging planter, be careful to make a number of tiny holes inside the shoe sole to help water drain properly. If the sole already contains holes, be sure they are large enough to facilitate proper water drainage when they are hung over the wall.
The shoelace can be removed or used for hanging the shoes from the wall.
Once you have made all the holes and decided the position of the shoes, now it is time to fill the shoes with some moist and fertile potting soil.
Plant some flowers inside the shoes while gently patting down the soil.
Carefully water the soil at regular intervals depending on the type of soil your shoes contain.
Place the shoe inside the garden at such a place where the plant receives ample sunlight, shade and moisture for its optimum growth.
DIY project for recycling old shoes: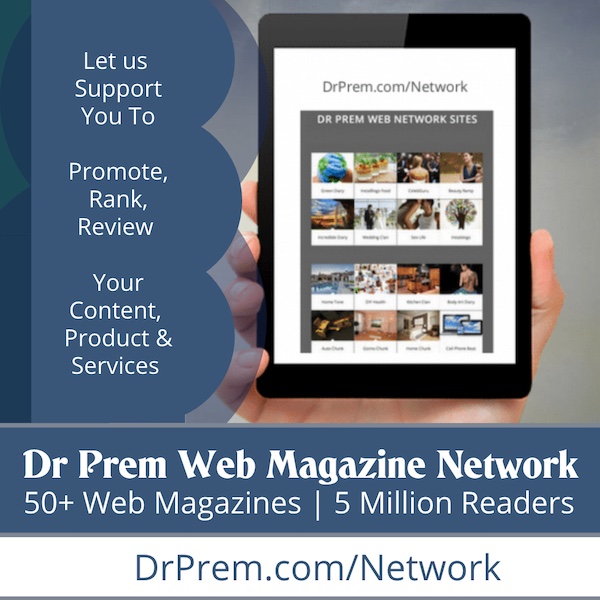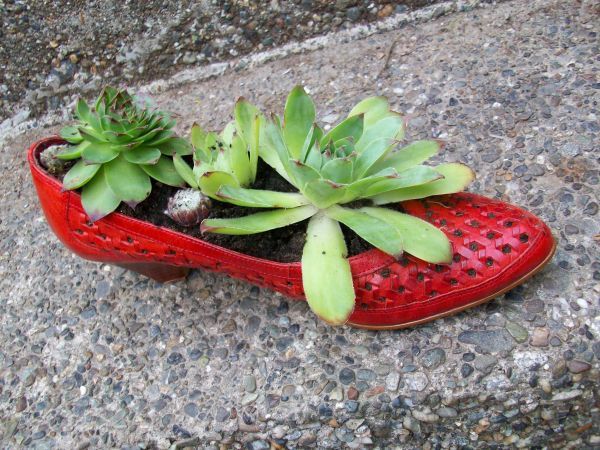 Remove the soles of your shoes and pierce a few holes to help remove excess of water.
Rub the shoes with the help of a sand paper and paint them with your choice of acrylic paint.
With the help of different colored paints create an attractive floral pattern with lots of bright shades such as red, yellow, blue, and green.
Make small dots on the shoelaces to make them appear beautiful.
Fill your DIY shoe planter with a layer of small rocks prior to filling sand and potting the plants. You can even make use of plastic plants to fill up the shoe planter. These look extremely attractive and enhance the beauty of your patio and entryway.
Some fun ideas to create attractive shoe planters: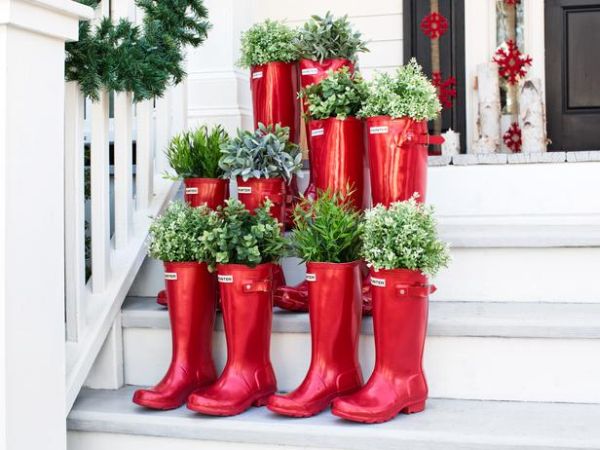 Color paint your old gum boots using white color and plant them with some bright colored flowers to create an eye catching outdoor décor.
Fill your old boots with varieties of succulent plants and you can use them to beautify your outdoor stairs.
A white sneaker planter is an excellent option to place a small bonsai tree.
Old leather shoes after polishing can be used as a unique interior decoration object. You can either fill them with some white colored small rocks or can even plant them with real or plastic plants.
Summary:
Plants are a symbol of life and having them inside your house in a unique way mentioned above will only add sustainability to your décor.