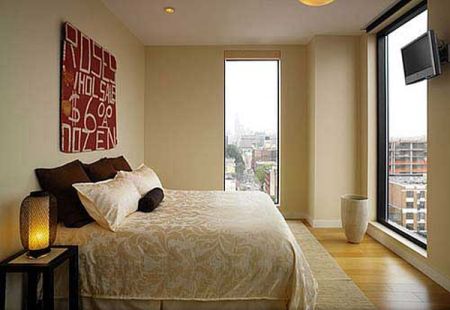 If you have a small room that gives you a claustrophobic feeling the primary thing that might come to your mind is that you need revamp the room so that it looks spacious. Unfortunately, you cannot increase the available space at all. So, the only option is to decorate your small room in a wise manner so that it looks organized and virtually spacious. Now, if you find it utterly confusing, we have solutions with us. Have a look at them and decorate your small condo in a nice way.
Calculate the available area
The first step towards a wise decoration is to be scientific in your approach. Hence, it is utmost important that you know the available space in your small room to every inch and meter. Measure the available area. Do keep in mind that you need to segregate and measure the walkable space you want and the area you can reserve for your furniture and accessories. This job must be made fair, so that it remains as your ready reference. So, on a graph paper plot the measurements, assuming each square as one foot. Mark the vacant space you want with a pencil along with the parts that will be occupied by the furniture and fixtures. Now, you are ready with your first vital step.
Look for options of constructional changes
Sometimes a wall or a window can become your great aid in increasing the available space of your small room. Actually we mean to say that sometimes felling an indoor pillar or installing a window on a blocked wall works a lot in increasing your available area. In case your small bedroom has such an option in that form of a wall or a pillar, which can be broken without hampering the architectural foundation, just do it. You will be happy to get greater walkable space. You can talk to your architect and interior decorator on this too, so that things can be worked out logically.
Painting the wall
Selection of the wall paint works a lot in increasing the virtual space of your small room. While a dark and warm color will make your room appear smaller, lighter shades and pastel tones increase the visual area of your room. So, reserve colors like coral, lime green, pale pink, off white etc. are some of the hot favorite ones for a small bedroom. A tip from us is that keep the ceiling white. For the rest of your walls lighter shades are to be applied. This gives an optical illusion of greater space even in a smaller room.
Choosing the flooring
The color, texture and pattern you choose for the flooring is also one of the strongest determinants in decorating a small room. Never choose floor tiles that are too clumsy or extremely colorful. These will only eat away the virtual space of your room. The best thing to do is to go for neutral shades like cream, white, etc. In case you are too keen on colored flooring, restrict yourself to pale pastel shades. Frankly, wooden flooring is of not much function in a small bedroom unless the natural wood color is very light, like walnut or white oak shade or have ivory colored varnish on top.
Wall décor
Wall décor is basically a special touch that gives an optical illusion of increased space in your small living space. Some of the special tips in this respect are that you can mount a mural or a wall decal on one of the walls that bear chic floral designs. Choose for monochrome shades and never try to play with colors. This will give your room a fresh look and work towards scaling down the feeling of claustrophobia.
Organize the clutters
Since small living area has lesser space, so we have a tendency to increase the number of furniture that occupy the space meant for mobility. The worst thing is that we tend to pile up and stack up clutters here and there. This adds further to mar the available space, both practically and visually. So, it is very important to keep your things organized. Therefore, think of shelves and counters that do not occupy the horizontal space. To be more specific, choose the ones that are wall mounting ones or have lots of shelves rising vertically. Ensure that these storage fixtures have closed options and bear colors that are pale and harmonize with the look of your room.
Make wise selection of furniture
The selection of furniture also needs special consideration in small rooms. In case if you have dreamt of a luxurious Napoleonic bed, to tell you the truth, your space constraint will never be able to accommodate that. So, make an intelligent selection of furniture type and style so that your available space is not jeopardized while you enjoy comfort too. Never select the bulky ones as that will take greater space and make you small room will look further claustrophobic. The ones that have slim features, bear lighter shades, have look through features and serve as multifunctional ones are best companions of a small living area. For instance, get hold of a TV stand that accommodates your additional peripherals too, along with provision of books, bags and baggage.
Mirrors add space
A great tip for you is that get hold of mirrors. This will increase your virtual space. Place the mirrors strategically so that your small room looks bigger. Get hold of a giant sized mirror and mount it just opposite to the wall of your entrance. This will give an optical illusion that your small room is really capacious. Place a few mirrors on a wall opposite to the window. This will work as a wall décor too together with increasing the option of more natural lights in your limited area. It will actually have an illuminating effect in your room and make it feel much less claustrophobic.
So, when you plan to remodel your small room, keep these tips in mind and you will be amazed to see that your available space has multiplied like a magic.