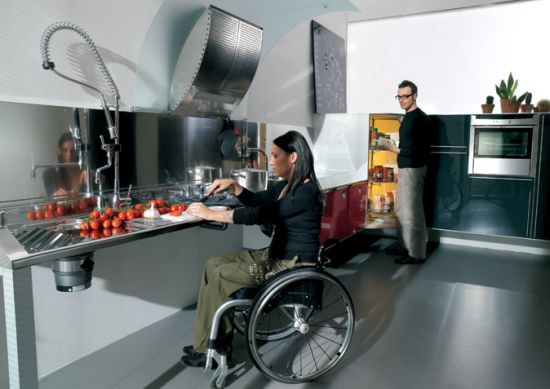 If you live with your family, then you would have certainly observed that all the household activities revolve around single women in the family. It doesn't matter which role is she playing, either a mother or a wife, she is the person who has the supreme authority over the kitchen of your house. But life isn't always fair. Everyone is not blessed with good health. If someone in your family has certain disability then it's your responsibility to make life easy for them at least in their house. Especially if the disabled person is the women, then you can do a great favor to her by simply making the kitchen accessible to her. You can definitely make her experience more pleasant and enjoyable by making few modifications in your kitchen. Here are a few tips and kitchen design ideas for physically challenged people
DIY Tips on kitchen design ideas for physically challenged people
Whatever be the disability, whether your loved one uses a wheel chair or walker or she has a problem in bending, there are a number of changes that you can make just to make everything go smooth and comfortable for her. It's not that you need to modify the whole architecture of the kitchen. They are just small changes that you ought to be made. The instructions given below will help you in figuring out, which areas need to be modified.
Complexity level: Moderate
Time required: 18-24 hours
Instructions:
1. Widen the doorways
This is the first problem that most of the disabled women face while entering the kitchen especially when they are in the habit of using a wheel chair. The door must be widened so that she gets an ample clearance while entering the kitchen. Also, for a person using a wheel chair, grasping a round door knob can be a bit difficult, so it's better to replace them with a lever style knob.
2. Create more space in the working area
Disabled persons face a lot of difficulty while moving in narrow spaces, and so is the case with the kitchen. In most of the kitchen there is a scarcity of workspace, however, the situation becomes totally unacceptable in case if the person working in the kitchen has certain disability.
You got to make sure that usable workspace is created in the kitchen so that she doesn't have to face any difficulty while moving from one place to another.
The counters must not be very high if she uses wheelchairs, and if she has a trouble in bending or stooping then the counters must not be very low.
3. Make the storage easily accessible
One important point that must always be kept in mind while designing kitchen for a disabled women is that the storage area must be easily accessible by her.
If she uses a wheel chair then make sure that most of the items are one the lower cabinets and if she is in the habit of using walkers then storing the items in the upper cabinet will do the trick.
4. Make use of a shallow sink
Shallow sinks are of great aid while dealing with any sort of disability. Women using wheel chairs face a difficulty in reaching the bottom of a sink which is deeper than 6 inches. Also, shallow sinks prevents them from bending excessively if they use walkers.
5. Create a safe stove area
This is the most important point that needs to be kept in mind. Stove area is the most injury prone area of the kitchen and the situation becomes vulnerable for a disabled person. All safety measures should be employed while designing the stove area. Installing resistant counter tops on one side of the stove area can definitely protect her from hot oil spills.
Seven innovative kitchen designs for the physically challenged
1. Coox kitchen design ideas for physically challenged people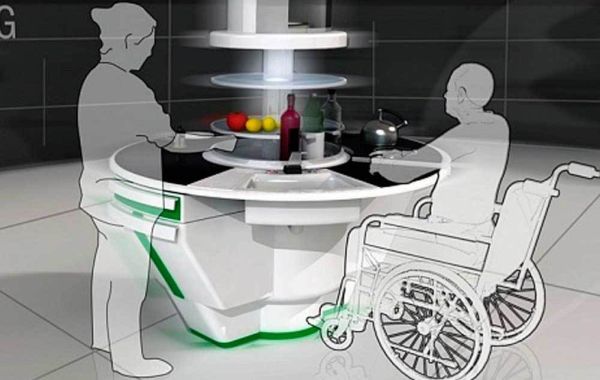 The famous designer Fatih Can Sarioz has designed 'Coox Kitchen' for physically disabled persons. This kitchen is divided into two sections; cooking and dining. The cooking section contains a fridge with pneumatic system, a number of drawers, electric motor with microwave oven, induction cooker that slides up to 120 degrees across the surface, dish rack, and armature. There is a proper dining area also. The wash tap can be turned in several directions to wash hands and dishes. Th kitchen is a perfect picture for handicapped people. Normal people can also use this kitchen in a comfortable manner.
2. The Kitchen Hideaway
The Kitchen Hideaway contains two parts; head set and fully automated remote kitchen. This type of kitchen is for the more complex type of the handicapped. They can convey their thoughts to the remote kitchen which is a complete set up. It uses materials according to the instructions and prepares a proper meal. It also delivers the meal to the user. This is a food factory and can be used as a single kitchen which can cater to several apartments or users. The physically disabled find it more convenient. Those who do not know how to cook can also use this type of kitchen.
3. Modular Kitchen Concept by Fevzi Karaman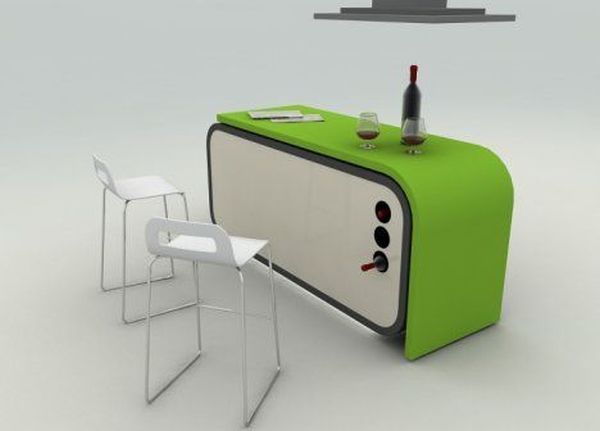 Modular Kitchen Concept is a very compact kitchen unit. It can be put away easily. It is ideal for a small apartment. This type of modular kitchen includes stove, sink, recycling bin, dish storage, serving table, bottle rack, fridge and dishwasher. Everything is contained within a single unit. It is ideal for a physically challenged person because everything is contained in the same piece.
4. Hability kitchen design ideas for physically challenged people
The Hability kitchen is not an ordinary kitchen for the handicapped. It combines accuracy along with aesthetic beauty. This is designed by Marco Miscioscia and the company Valcucine. The special feature is that this kitchen does not pronounce 'handicap'. The kitchen has a stainless steel top in a single mold. The cost is also reduced because there are no in built elements or welding jobs. Safety is given priority. Food can be prepared and cooked from the same position. The self cleaning system helps the water to flow from use to the sink. The top can be replaced with dish drainer and sink. A person in a wheelchair can access wall hung units and corner units too.
5. Sentino cook top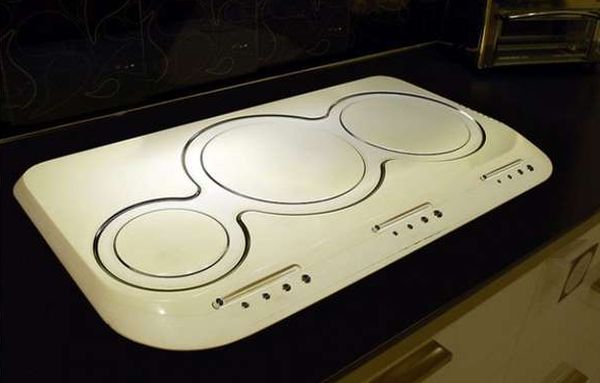 Famous designer R.D.Silva has created a hi tech Sentino cook top for the visually impaired people. The controls in the cook top are feather touch. The blind people who use this cook top can sense the controls and use it conveniently. It has an easy turn on/off switch. The uses can sense and listen to power. It is very safe and convenient for visually impaired people. Cook tops usually do not have controls that can be used by blind people safely. This cook top will be a great gift for blind friends or relatives.
6. Cucina Kitchen Island
The Cucina kitchen is a complete solution. It combines kitchen units like oven, dishwasher, sink, trash, cooler, freezer and furniture. It is very convenient to use. The Cucina blends into the kitchen easily. It is also very easy to use. It has a footprint of under two square meter. The functional ability is the striking feature of this kitchen unit.
7. Electrolux Rendez-vous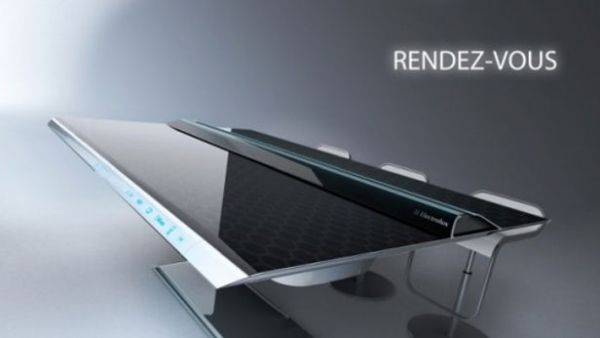 The Electrolux Rendez-vous is a concept of Electrolux Global Design. It is a high tech built in kitchen with interactive table. There is a mobile charger also. The special feature is the energy shield top which transmits power wirelessly to any electric appliance. This means that there is no need to plug appliances each time separately. This is an inductive cooking top. Th position whee a pan is kept becomes active as a hot plate. here are drawers below the cook top and space for a stove or refrigerator. There is also a virtual supervisor who acts as chief chef.
A final note on kitchen design ideas for physically challenged people
A physically challenged person would find an ordinary kitchen cumbersome. Several factors have to be taken into account while designing a special kitchen meant for the physically challenged person. These are by priority safety, height of the counter top, reach of appliances, access to storage, cleaning and overall comfort. It should be kept in mind while a kitchen is designed that the same kitchen is used by normal people and may be used by other occupants in future. The design features for such a kitchen can include large counter space, shallow basins, door mounted shelves, continuous counter tops and side by side fridge and freezer unit.