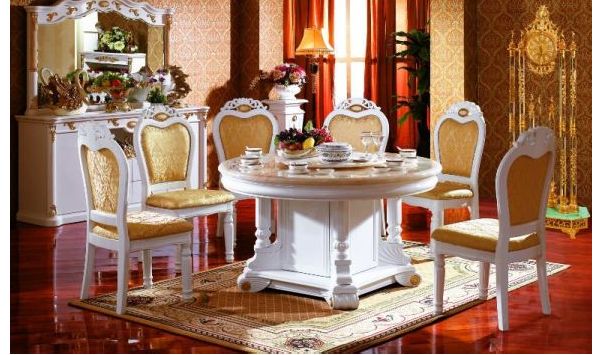 The monotony of city life and the mechanized life inside the concrete jungle gets a pleasant break when tables and chairs with rustic features decorate a room. They bring in hint of fresh pastoral life and also add richness and royalty to a home décor. Here, we present some wonderful rustic dining tables that are sure to change the overall look of your dining room as well as every day dining experience. Have a look.
SNAKE RIVER DINING TABLE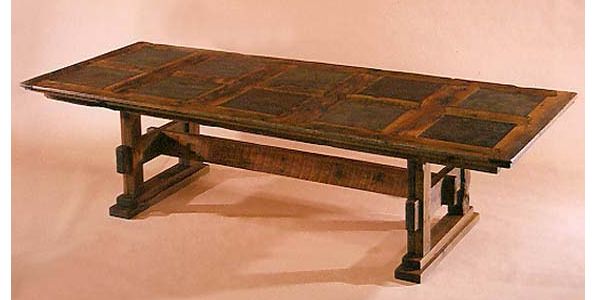 The catchiest thing about this rustic dining table is its classy raw wood look. The unfinished appeal prevalent all throughout the surface wood work arouses much visual interest. The crisscross rivets running all through the surface of table top and the visibly prominent grains in the wood make it one of the most natural creations. Now, for the functional part of this rustic wonder, it has a ten foot long table top. So, you can find it really handy when more guests drop in your house. The whole structure can be easily dismantled and kept away when not in use. But the next time you need to assemble them you will never have to toil at all. Thus, the user friendly installation process makes it score more over the other rustic dining tables.
Rustic Recycled Teak Bogor Large Dining Table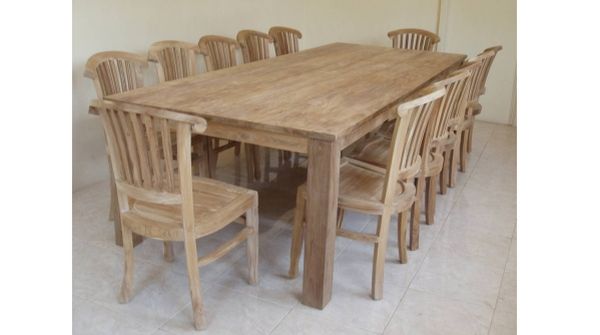 This large dining table is functionally the most impressive one. It has enough space for accommodating as many as twelve people at a time. Thus, if you any plans of throwing a large party then this rustic dining table will come really handy. Now, if you have further plans of shopping the product for its raw looks then we would say that your choice is perfect. The unpolished and unfinished look of this dining table will initially give a feeling that lots need to be done further on its finishing. In fact, this is the special appeal of this rustic dining table which is made from 90 years old ancient recycled teak.
Custom Made Rustic Oak Dining Table With Square Decorative Inlays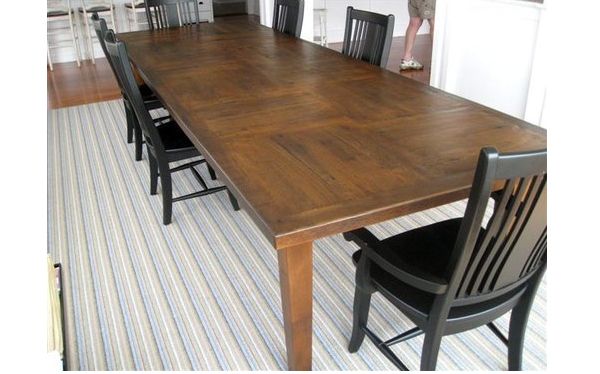 The beauty of this rustic 12 feet dining table is in its simplicity and streamlined features. The authenticity of this highly rustic feature lies in its walnut teak surface and rich grains spread all throughout the surface. The dark wood polish on its surface works further on its looks. At a table top dimension of 12"x48"x2" this dining table is capable of accommodating quite a number of diners at a time.
Broyhill Attic Heirlooms Rustic Oak Extension Dining Table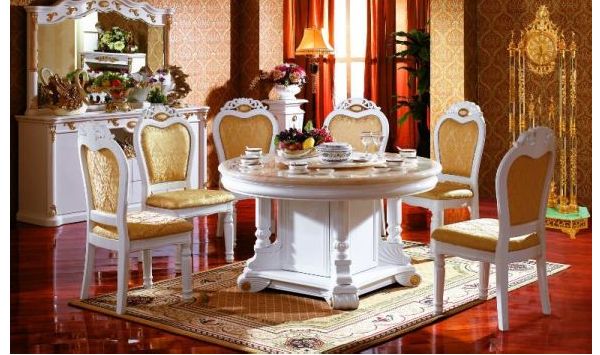 This Napoleonic dining table reflects royal flavor along with its rustic looks. The spherical table top with a two layered inlay features a wood colored surface atop one with white laminate. Veneer polish on the surface makes it durable against every day wear and tear. The base of this table top is interesting for its antique detailing. The intricate embroidery on the four pillars surrounding the square central mount arouses interest about the product. The manufacturer has lot more surprises for the customers of this rustic dining table. If you wish to have one different finish the manufacturer is ready with four different options. The availability of print colors and dimension of the product can also be customized according to your specifications. Thus, choose your perfect table top length from a range of 5 feet to 12 feet that matches with your dining room décor rightly. Further experimentation can be done with sixteen different paint colors to make it your own product.
42-Inch Round Hickory Rustic Alder Dining Table with Liquid Glass Finish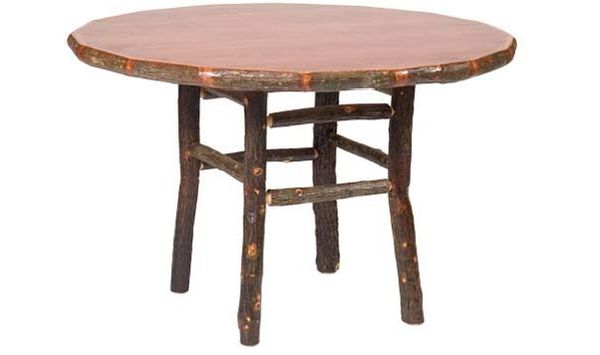 This US made rustic dining table will definitely amuse you if you are a perfectionist about shape, form and aesthetics of your furniture. The irregular sphere of 42" diameter that forms the table top creates the feeling of the rustics. The table has been created by incorporating the bark of hickory logs. In order to maintain its natural look the logs have been seasoned to a specific temperature so that moisture content in the same could be kept at a particular percentage. The maker has been particular about the durability of this dining table too. Therefore, a clean coating of lacquer finish has been given to make the product strong and weather friendly.
Rustic Natural Cedar 221 Solid Top Dining Table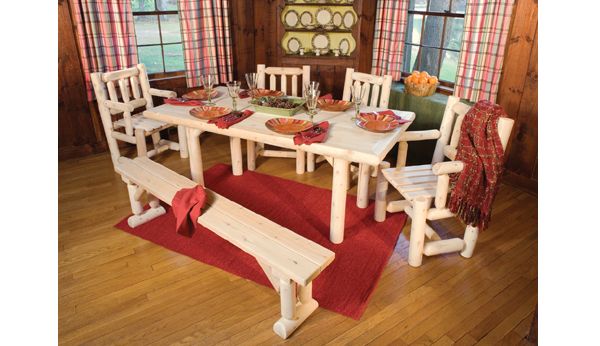 Make your family dining a pleasure by getting hold of this white cedar dining table. As you spend a sum of $430.40 on it you can be assured that you are bringing home luxury and durability. The primary step towards durability is undertaken by the cedar wood base. It is natural insect repellent and disease resistant. The transparent veneer finish makes it even more water resistant and weather proof. So, your dear investment will never go waste. The basic dimension of 70" length x 35" width x 30" height and the cedar wood surface give you extended opportunities of using it outdoors too as a dining table in family picnics and casual gatherings. The remarkably rounded features that prevail all over its surface, corners and legs create further visual interest.
Rustic Natural Cedar SQUARE TABLE UPSABLE 37 Inch X 30 Inch – 135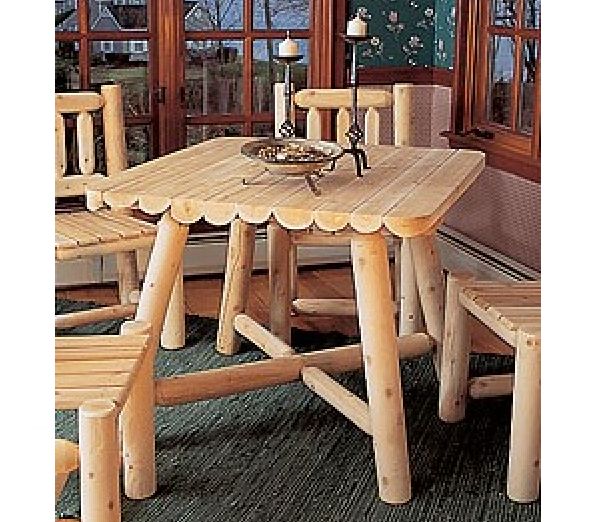 The visual sensation that will be created when you look at this rustic table for the first time is that of frolic and fun. The scalloped contour on the entire rim of the table gives a mood of festivity. So, this table integrates a casual look. The planks of cedar wood kept one after the other makes the table top appealing. The rounded feet of the table give it softness. They have been deliberately kept slated in order to retain the casual look. But functionally this dimensional slant gives the structure durability and enhances its weight bearing capacity too. The selection of cedar wood is calculated. The natural insect repellant qualities and weather proof attributes of this wood makes this rustic dining table an efficient outdoor as well as indoor version. The white finish, visible grains and unpolished surface accounts for its visual splendor.