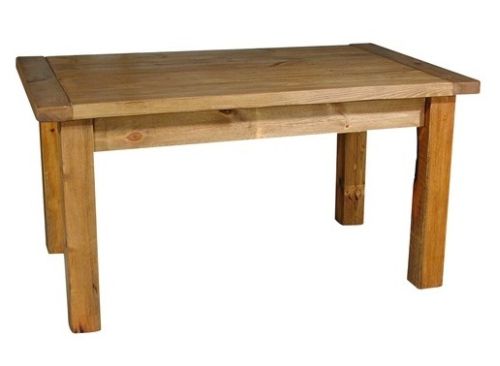 Dining tables are common piece of furniture in every home and especially during the three meals of the day; it's the central space for your home's hustle and bustle. A unique way to decorate this extensively used space is by using a rustic dining furniture that is put together using wood pieces made from oak, pine and aspen. Crafted from such woods, rustic dining tables are robust enough to last for many years. Inspired by the old western style, rustic decor will bring a natural aura and history to your dining room. Many modern designs like Country, French and Italian are used in combination to create rustic furniture. Here we have listed 7 best rustic dining tables that will add elegance to your dining room.

1. Alterton Furniture Rushal Table
BRAND : Rushal
PRICE : USD 510.87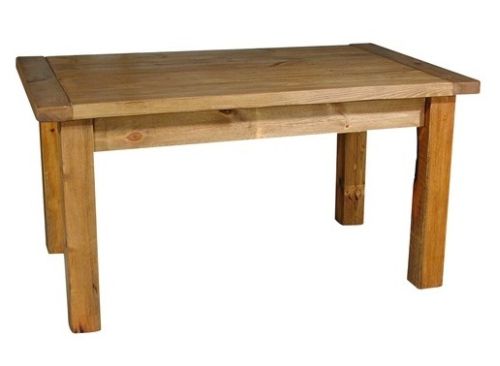 An elegant dining table constructed from Quebec Yellow Pine comes from the Rushal Collection. Built with traditional rustic splendor, this table is a graceful display of how classic design comes to life in contemporary settings to enhance and suit a modern home with an air of sophistication. The perfectly finished dining table will enhance the beauty and perfection of your home.
USP
This dining table has large knots, matching and heavy grains, which set the design apart.
PROS
The Alerton Rushal dining table comes with Abbey Wax Finish.
2. Cedar Long dining Table
BRAND : Rustic natural cedar furniture company
PRICE : USD 378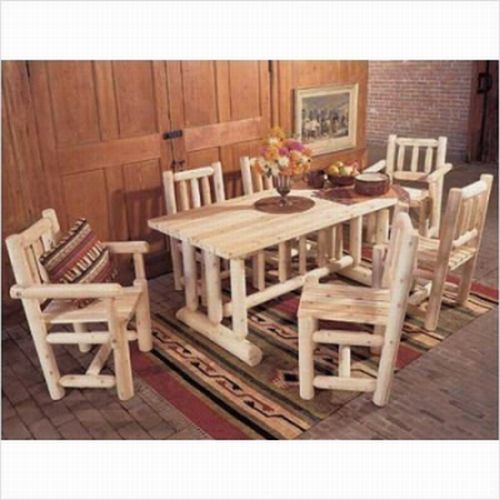 The Cedar Long dining table designed by the Rustic natural cedar furniture company is a long lasting dining table perfect to grace the style of your dining room. Unlike other woods, Cedar will not shrink or wrap. The wood got high strength to weight ratio, natural resistant to decay, insect and water damage makes it the most durable and enduring wood. The remarkable craftsmanship of the company makes this dining table an ideal choice for fine dining indoors or out. This dining set is made with northern white cedar and it got creamy color that will age gracefully to a silvery gray color.
USP
The Cedar wood is natural resistant to decay and insects.
PROS
The creamy white colored Cedar wood can be stained to match any color.
3. Rustic Dining Table by The Orchard Furniture
BRAND : Orchad
PRICE : USD 723.34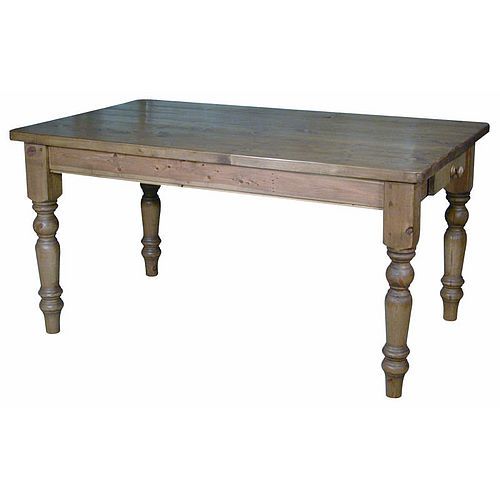 The Rustic dining table designed by Orchad Furniture is a beautifully simple and natural piece of furniture. The table is designed with thick solid top and elegant turned legs that make this dining table aesthetically elegant. This Rustic table is perfect for any country kitchen or any busy family home.
USP
The single drawer at the table end is suitable for the cutlery placement or knapkin storage.
PROS
The table is made with the Quebec Yellow Pine wood and got a natural finish.
The length of the table is customizable from 152 cm to 213 cm.
4. Designer Dining Table By Salotti Naviglio
BRAND : Salotti Naviglio
PRICE : USD 768.79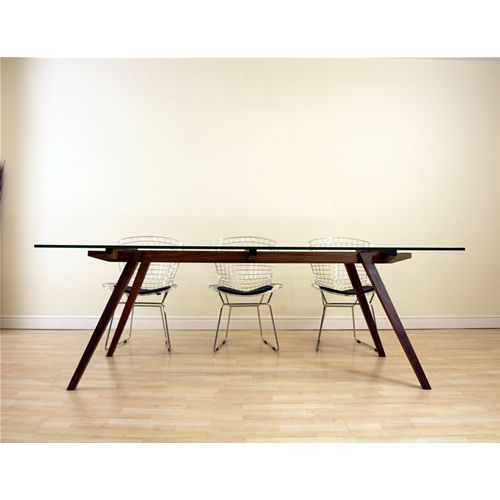 The dining table, designed by Salotti Naviglio, is a stunning table with a timeless classic cutting edge design. The table is very modern and stylish in its application with fabulous geometrical rustic outlook, which makes it very unique. The table measures 225 cm L x 85 cm W x 75 cm H and it perfectly exposes the warm natural color and wood grain. Even the top glass is made up of 15 mm tempered high quality clear glass.
USP
The base of the table is made up of solid walnut, which provides great durability.
PROS
This 8 seat designer table serves dual purpose, it can also be used as a conference table.
5. Provence Rustic Oak Fixed Top Dining Table
PRICE : USD 1246.5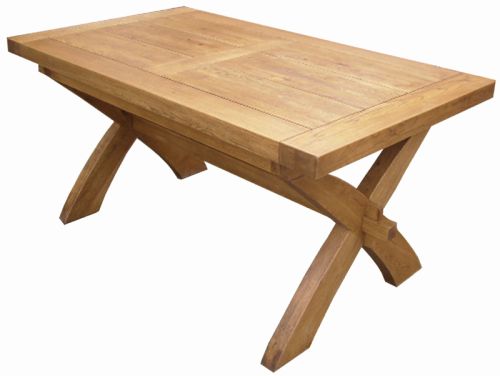 This dining table is built with Oak which got lovely natural grain and it makes brilliant furniture. The look and feel of this table is very authentic and it goes well in the traditional setting. It is a designer centerpiece that will style the rest of your room.
USP
This table has central cross support structure, which gives it a terrific strength.
PROS
The oak timber used makes the table highly durable resulting in a great longevity.
6. Danube Oak Round Dining Table
BRAND : Danube
PRICE : USD 1132.67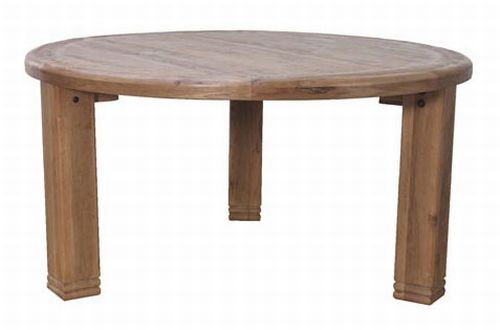 The Danube oak round dining table with its stylish and durable construction will make a fantastic addition to the family dining room. The exquisite oak add a fantastic look to the dining table making it ideal for both traditional and modern style of dining room. The table is built with three chunky and very heavy weathered oak legs that not only provide support to the table, but also grace the style of your dining room.
USP
The rustic bolts hold the dining table together and discreet decorations on the table legs add style to its looks.
PROS
The thick and large table top provides sufficient space to fit a good number of people to enjoy the meal.
7. Ardennes Round Extending Dining Table
BRAND : John Lewis
PRICE : USD 1248.39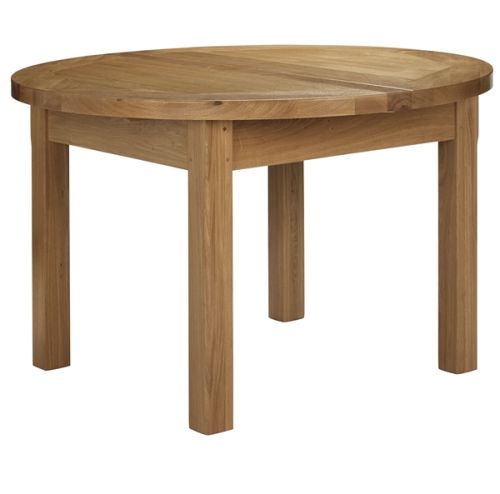 The designer John Lewis used dense European oak to design this classic French farmhouse style round extending dining table. The grain features of the oak are unique and deliver an attractive pattern design to the table. It also adds to the rustic look of the design and it ages beautifully over time. There's no doubt that extending dining table is one of the most practical solution in today's space constrained world.
USP
The foldaway leaf storage feature of this dining table provides more space when it doesn't need to be extended.
PROS
The table measures 120 cm L x 76 cm H and can be extended to a length of 160 cm.