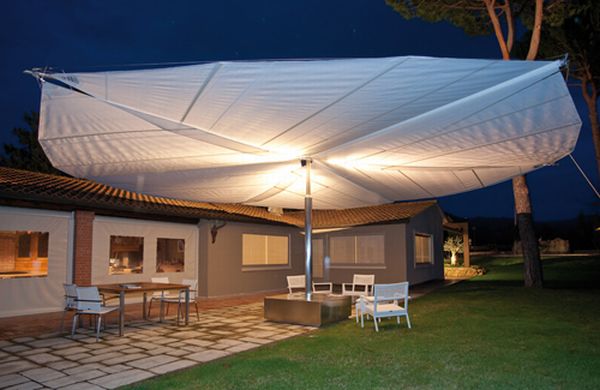 Partying out-of-doors is always fun and exciting, but usually botched with an occasional, unprecedented rain or insects or maybe the little extra harsh rays of sun. To eradicate all these outdoor spoilers in your next outdoor party, the Sail Awnings designed by Corradi can be the perfect item. Matching aesthetics with protective applications, these awnings enhance open-air areas harmonizing vibrancy with oodles of panache.
In summer months, a party al fresco is always welcome; be it a kiddy meet, a get-together for friends or just a family session. The summer is best enjoyed outdoors no doubt, but the parties need not necessarily be held on beaches, expensive hotels or club-pool sides. You can have one right in your backyard or patio flaunting the Sail Awnings.
Founded in Bologna in 1978, Corradi is a globally famed designer studio known for its vast range of custom-made outdoor solutions to furnish comfortable and durable outdoor spaces. The group's new addition, i.e. the sail awnings, are designed especially for large outdoor spaces, dining decks and poolside patios. Apart from stylizing life, the sail awning creates a functional protection from sun and other factors.
Mounted on an 65 mm anodized aluminum pole, it is made up of sail awnings of about a single unit to six units, rolled on a horizontal profile. It rotates 90 or 360 degrees and covers about 11 or 14 square meters depending on the model. The awnings are made of white Dacron sailcloth, with fiberglass support ribs. It offers both manual and motorized operation for easy functional purpose. These chic awnings are also equipped with sensors for wind and rain. So, in strong winds, it rolls up automatically to keep itself safe from wear and tear.
The awnings come in a range of self-sufficient retractable models suited to all styles and convenience known as the Defender, X-tension, Intrepid and Freedom. Depending on the demands, the awnings provide a perfectly functional and stylish solution to outdoor spaces.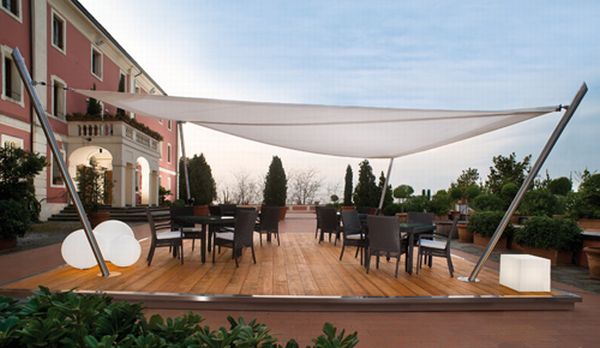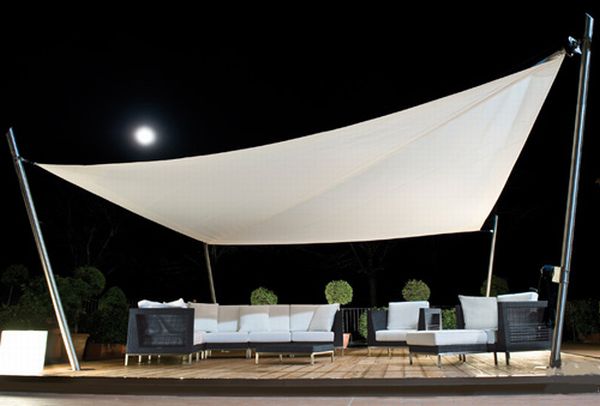 Via: Trendir