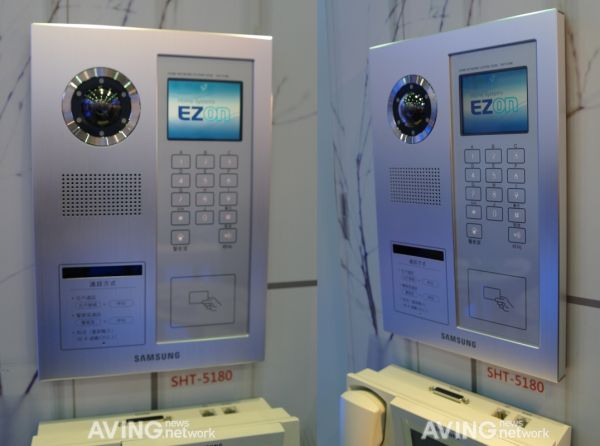 The Samsung EZON multi-mode door phone unveiled at the SECUTECH 2011 held at Taipei Taiwan is a hi-tech multi-mode lobby phone that makes it possible to connect to each household within an apartment complex through the camera. It can be fitted on the wall of the entrance lobby to assist home security and safety.
The Samsung Commtech, an affiliate of Samsung Group has launched the EZON SHT-5180XL main entrance camera phone. The model comes with 1/3″ Color high-resolution CCD camera with six white LED and RFID Reader. The camera angles can be freely adjusted according to requirements. The user can use the wall pad installed indoors to identify the visitor at the lobby by his visual appearance, save the image and also call each household of the housing complex.
The user can also use the phone to notify the concierge and guard control room. The sensors in the phone can enroll a maximum of 3,000 individual PIN and about 4,000 RFID Card. It is also equipped with an additional measure for unlocking of the automatically in case of fire.
With the security remaining the foremost idea, the design of the model is low key and of aluminum finish with a refined touch. It's got a simple shape which blends well with urban architectural patterns of building lobbies and walls of apartments.
Via: Aving