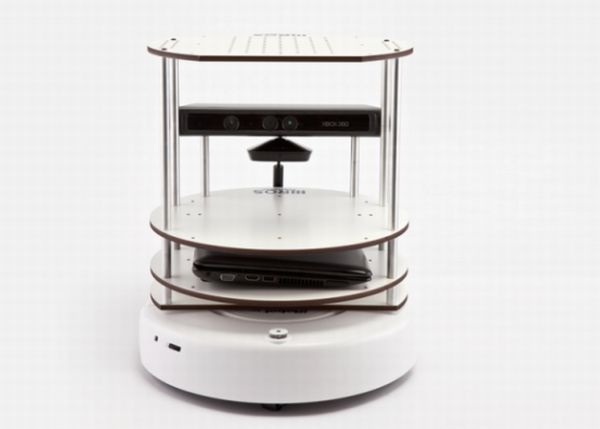 Willow Garage has introduced this new robot kit which can act as a waiter around your house. TurtleBot is made up of a Create and a Kinect and is run by a Robot Operating Service (ROS). The open-source robot operating software is from Willow Garage, which is known for its PR2 and telepresence robots.
Basically a TurtleBot turns the Kinect into a mobile platform, so you can drive it around the house, carry a tray of food or drinks around and take pictures and stitch them into 360 degree panoramic photos. it also allows people to develop their own apps, share code and take advantage of capabilities such as autonomous navigation and computer vision. It also includes software for detecting and tracking people. Out of the box you ll be able to build the maps of your home and then you can ask your robot to bring items from the kitchen to your living room. Take a look at the video below to learn more.
The kit comes in two versions: One for $499, which only includes the Kinect and mounting hardware, and another for $1,199, which has the Kinect, Create and an Asus Eee PC 1215N.
Via: CNet