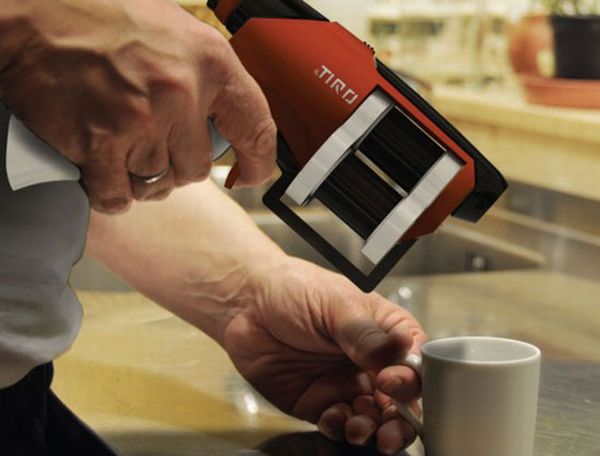 There is nothing quite energetic as a morning shot of steaming hot coffee to wake up from the dreaminess of night sleep into the dullness of the upcoming day. Giving a new meaning to taking a shot of coffee, an Italian product designer team has designed an espresso gun concept named as Il Tiro or the shooter in Italian.

Il Tiro is an all- in-one coffee vendor that is designed like a gun but functions identical to an espresso maker. The team of designers comprising of Stefan Riegebauer, Christina Carli, Florian Kainz and Niko Schwarz have designed this wacky gun espresso as a wholesome package. The gun grinds boils and pours three cups of coffee in a measured orderly manner.
The handle of the gun stores the water and then the temperature control in the rear of the gun sets to heat the water at a desired level and then with a trigger of the gun the hot water jets through the ground coffee powder to release a warm jet shot of coffee out into the cup. Grinding of the coffee beans is managed by the device a when it is staged in its docking position. The loading of the beans is followed by setting the grinder to work and the three chambers get loaded with fresh coffee powder.
Each part of the device unlocks a part of its functionality and can be opened apart easily for hygienic cleaning purposes and when not in use the gun can be unlocked and docked in a secured manner. Easy to maintain and easy to store this outlandish gun espresso is eco-friendly, assures least wastage, saves power and energizes your day with the perfect cuppa of caffeine shots.
Via: dvice