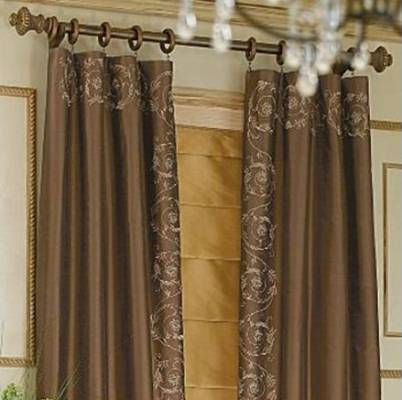 Free-flowing from a top rod, curtains not only serve as a protection medium from wind, sun or cold, they also accessorize your house like no other item. A nice pair of curtains completes your home interior and provides a sense of being lived. The early 19th century witnessed considerable diversification in curtain designs. Today, these are available in a wide range of styles, colors and patterns. A list of 10 most stylish silk curtains has been reviewed in this article. Have a look and select one that matches well with your style.

1. La Scala Silk Embroidered 40Wx95″ L Panel
BRAND : JCPenney
PRICE : USD 84.9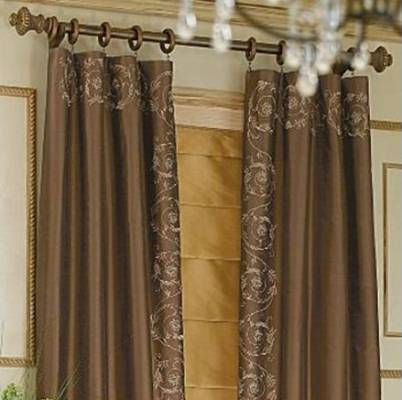 Holding the essence of extravagant luxury, La Scala drapes embroidered panels which enhance the beauty of your home. These are made with masterful details on top, center and bottom and tailored from the finest silks. Though the drapes are available in lengths measuring from 84" to 120" to create a puddling effect, it is recommended to purchase them 8-10 inches past floor. The fabric is made of silk with cotton/polyester lining and cotton flannel interlining. The 4 inches hem on the bottom and mitered corners add to the finish of these curtains and make them look beautiful when hanged.
USP
These curtains come with flannel interlining which enhances their color and also helps reduce window related energy loss providing comfort all through the year.
PROS
This gorgeous silk fabric curtain is available in a varied range of colors
Its intricate embroidery with swirling leaves and flowers in the middle is the striking feature
2. Trio Grommet-top Panel, Studio Draperies
BRAND : JCPenney
PRICE : USD 34.99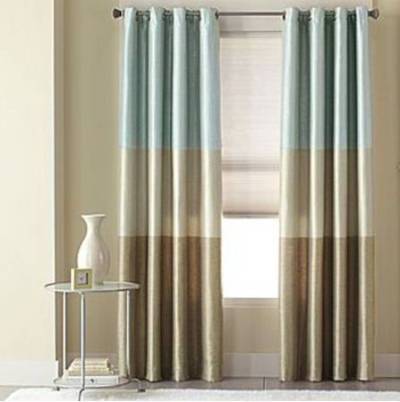 These studio draperies fill your space with color and vibrancy. The medley of three different interwoven hues and textures is absolutely innovative. Moreover, the medley is available in various color combinations, all of which are stunning in appearance and match your interiors well. The drapes, hanging from a decorative rod or pole beautify your windows like nothing else. It is available in length measuring from 63 to 108 inches.USP
The grommet-top heading on these curtains mark a perfect finish, elegance, rich and contemporary looks.
PROS
These are machine washable as they are made of polyester silk
They are energy savers too
3. Horizon Natural Faux Silk Pencil Pleat Curtains
PRICE : USD 46.57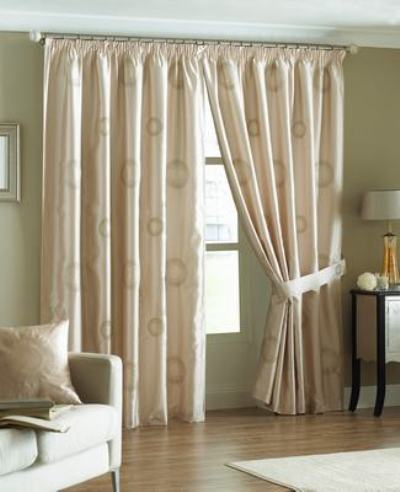 Contemporary embroidery on a beautiful faux silk background in a neutral shade of light golden color adds a wonderful touch to your room. The soft feel and shimmer of the fabric make them sensual. The subtle embroidered circular motifs make these drapes timeless. The stunning pencil pleats on these silk curtains make them perfect for both living and bed room. The pack consists of two panels with a luxurious 3 inch heading tape at the back, allowing them to hook to the curtain pole ring or curtain ring. They are very easy to maintain as they are machine washable.
USP
Natural colored curtains are eternal and perfect for any kind of interior, be it in lounge, children's room, bedroom or bay window.
PROS
The heading is apt for most curtain rods and tracks
4. Oyster/Mink Silk Effect Pencil Pleat Curtains
BRAND : Next
PRICE : USD 62.36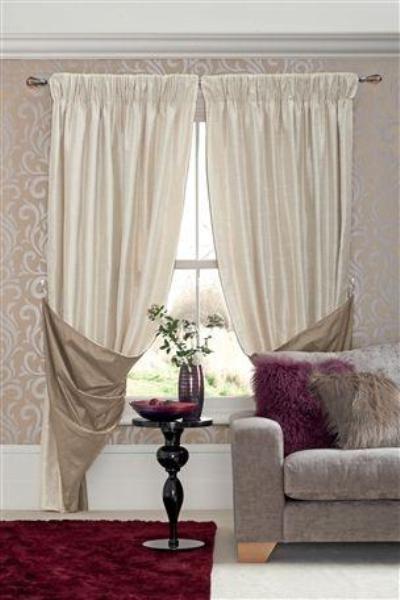 These straight hanging Oyster/Mink Pencil Pleat Curtains provide a smart professional look. They can also be swooshed back for a flash of complementing color. Available in three different lengths of 54, 72 and 90 inches, these curtains are sold in pairs. They are ready made curtains made from flowing silk fabric and colored in mink. The heading tape on the pencil pleat is suitable for all kinds of tracks and poles as the curtains have pockets to enable them to be hung at different heights.
USP
These Next drapes are very classic and provide a traditional yet modern look.
PROS
You can swap the sides, swoosh them back or tie in several ways in case you feel bored with the same shade/mode
5. Olimpia Window Ensemble
BRAND : Croscill
PRICE : USD 53.99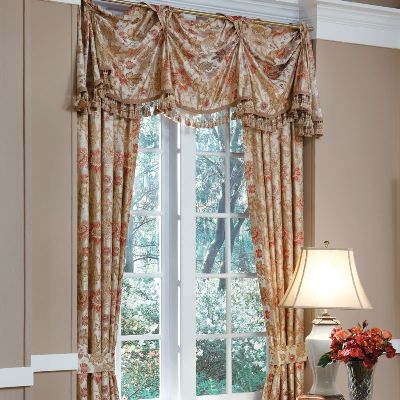 Bring the fantasy of flowers with the Olimpia collection by Croscill. The drapery features hardy twining vines sprouting among wild flowers, blossoms and leaves in different colors of mauve, antique gold and burnt umber. The base is champagne ivory-based with multi-colored twist cord. These measure 84 inches in length and the stylish Prima valance complete this ensemble.
USP
Croscill is known for its unique designs and elegance. These curtains denote the same and grace your home interior with style and color.
PROS
The drapes are acknowledged with a complete set of Olimpia bedding. Each accessory is made with beautiful detailing on a silk-like fabric making your room look amazing.
6. Red Floral Embroidered Bedroom Curtains
PRICE : USD 88.83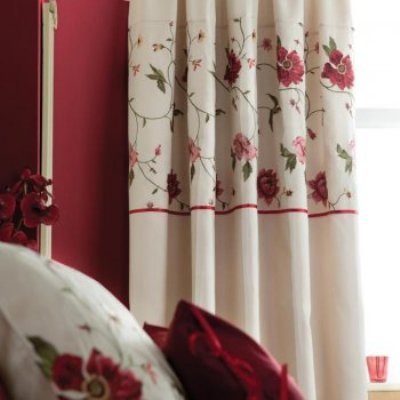 These red floral embroidered bedroom curtains are made of a super soft polyester slub silk fabric in front. Hanging straight with its pencil pleats, these bring radiance in the room. The reverse side has a polyester peach skin lining. The entire drapes are made of 100% polyester slub silk fabric. The set includes two curtain panels and tie backs to bind them in different ways.
USP
The all over floral embroidered design creates a lasting beauty and perfect finish to your bedroom.
PROS
They are nicely lined
They look like real silk and are true to the color in the picture
7. Signature Mocha Textured Silk 120-inch Curtain Panel
PRICE : USD 171.99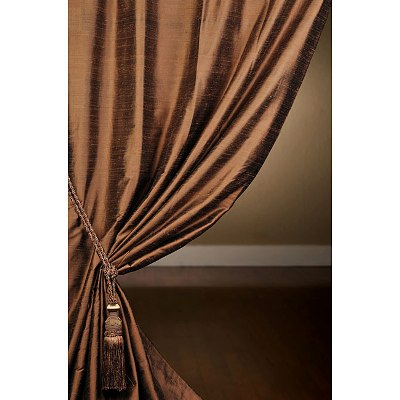 This lustrous window panel is handmade and adds a unique dimension of luxury and texture to your room. This silk curtain is made of genuine 115 GSM Dupioni silk. It has a heavy flannel interlining to provide a sturdy support and high-quality cotton lining giving it a clean finish. The heading has a 3 inch pole pocket while the bottom is completed with a width of 50 inches.
USP
The panel holds a personal touch and warmth as it is handmade.
PROS
It is crisp to touch and is also wrinkle-resistant
The light and temperature blocking features of the curtain are very good
8. Ferretti Embellished Taffeta Curtain
PRICE : USD 52.99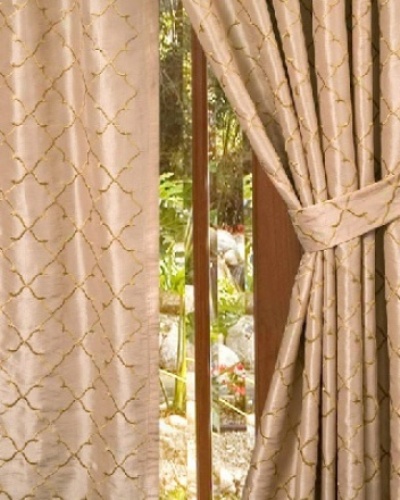 This taffeta window covering is one of the ideal options to decorate your home. The curtains are made with a beautiful scalloped diamond embroidered design. The pocket panel is 55 inches wide and is available in several earth and gem toned colors. The rod pocket is a wide 3 inches, well designed for any kind of decorative rod and allowing extra simple hanging. The drapes are complete with a 4 inch hem on the bottom and 1 inch double folded hems on sides.
USP
The faux silk taffeta fabric is of good quality and makes care as simple as possible.
PROS
The chocolate-colored design on the grommet makes the top attractive and adds to the glitz of the curtains
9. Royalton Window Treatment Set
PRICE : USD 19.95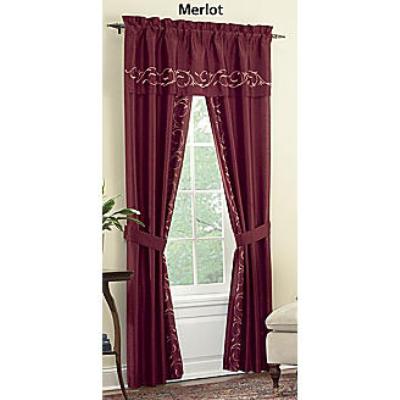 With the luxurious look and feel of silk, these easy-care curtains are truly a beautiful way to refresh the entire room. The panels measure 54" wide and 84" in length and are embroidered with contrasting scrollwork. The attached valance and solid tiebacks jewel the curtains. A wide 3 inch rod pocket allows for easy hanging of the draperies.
USP
Available in four different tones of colors, this set of curtains is a royal way to decorate your windows.
PROS
They are easy to maintain as they are machine washable
10. Reflections Faux Silk 54-inch Curtain Panel Pair
PRICE : USD 19.99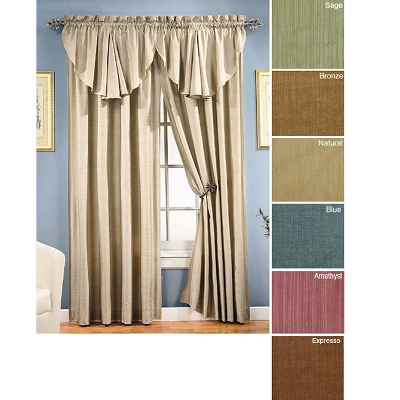 The slight sparkle of the faux silk finish of these curtains can accentuate any home décor. This Faux Silk Pole Top curtain pair measures 54 inches wide and 63 or 84 inches in length. These are machine washable allowing easy care. The two elliptical shaped panels are astounding and hang beautifully with their top pleats. The curtain pair is available in five different colors to match your wall coloring.
USP
This window treatment is versatile, made of good quality sturdy fabric.
PROS
A slight shimmering iridescence is reflected by these curtains