If you love cooking, serving and sharing food with your loved ones and guests, then you might like the idea of enjoying the weather at your place while dining with your friends and family members in your outdoor patio, garden or backyard. Planning for your outdoor summer kitchen can be great fun and entertainment, as it would let you enjoy plenty of counter space for working and preparing food in a relaxing area.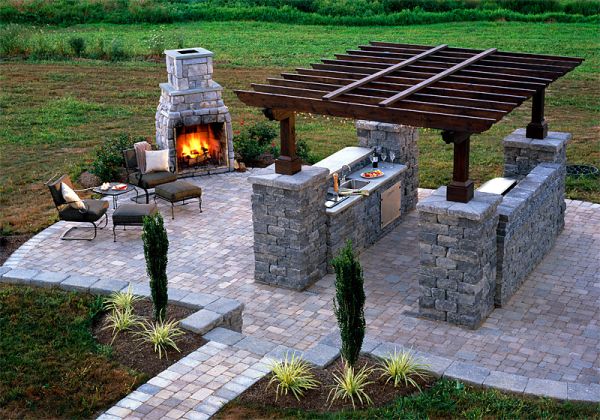 If you especially like working on a grill, then you might enjoy the extra space an outdoor kitchen can provide. You can freely prepare some grilled delicacies or barbecued items and share cool refreshments with your family in an amazing outdoor dining setup. Setting up an outdoor summer kitchen not only gives you the luxury of outdoor cooking, but also helps you organize entertaining family gatherings and parties in a wonderful ambience. Here are some tips that can help you organize your outdoor space for setting up a nice summer kitchen.
Fix a budget and decide the location
The design and features of an outdoor summer kitchen depend on the location you choose and the budget you hold. A closer setting would be more apt when you are on a low budget. Else, you may introduce luxurious cooking stations and equipment to add to your outdoor kitchen. You can also widen the kitchen area if the space allows. You may plan a layout of your kitchen near some dining or entertainment areas, provided these are already set up in your outdoor home. You may also create a grilling station in your patio area, if it allows. However, make sure that your cooking station is close to the dining area so people may not have to keep transitioning to bring food to their dining tables.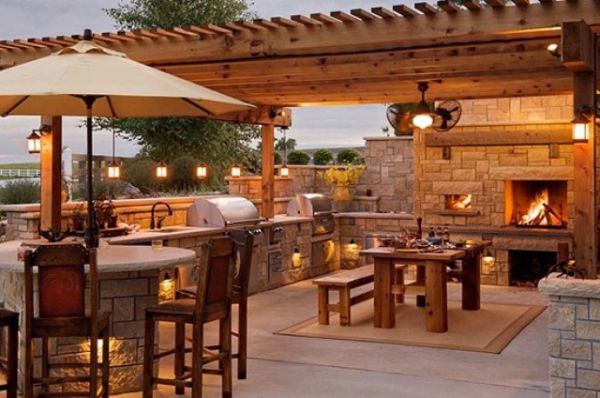 Plan on key features
Check the purpose of creating your outdoor kitchen and then plan on the key features it should have. Some important features include a dishwasher, built-in sink, bar island, mini fridge, shade, dining tables and chairs, etc. If there is a retaining wall, it can help in ensuring privacy. Additionally, you will require lighting up the cooking and dining areas very well. If more than one person would be involved in cooking activities, then you should set up more than one cooking station. Thus, plan on all you need to start up the process.
Select sturdy materials
Your outdoor kitchen needs to withstand all the pressure imposed by rain, snow, thunderstorms, heat, etc. Thus, make sure to develop your kitchen using solid and sturdy materials. Your structures and appliances should not just blow away by light winds and storms. You may use stainless steel and natural stone for construction purposes. You should also avoid flammable materials like wood.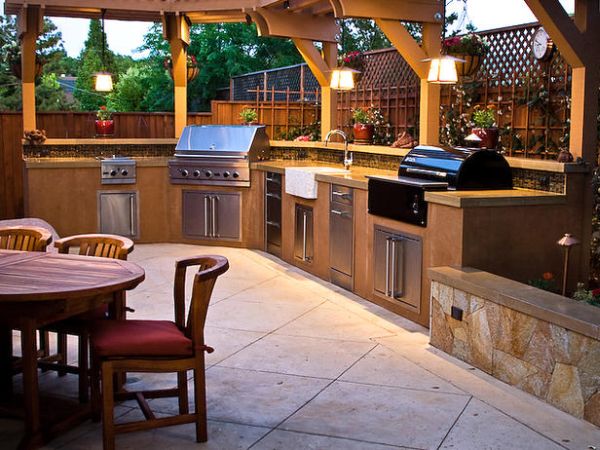 Create comfortable dining or lounging areas
Along with a comfortable kitchen, you also need to take care of the comfort of your guests. Thus, you should not only focus on choosing comfortable dining furniture, but should also focus on nicely decorating your setting. It is important for maintaining a great interaction with your guests while cooking.
Summary:
Outdoor summer kitchens not only excite family members but also your guests, as it provides an opportunity to cook food and dine in an open, pleasant environment. However, you need to consider certain things while planning your outdoor kitchen, so that you could make the most of the outdoor space and enjoy quality time with your loved ones and friends.