The SleepBox, as its name suggests, is a comfy abode for relaxation. It is a great lounge chair for airports, offices and other places. What makes the SleepBox unique is its combination of contemporary and organic design. It is made out of exclusive HI MACS material and so it is solid and powerful. Its developers aim to sell the product for the new urbanized environments.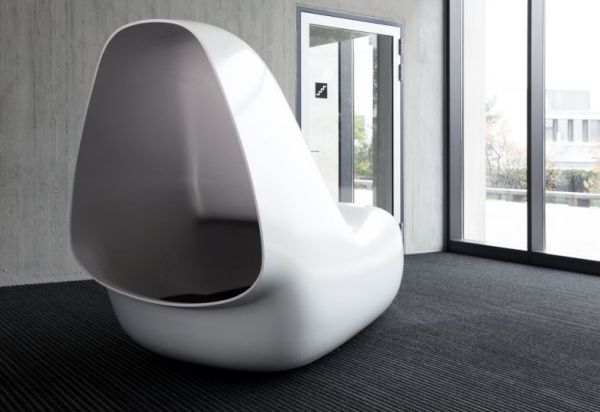 The Designer
Casper Lohner for Computer Aided Architectural Design [CAAD], Department of Architecture, ETH Zurich
What is unique?
The SleepBox's free form shell makes it an exceptional product. It is a traditional and organic design with its white body and reclining form. Eleven flat sheets of HI MACS have been used to shape up the chair. The sheets are thermoformed into a design using vacuum membrane press. Casper Lohner developed the lounge chair in association with Kläusler Acrylstein AG, the exclusive distributor of HI MACS in Switzerland. The designer of the project says that it has been a challenging task. However, it helped him learn the possibilities of HI MACS fabrication.
High points
Inside the SleepBox, there is a leather mattress to let users enjoy a cozy relaxation. The SleepBox will be a great assistance for workers, who are weary of overburden jobs in an office. They can just take a nap for a few minutes in the SleepBox, which will provide them a completely calm and quiet atmosphere with its strong outer layering.
The SleepBox will be put on display at the Swissbasu 2012, an exhibition of real estate and construction industries in Switzerland. It will be held from January 17 to 20. Spectators of the exhibition can have a look at the SleepBox.
Via: GizmoDiva