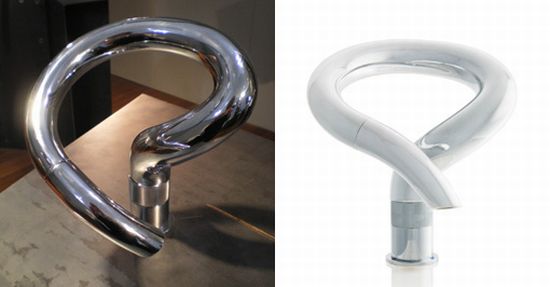 Before we get into details about 'Slow the Flow' system, which is an interesting name for this super-interestingly designed tap, it would be worthwhile to know a little about STELLA and Fabio Novembre, the two organizations which have jointly come up with Slow the Flow.
STELLA, founded by Pietro Stella way back in 1882 practically wrote the history of taps. Down the years, STELLA has been devoted to put into use the latest technologies to make taps not only a necessity but a fashion statement for advanced users. STELLA taps are synonymous with impeccable engineering, safety, convenience, reliability and superior quality. Italian designer Fabio Novembre boasts of thousands of contemporary designer pieces of furniture for the home and office.
This tap is more than just another tap, it is a concept. The purpose of this tap is to control the water flow with ease. As Fabio Novembre puts it, with this tap, he 'wants to overpass the border between solidity and fluidity'. Several mechanical and technical specifications come together to make the tap what it is.
The first thing that strikes one about the tap is its unique curved design. As differentiated form ordinary taps, the handle remains well-concealed on the top of the body. Water flow can be controlled and modified with a single rotation of this handle. There is a round ring at the base of the body tap, meant to control the temperature of the water. The spout includes the aerator resulting in a softer water flux. As you will notice, the diameter of the tap isn't uniform. The diameter is 40 mm at the base and gradually tapers to just 26 mm at the edge of the handle.
Source: Dezona