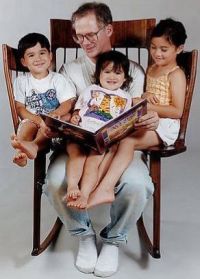 All those grandpas and grannies who love reading bedtime stories to their grandchildren will love this innovative chair. This one is designed specially to create an exclusive storytelling area for kids.
Designed by Hal Taylor, this rocking chair provides seat for three little kids apart from the grandpa or granny. With this chair around, your kids will enjoy the fairy tales sitting close to you all the time.
The 'Storytime chair' feature a child sized ledge on each arm to seat one kid each on both the sides…isn't fun? Yes, it is. So what are you waiting for. Grab your prototype now and start telling the tales to your dear kids.
Available at The Creations Fine Woodworking Gallery
Thanks Joe