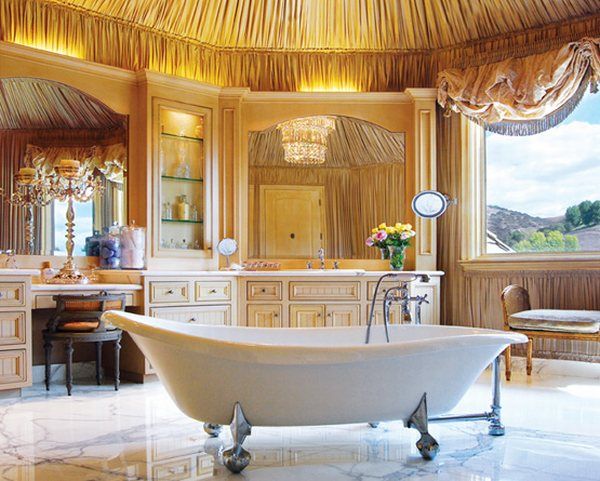 Modern era bathrooms have both style and function housed under one roof. Stunning modern bathroom designs comprise quality bathroom components, be it shower cubicles, saunas, sanitary ware, wall and floor coverings, taps, fittings, baths, hydro massage tubs, bathroom furniture and accessories, a stupefying variety available for all bathroom requirements, to sweep the consumer off the floor and make him a king. Here are some stunning modern bathroom designs, which would surely put together for a private and whimsical grooming retreat of your dreams.
Beautiful bathroom for relaxation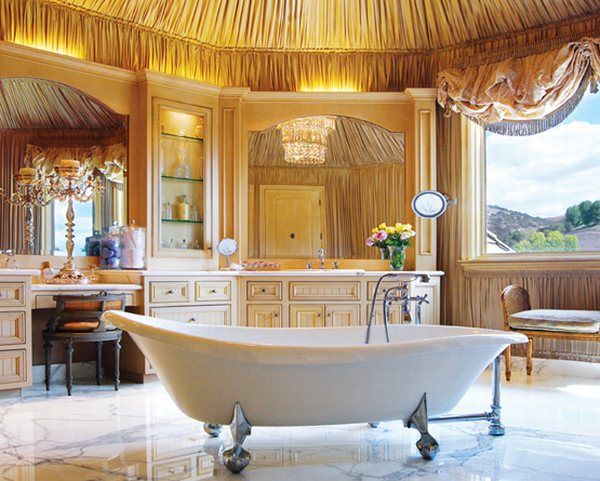 Relaxation and rejuvenation of mind, body and soul seem synonymous to the functionality of a beautiful modern bathroom lay out, meant for high-end living. This can be achieved in one way than many. Inspiration taken from decorative items or a scintillating view in the backdrop can fulfill the needs, which can be admired while experiencing a holistic bath in the confines of a stylish and elaborate bathtub. Also, special color theme followed in tandem with a striking use of wood, for the interiors of the rest of the bathroom, can play a vital role in its decor, thereby adding both originality and personality to the entire area.
Ultra modern design ebb bathroom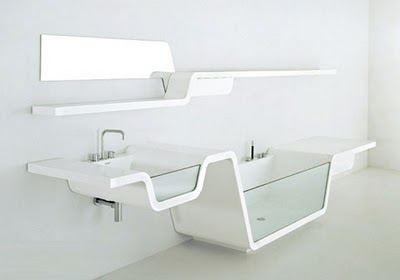 A very futuristic design concept, this ultra modern bathroom idea has been conceptualized by Ustogether. It features a perfect combination of white and sleek bathroom units which have been tailored in an innovative manner, to fit any high-end bathroom space. A natural acrylic stone material, LG HI-MACS, has been used to frame out a striking sculptural design. The design element seems trendy and futuristic by many, but it definitely would strike a cord with those, who have a taste for unique and modern forms of design concepts.
Smart bathrooms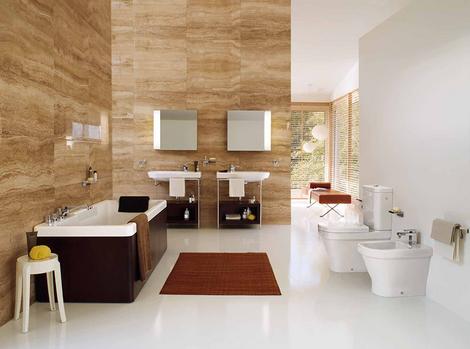 A soothing color palette in an almond and white combination, wall mounted plumbing fixtures in avant-garde steel with ceramic mix, floor to ceiling tiles and an amazing collection of accessories incorporate for a smart modern bathroom. In this case, the bathroom has been created in an L shape, with a lot of emphasis given to natural lighting. The usage of dimmer recessed lights for additional lighting options impart a dramatic feel to the bathroom environment. Also, the bathroom has been well furnished and equipped with cream, potions, salts and lotions to create a spa-like feel within the confines of your personal sanctuary. One section of it has been left open to enjoy a scintillating view of the outside natural beauty, incorporated with opaque glass. All these make it a perfect choice for a smart bathroom concept.
Green bathroom design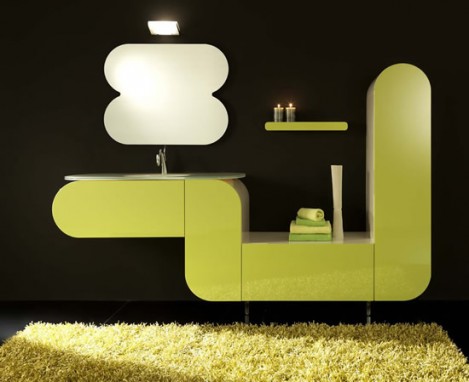 'Go Green' is the call for the day in every sphere of life. By Green bathroom ideas, we do not mean the color green being used for your bathroom interiors, it emphasizes on usage of environmentally friendly items within the bathroom to promote the cause. Green spas help protect environment and is also economic for the owner in the long run. Green ideas for bathroom remodeling begins with encouraging usage of more and more natural daylight, which would even eliminate the necessity for electric lights in the bathroom. Skylights without risk options is another very simple way of joining in the green revolution. Moreover, installing plumbing fixtures, which demand minimum usage of water, can be incorporated to support the green bathroom design. Large windows with bath options are also very conducive to the green design concept.
Minimalist modern bathroom with smart solution design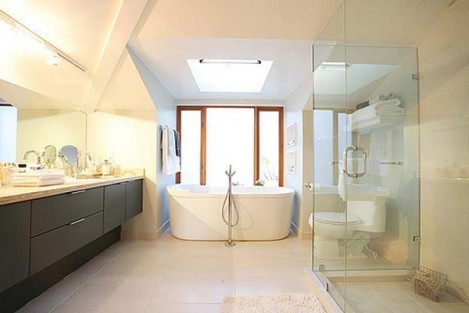 The minimalist modern bathroom with smart design options ensures usage of simple, strong and sturdy geometric shapes for installation of all necessity items within the bathroom premises. From bathroom vanity and storage facilities to toilet paper holders, sinks and even mirrors, everything is well clubbed and wall mounted to add functionality as well as aesthetic appeal, by making use of minimum space, in a smart and innovative manner. Not only does it ensure usage of dead space by installing crane-less sinks, averrable mats and inverted U-shaped furniture elements, these bathroom accessories are also very price effective and help to maintain a low cost in doing up the bathroom in a smart and unique manner.
Beautiful natural bathroom remodel design from Pearl Baths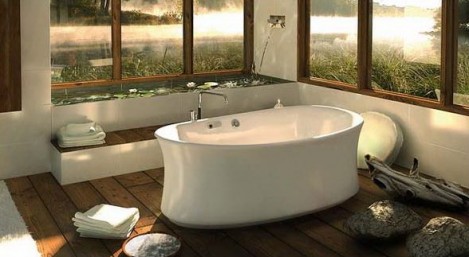 Pearl Baths introduces bathroom designs with a cut above the rest. By simply using lines, curves and a sweet purity of form, it promises to create a sizzling bathing experience within the confines of your private bathroom. The backdrop seems perfect with a natural outside view, flat ceiling and natural flooring with special water features. Independent, free standing oval bath has been infused with sleek integrated handrails for better safety and legal certainty, when in or out of the cockpit. With minimal gadgetry on show, ozonator whirlpool system has been installed to ensure a safe and clean technology, which purifies the water before filling up the tub for bathing. Also, imparting it the features of a spa to soothe aching muscles and joints and for restoring lost energy, micro four strong back-massage jets and two oscillating water jets have also been added within the bath.
Elegant Arizona bathroom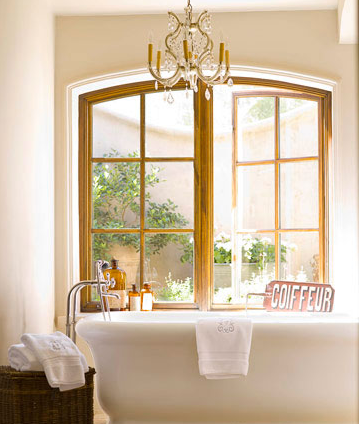 This picturesque view showcases a master bath of an Arizona Home, by Dana Lyon. The luxurious Empire tub imparts a king-size experience of a soothing and relaxing bath, with polished nickel Etoile fixtures by Waterworks. These plumbing fixtures by the company reflect a signature of style, along with beauty and utility, combined together for a perfect choice. The entire scenario encloses and imparts a beautiful view of an enclosed private garden within the premises of your private bathroom.
Blue-on-blue bathroom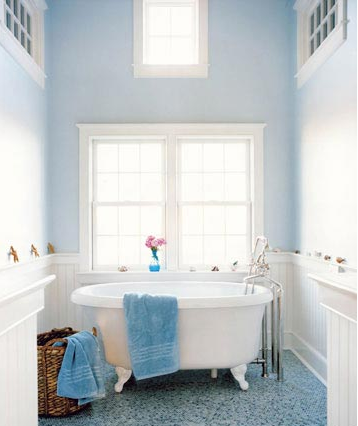 This blue-on-blue color palette for the bathroom gives a super cool and soothing effect to its interiors. Where high ceilings and huge window panes give it an airy look, the walls of the bathroom have been painted with Farrow and Ball's artificially borrowed light, to add to its blue color effect. The entire backdrop gives a pure and serene reflection of a Shaker Church. Even the blue mosaic floor has been uniquely constructed, in a single piece, like a carpet. Designer Frank Roop took the opportunity to trace the design of the mosaic tile floor using CAD software on a computer, which was further executed and manufactured by Tile Showcase. To add on to the color construction, the accessories, furnishings and other bathroom linen have been chosen to match the blue tone. This bathroom design is definitely a new tone on tone creation, capable of adding different aesthetic appeal to any modern bathroom backdrop.
Bathroom design from Flaminia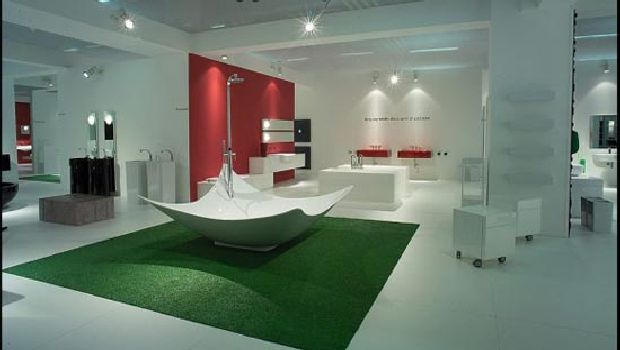 In this new era of spacious modern bathrooms, style and functionality go hand-in-hand. It has become synonymous to luxury and attitude for the high end to display their style statement and knack towards personal pampering. To put more light on this, Flaminia has come up with a very beautiful, minimalist and modern approach toward a very elegantly done up bathroom, in a contemporary style. The designer has made a very smart use of vibrant colors to accentuate the area in a luxurious manner, thereby clubbing freshness of design with a uniqueness of style, for making a picture-perfect personal sanctuary worth owning.
Luxurious bathroom design with attractive ceramic walling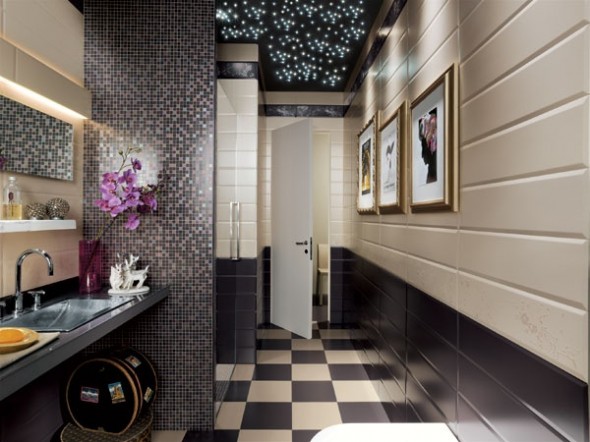 Ceramic tiles encourage an array of patterns, colors and design motifs, and supersedes other choices when it comes to choosing an ideal bathroom wall and floor finishing, which combines attractiveness with comfort and ease of maintenance. Porcelain tiles consist of a unique artistic vision in every piece, ranging from simple to complex ones. These are being designed and formulated by using minerals and glass through dust pressing system that make it durable, long lasting and easily maintainable and are now being highly used for bathroom floor and walls as well. The use of these simple, yet impressive ceramic tiles make for a cool, beautiful and luxurious bathroom design, which saves both time and money.
Artistic bathroom design with unique ultra glass shower enclosure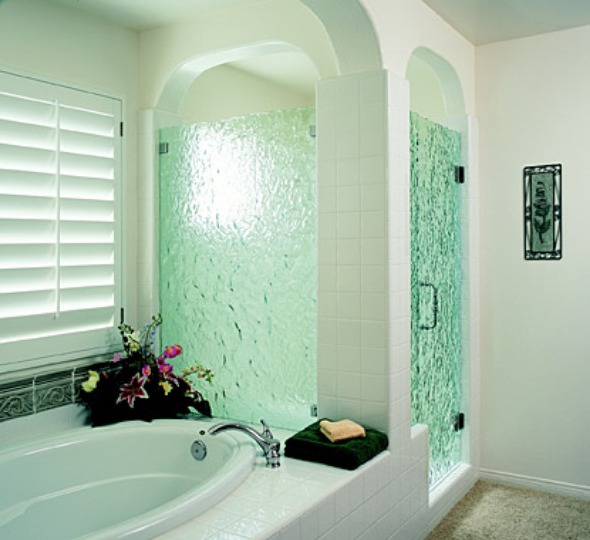 Shower enclosures and cubicles made of glass restrict the bath area from being seen from outside. The use of frosted, stylish ultra glass adds an artistic look to bathroom interiors. These fabulous and exotic ultra-glass shower enclosures can be chosen in compliance with the tile design and pattern of the bathroom to add symmetry to the entire backdrop. A smart use of these bath options can help create a fascinating and luxurious bathroom lay out, in tandem with style and utility, to create a milieu, that deserves to be shown off.
Whirlpool bath model for superior comfortable bathroom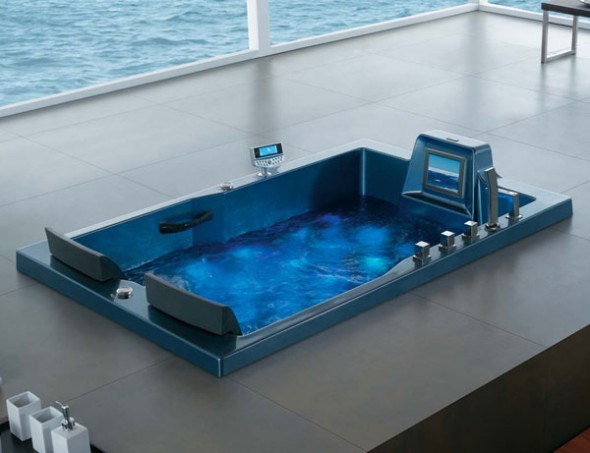 If you want a place to relax and rejuvenate, your private bathroom is the best place to do so, by retreating from the hassles of everyday life, to doze off in the arms of sanctity and serenity. Not just defined as a place to clean, rinse and wash, bathrooms are now being converted into personal sanctuaries. With the introduction of Whirlpool Bath Model from the Springwave collection, to achieve this idea has become simple, as it contains all the features to ensure complete relaxation and rejuvenation of your mind, body and soul. The whirlpool bath model ensures superior quality comfort, with water, lymphatic and air hydro massage systems, which can be easily controlled by a touch screen panel. Comfortable whirlpool jets cradle your body, adjustable lighting, with dimmers, impart a soothing effect and a lock on the door of the bathroom, so that you cannot be disturbed while you soak away your stress, is all you need to ensure a luxurious bathing-cum-spa experience.