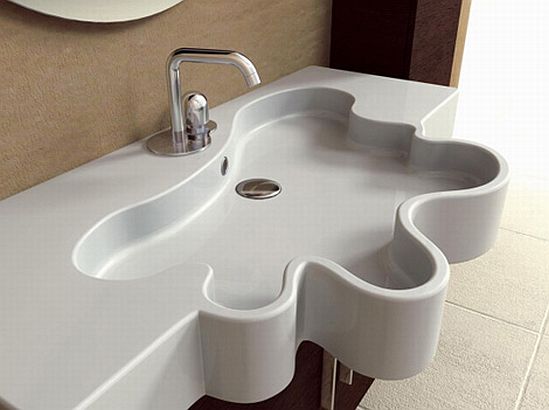 Summer is here and what better than adding some excitement in your life by remodeling your homes, especially injecting the bathroom with some new life. A bathroom vanity can flip the look of the space in a wink, while adding some style to the existing modern home decor as well as blending seamlessly with the setup. Add a distinctive and deluxe appeal, while keeping in tone with the contemporary vibe. Have a look at some of the most stylish custom bathroom vanities that will make you go head over heels with the glamor they come dipped in.
Cheerful Flower Vanity from Duebi Italia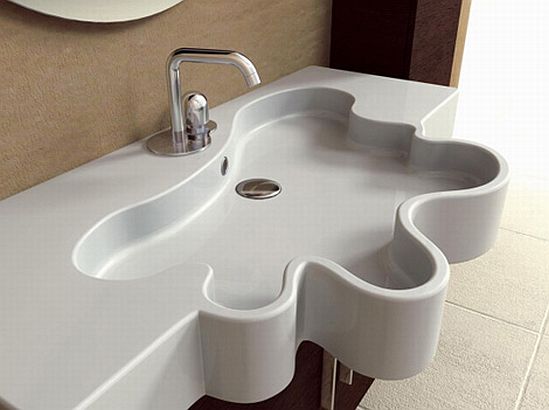 Give a touch of vivaciousness to your bathroom with the Cheerful Flower Vanity from Duebi Italia. The bathroom accessory has been fashioned like a flower, which will sprinkle the much required freshness to the space with its natural and delicate appearance. The porcelain sink will create an absolutely incredible environment with its floral shape, giving the space a magnetic appeal.
Gorgeous Yellow Bathroom Vanity by Cerasa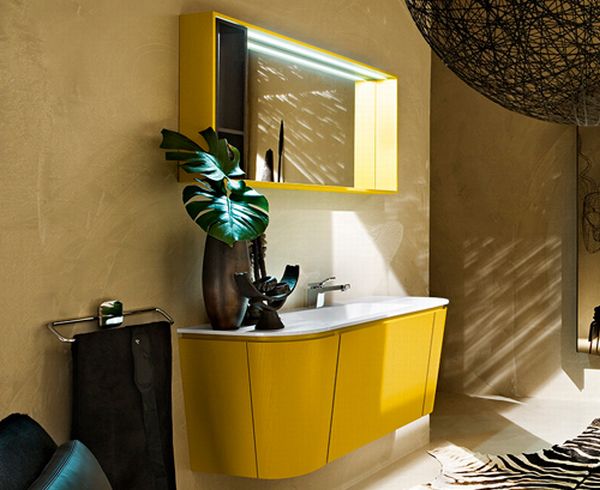 Yellow Bathroom Vanity by Cerasa will create quite an impact with its cheerful color that will bring some sunshine in your bathroom. The design has fetched all the inspiration from modern architecture and comes complete with a chrome faucet. The stylish design will blend perfectly with a contemporary environment and quench your thirst for a modern design with its lively yellow color.
Futuristic Bathroom Vanities by Componendo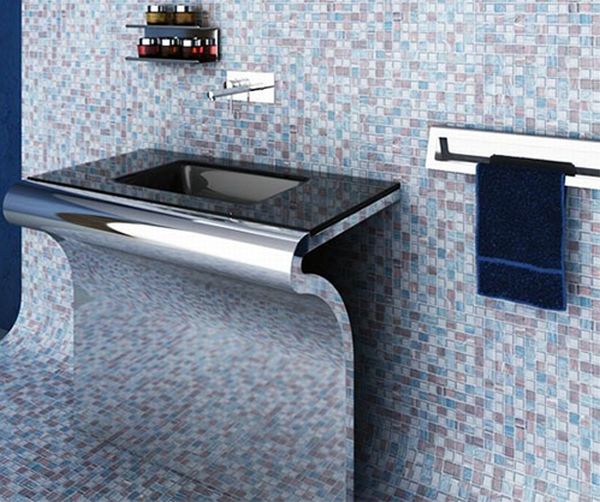 Futuristic Bathroom Vanities by Componendo will instantly rev up the bathroom design. The truly enchanting appearance of the Venti Vanity and Settantacinque collection is completely in sync with a modern feel. You will fall in love with the bathroom accessories which has a marble top that gels perfectly with the aesthetically appealing curves of the stainless steel. The curvaceous creation will act as a beautiful decoration that will wow anyone who looks at it.
Glass Vanities by Lacava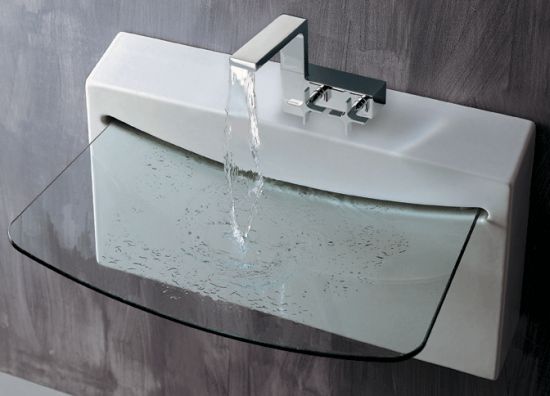 Glass Vanities by Lacava will add class and elegance to the lavatory, while making it look cleaner. The flavorsome clear class sink gives the vanity a magnetic appeal that will accentuate the bathroom designing further. Opt from an attention grabbing line of vanities, like the wall mounted porcelain in white with a glass sink that will give just the right vibe to your minimalist designing.
Bathroom Vanity Sink by DNA+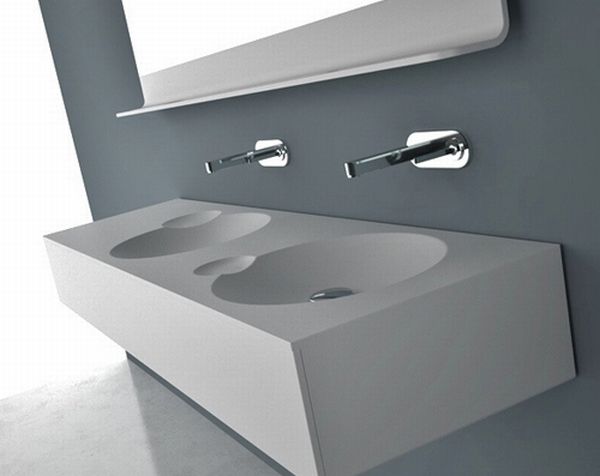 This is one bathroom vanity with modern style, which is an innovative work by DNA+ and is a part of the Erosion sink collection. It comes in two version, standard and double series with an outline that makes them perfect for a modern minimalist bathroom environment. Crafted out of EON, an inert and non toxic material, it has a pure white outer skin that can be recycled and comes tagged with a lot of flexibility in terms of styling. The twin flavor attached with the vanity sink will create a cool environment with its innovative appeal.
Chic Bathroom Vanities by Etrusca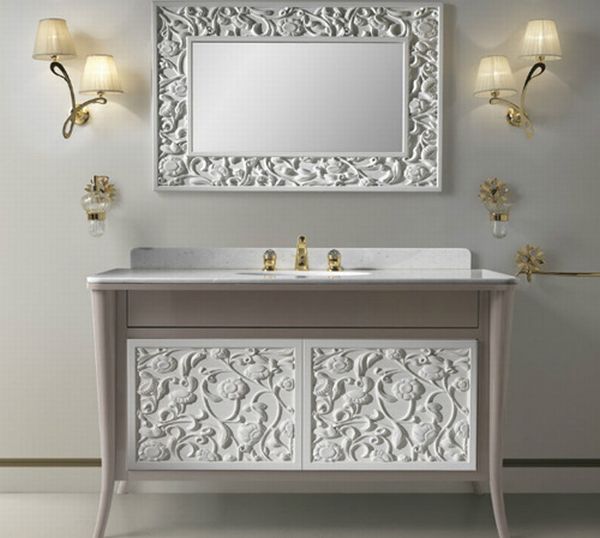 Add a touch of classiness and sophistication with these chic bathroom vanities by Etrusca that will quench your deep love for traditionalism in a modern environment. The light colored base gets highlighted with its floral pattern that comes complete in a glossy finishes that can be made to complement or contrast the ornamented panels. It will definitely become the focal point of the lavatory with its exquisite charm. The creative dynamism will create a welcoming environment that will shower warmth and give the space some assorted flavor.
Glamorous Bathroom Vanities by Bagno Veneta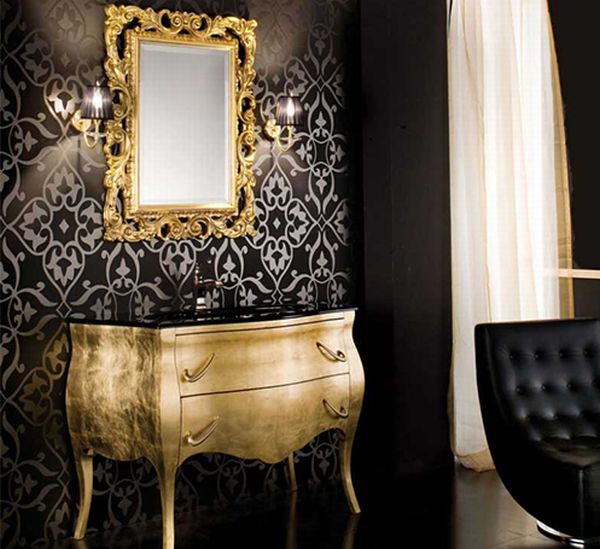 These glamor-coated bathroom vanities by Bagno Veneta are a true call of luxury with the power to hypnotize onlookers with its sumptuous appearance. It will spill unending poise with sheer grandeur, make jaws drop in amazement. The sophisticated yet royal design will add softness and will shower opulence all around. The profound styling looks like a precious piece of jewelry that comes smothered in a rich palette making it shimmer like a star. Lending an additional contemporary feel is the ultra modern hardware that makes it worth a steal if you have an expensive and regal taste.