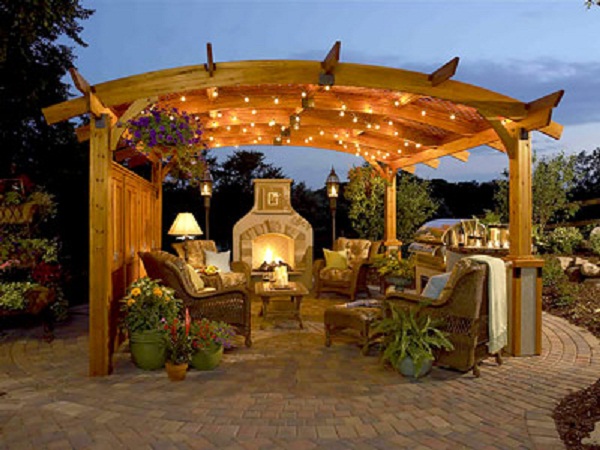 If you like green, open and airy outdoor spaces and spend a lot of time in your backyard or garden, then you should consider planning an outdoor living room. Such spaces are growing in popularity and are a fun place to hang around. Just imagine how many things you can do in here. You can laze over the weekend or entertain guests. Your family can roast marshmallows over the open fire or pour out cool drinks from a tall pitcher. Lounging in open air does feel great and if you would like to do it, then a few tips for setting up a living room outdoors are given below.
Keep in mind that it is an expansion of your home
Your outdoor room is an extension of your house. So make sure that the setup gels with the arrangement in rest of your house. This will unify the entire space and make it look well planned. Create a free flowing layout by connecting the outdoor living room with the interiors of your house. You can link it with your kitchen, patio or even the living room.
Starting off
You can set up an outdoor living space in your garden, backyard, spacious balcony, patio, porch or terrace. Inspect the shape and layout of the outdoor plot where you want to create the living room. Go for a seating area, bar, kitchen or any other setting that fits neatly in here. Flooring made from wood, vinyl, plastic, ceramic or Red Cedar works well. Demarcate the area by placing a fence, hedge, shrub or decorative pieces all around.
Adequate protection
The design should guard against external atmospheric conditions. Pick an orientation that plays down the gust of the wind and install a canopy to shelter from harsh rays of the sun. Making sure that the outdoor living area is not totally cut off from the house is important because this ensures that you have easy access to power and water supply.
Stashing furniture
Surely, you will need furniture that can withstand the wear and tear of the rough weather outside. Pick units that can stand out against the attack of wind, water, heat and bugs. Furniture made from rattan, wicker, bamboo, wrought iron, resin or plastic is a good idea. The color of the furniture should blend with the hues chosen for your indoor furnishing. You can pick cozy and hulky pieces or even slim and sleek designs.
Cozying up the turf
Screens made from wood or bamboo are so chic. If the weather permits, you can think about slinging a gauzy curtain around the room. Throw an all weather rug on the floor. Choose upholstery in plain solids, vibrant patterns or bright florals. A seating arrangement created from sofa sets and armchairs looks really cozy. Loveseats, stools and benches look damn neat. Prop cozy cushions of all shapes and sizes on the seat. A coffee table in the center is a must.
Lounging space
If you like lazing around then hoard a chaise lounge in here. A daybed is good if you are likely to snooze here. Foodies should stack a cooking range, grilling area and refrigerator in here. No outdoor room is complete without some kind of a shelter or canopy on top. You can pick gazebos, awnings, pergolas and even umbrellas. Let a tall tree grow and branch out in all directions over the living area.
Bring in some greenery
Fresh flowers in a vase or transparent glass container will look heavenly. Potted plants, creepers and colorful blooms sprouting from their beds will add a refreshing vibe. Large planters in the corners look refreshing.
Earthy trappings
Leave a stump of a chopped tree standing in the middle. Throw around some natural stones and crystals with their jagged edges. Add in collectibles made from clay or earth like pottery or mud artifacts. The clang of wind chimes will add a soothing vibe to the room. A crackling fireplace, firepit or bon fire will look absolutely breathtaking.
Add decorative art
Add fountains and sculptures around the place. Sculptures made from marble, stone or metal are utterly showy. A wall made from bricks or stones on one or two sides of the room will be nice. You can even build half a wall in here. Vines and latticework will give the place a romantic touch.
Light up the place
Decorative lights that enhance the get up of your outdoor space are a must. Lights make any space look snazzy. Go for string lights, lamps, lanterns, candles and adorable knick knacks. Torches, candles, paper lanterns and wall mounted accents will jazz up the look immensely.