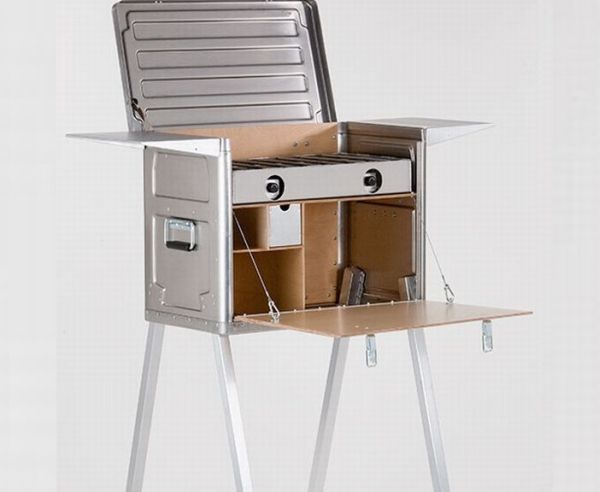 The Field Kitchen serves many purposes. Military units have been carrying field kitchens in order not to run out of provisions. As a camping friend to an emergency helper, the field kitchen is gaining popularity. Travelers can also spend money if they are willing to travel using field kitchens. The Field Kitchen by Kanz Outdoors looks like a container or even a closed box and is easy to carry and handle. It can be transformed into a complete kitchen system.
The field kitchen can be easily carried in the back of truck or SUV. The combination of aluminum panels with birch plywood makes the structure intact. The aluminum panels are compact and light weight and has high impact strength. The birch plywood panels blends very well with the outdoors. Let's talk about the typical set up which is great for preparing a lot of food items, preparing sandwiches and making coffee.Thus the Field Kitchen is a boon to so many.
Structural features are very important for the field kitchen. The intact structure, having an outside dimension of 19.4 inches in height, 25.4 inches in width, 15.00 inches in depth, gives this lovely equipment stability. Storage volume of 120 quarts is welcoming. Now, that will give you the ease of owning a filed kitchen. The modern portable and easy to grab handles with rubber over molds gives a firm hold. Above that, the kitchen is full fledged and ready to use in less than a minute. Hard to believe? Well, it's for real. To go out camping in extreme weather, climbing mountains,trecking etc, provision of additional corner braces are available.
Optional legs make the free standing system stable. Cutting meat and other procedures will not affect the stability of the unit. Silver ware drawer and interior rubber mat are included. Side shelves can be used as a work space. The aluminum top can be folded back which gives access to the cooking area. The removable top aluminum lid can be used a serving tray. The possibilities are endless, and the field kitchen can be expanded by adding accessories like pantry, shelves, fold down table etc. as you know it's going to cost you a little extra than the standard prize of $595.
Kanz Outdoors offers a life time warranty on it's construction. Polyurethane is used as a clear coat on wood panels, inside and outside for finish. The standard working height for camping/outdoor kitchen is 26 inches. One very interesting feature of the field kitchen is the time and space saving opportunity to store cookware in the field kitchen itself. The Field Kictchen can run on propane which makes it economical at times of need.
The aluminum lid can be covered and the unit can be closed. Packing is easy and ready to use in a snap and weatherproof. Handle safely for further durability. I would buy a $105 cover to ensure the safety as well as the utility of filed kitchen. Filed kitchen by "Kanz Outdoors" is going to be popular in many fields. May it be military, camping, mobile or travelling, the field kitchen is going to win a specific place among many age groups. So, who is getting ready to go camping?
Via Swiss-Miss