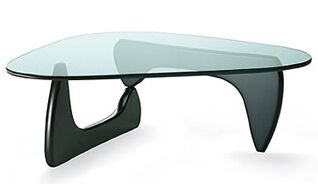 This table is best suited only to those households, which do not have naughty kids around. Have a look at the table and you'll understand why I'm saying this.
It is called the Isamu Noguchi Coffee Table, and it is designed specially to be kept at the residence of of MoMA president A. Conger Goodyear during the 1930s.
This interesting table features a glass top resting upon two interconnected indentical rosewood elements. I hope they are well balanced and won't fall, and break that glass.
The Vitra Design Museum has begun with the production of this unique coffee table for European market in 2002, so now even you can have it.
Tagged as one of the best designs from Noguchi, the Isamu Noguchi Coffee Table is available at Bonluxat.