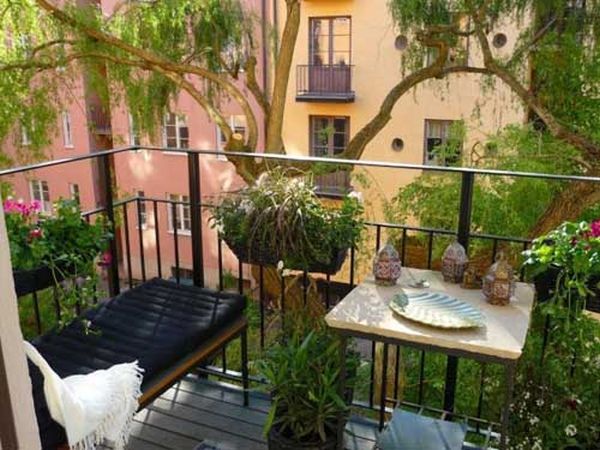 We are living in the age of global warming where increase of pollution is acting as an extra catalyst. The only way we can combat it is by planting more and more greenery. Unfortunately, the space constraint in the urban world leaves the dimmest of chances to set up a beautiful garden. This is exactly when the urban population feels the urge to set up balcony garden. But you need to know the expert tips to pursue your venture successfully with profuse flora and fauna so that the petite area of your balcony never stands on its way. Further the aesthetics of your balcony garden is equally vital. Have a look at the tips to set up and beautify your balcony garden!
Use the vertical space
Installing a number of container pots all over the walkable area of your balcony garden is not the right way to go about it. When you are struggling with space constraint in a city life, you can hardly afford to reserve your balcony for your plants only. So, the best solution in this case is to go for vertical utilization of space. It will give you the opportunity to install more plants in your balcony garden and leave back room for movement too. Moreover, you will treasure the opportunity of being close to green and natural ambiance in your leisure evening!
Choose plants that are rewarding
Your balcony garden will only look beautiful if the plants are lush and bloom is in abundance. The integral thing to keep in mind for this is the climatic condition of your area, with special focus to the climatic factors of your balcony. Pay attention to some attributes such as the amount of sunlight received by your balcony, the areas that remain shaded, which parts are affected by sunlight most, how accessible the balcony is to rainfall and dew, how near is the source of water etc. This will help you to ascertain the variety of plants that are best suited to the weather conditions of your balcony.
Be creative with the containers
There is a plethora of containers available that can be installed in your balcony in order to increase the aesthetic quality of your balcony garden. While the gardening experts comment that earthen pots are the best options for healthy growth of plants, you can be a bit experimental with the other varieties as well, such as ceramic, plastic and porcelain. But ensure that the pots have holes at the bottom so that good drainage is encouraged and your plants do not die due to root rot. In case you have faith in earthen pots only instead of the traditional shapes get hold of the ones that are of different contour and are structural excellence on their own!
Regular care makes plants look beautiful
If you are keen on the aesthetic quality of your balcony garden along with the healthy growth of your foliage, we will opine that render regular care to your plants and saplings. Water them regularly so that the plants do not dry out and die, making your project a failure! Fertilize them as and when required in order to ensure that the plants remain green and healthy and flowering is also in abundance. Ensure that regular trimming and pruning is also done. This makes the plants remain shapely and prevent them from growing haphazardly. Hence, it is needless to say that this effort works towards the beautification of your balcony garden.
Plant stands look good
Instead of installing your containers directly on the tiles of your balcony, it is best if you can get hold of some plant stands. These stands are available in a variety of styles and shapes. Some of them are space saving too and accommodate a number of plants together. Some of them also resemble animal shapes, which will set the perfect natural ambiance in your balcony garden. The best part of plant stands is that they keep the containers away from direct contact with the floor tiles. This prevents the seepage of water from them to the floor tiles, which can otherwise develop damp. Moreover, in summers when the tiles get very hot, the plants remain away from this scorching heat, being out of direct contact with steaming hot tiles of your balcony. Similarly, the hard clutches of chilling winter are also kept at bay when you keep plants on stands.
Add colors you your garden
You can make your balcony garden look breathtakingly magnificent when you implement bold colors in the decoration of the balcony garden. So, paint the furniture and fixtures of your balcony garden with bold colors and eye catching tones. Do not feel flabbergasted to paint the plant stand or the table meant for mounting plants with tones such as electric blue, shiny fuchsia, fluorescent green as they complement beautifully with the natural green tone of your fauna and give a boost of energy. You will feel proud that the décor of balcony garden work towards rejuvenating the tired soul!
Diffused décor
Create a mood of fun and frolic in your balcony by going for a mix and match look. You hardly need to adhere to the parameters of visual symmetry here. So, play with the different sizes, shapes and colors of your plant containers. Insist on an asymmetric amalgamation of floral plants and decorative leaves. You can add a few tiny showpieces as well that promote visual curiosity. We are certain that such a fusion look of your balcony garden will make it the most attractive living area of your house.
Woods create the natural ambiance
Wood detailing gives your balcony garden the look of the forest. Thus, together with a curios mixture of colors and structural fixtures, wood detailing will work more in making your balcony garden look like a fairy tale forest. We are sure you will take pride in your small piece of greenery. So, incorporate wooden embellishments like wooden flower container, wooden plant stand, etc. to achieve your desired look.
Now that you know how to set up your own personal stretch of greenery and how to decorate it in the way you want, you can join hands with the green activists and ensure breathable air in your urban living area.